POLITICS
Spain's King Felipe gives acting PM one week to form a government
Monarch to meet party representatives next week to hear concerns and test wllingness to make deals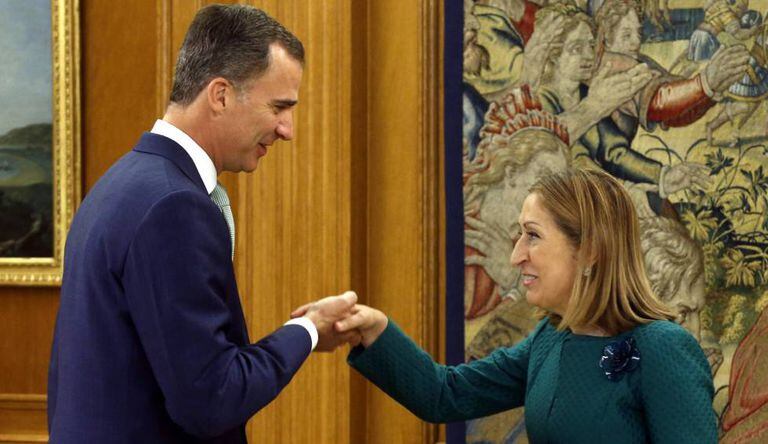 King Felipe VI on Thursday initiated the legal procedure to give Spain a new government in the wake of the repeat election of June 26.
The new speaker of Congress, Ana Pastor, has handed the monarch a list of the party representatives who will meet with him next week to discuss the possibilities of political deals, with a view to getting a new executive up and running as soon as possible.
Following her meeting with Felipe VI, Pastor said that the King expressed "great satisfaction at seeing the new Congress in session."
If no deals are reached and no prime minister found, Spain will be facing a record third election
Spain has been under a caretaker government since late December, and there is a growing urgency for lawmakers to start dealing with issues such as the 2017 budget or deficit containment, especially now that Brussels is threatening to slap Spain with a fine for systematically overshooting its target.
The King will give acting prime minister Mariano Rajoy, whose Popular Party (PP) won the most seats at the election but fell short of a majority, one week to secure enough support from other parties to get himself reinstated.
Rajoy has not yet confirmed whether he plans to bid for the post. Following the original and inconclusive election of December 20, which the PP also won, the acting PM refused to submit to an investiture vote because he knew he lacked support from any other party.
Sign up for our newsletter
EL PAÍS English Edition has launched a weekly newsletter. Sign up today to receive a selection of our best stories in your inbox every Saturday morning. For full details about how to subscribe, click here.
The Socialist leader, Pedro Sánchez, made a bid instead, but was voted down. Since then, Sánchez has been blaming the anti-austerity Podemos for not supporting his candidacy, which makes it unlikely that both groups will attempt to craft an alternative leftist government this time around.
If no deals are reached and no prime minister found, Spain will be facing a record third election.
Felipe VI will meet with members of 12 parties, representing all groups with a congressional presence except for the Basque radical party Bildu and the Catalan Republican Left (ERC), who declined the invitation to meet the King.
While the Spanish head of state is a symbolic figure with no power to force deals or make appointments, he plays a mediator role. Under Article 99 of the Spanish Constitution, it is up to the monarch to facilitate an investiture by meeting with political leaders and deciding whether any one candidate stands a chance of forming a government.
Until now, either the PP or the Socialist Party (PSOE) had secured large enough majorities for the new prime minister to be an evident choice. But following years of crisis and the emergence of two protest parties, Ciudadanos and Podemos, the December 20 election produced a fragmented scenario in which no party was strong enough to form a government. Subsequent attempts at crafting coalitions all failed, leading to a fresh election on June 26.
English version by Susana Urra.