Clash between Socialists and Podemos marks the start of new political era
Row over congressional representation makes it harder to envisage leftist alliance in Spain
The mood inside Congress on Wednesday, when the newly elected deputies convened for the first time since the general election of December 20, gave some indication of what to expect as Spain struggles to find a new prime minister.
Besides the historical nature of a normally routine session that stood out for many firsts, the day was also marked by confrontation between the Socialist Party (PSOE) and Podemos.
Podemos leader Pablo Iglesias called the PSOE-PP-Ciudadanos deal to elect the new house speaker "shameful"
The anti-austerity group, which holds 69 seats, left itself out of a deal between the PSOE and Ciudadanos to support the Socialist nominee to the position of house speaker, Patxi López. The Popular Party (PP) conservatives, who gained the most seats at the election (123), agreed not to put forward a candidate of their own, thus effectively joining the pact.
Podemos is displeased over the fact that the other parties have rejected its intention to split into four parliamentary groups, rather than one. This petition is based on the fact that Podemos ran in the general election as itself but also in association with regional groups in Galicia, Catalonia and Valencia. If allowed to break up into four groups, it would mean significantly more subsidies, representation on house committees and other benefits.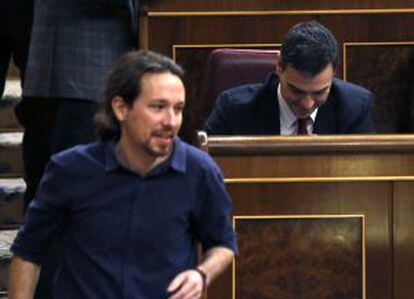 The confrontation between Podemos leader Pablo Iglesias and Socialist chief Pedro Sánchez over this issue – Iglesias called the PSOE-PP-Ciudadanos deal "shameful" – does not bode well for future alliances between both parties.
Yet Sánchez had earlier called for an alliance of leftist forces to form an alternative government to the PP, which despite its superiority in seats is still short of the majority it needs to govern on its own. Not even support from Ciudadanos (40 seats) would be enough, a fact that has led the conservatives to suggest the need for an unprecedented grand alliance of the PP and PSOE.
The highly fragmented political scenario that emerged from the election will require cross-party deals to break the gridlock – otherwise Spain will be facing a new election this year. Acting Prime Minister Mariano Rajoy wants to avoid this at all costs, and has repeatedly talked about the need for government stability at a time when Spain is also grappling with the separatist challenge in Catalonia.
Rajoy is seeking to portray Wednesday's deal as a dress rehearsal of sorts for a future PP-PSOE-Ciudadanos deal that would allow him to get reinstated and form a minority government. He is also keen to send a message of stability to the markets at a time when the country is emerging from a long economic crisis.
But other parties on Wednesday went out of their way to underscore that nothing should be taken for granted. In the meantime, with the Socialists and Podemos now at odds over the makeup of Congress, the possibility of a leftist alliance is more uncertain than ever.
English version by Susana Urra.