CATALAN INDEPENDENCE BID
Spain is stronger than ever against Catalan separatism, says PM
Rajoy seeks to send a message of unity after new regional premier is sworn in in Catalonia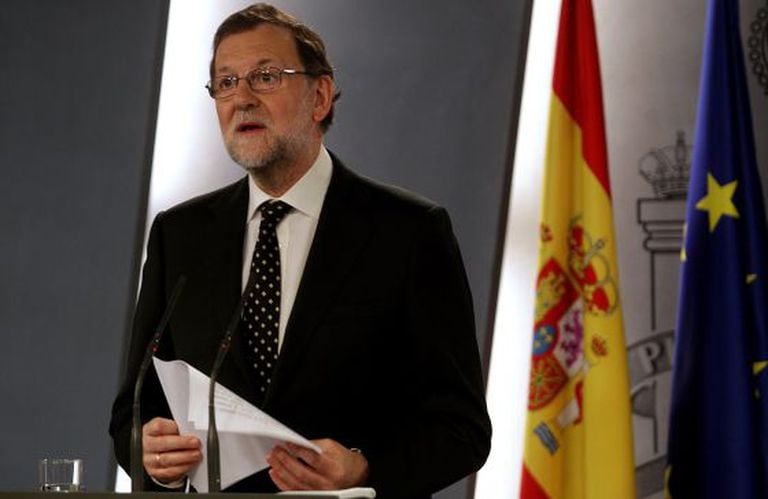 Spain is stronger and more united than ever in the face of the Catalan separatist challenge, acting Prime Minister Mariano Rajoy said over the weekend in response to the naming of a new regional leader who promises secession from the Spanish state.
The government will not let a single step go by unchallenged if it contravenes Spanish unity and sovereignty"
Acting Prime Minister Mariano Rajoy
"The separatist rhetoric has not changed, but in these two months we have witnessed the strength of the rule of law," said Rajoy, of the Popular Party (PP), after speaking with the heads of the Socialists and Ciudadanos. "We have more tools than ever to defend our unity. All the main political forces agree."
Rajoy rushed to make a nationwide speech shortly after Carles Puigdemont, the new Catalan premier, confirmed that he would follow in the footsteps of his predecessor Artur Mas and seek an independent Catalan state within 18 months.
Following telephone conversations with Socialist leader Pedro Sánchez and Ciudadanos chief Albert Rivera, Rajoy underscored that Spain is "a free, mature, European and consolidated nation" and that he would not allow "anyone to award themselves unlimited, unfettered powers outside the law and outside democracy."
Puigdemont was sworn in on Sunday night after a last-minute deal between Catalan separatist parties that narrowly averted new elections in the region. The move broke over three months of deadlock over regional leadership and breathed new life into the secessionist drive.
In response, Rajoy sought to convey a sense of calm to the nation.
"There will be no constituent process outside the law, there will be no [parallel state] structures created outside the state's legitimate ones. The government will not let a single step go by unchallenged if it contravenes [Spanish] unity and sovereignty," he said in a nationwide address.
But Rajoy himself is in a politically unstable situation. After his PP won the December 20 general election with 123 seats in the national Congress – a long way short of an absolute majority – the incumbent has been unable to secure enough support from other parties to get himself reinstated.
The conservative leader has even sought a grand coalition with his traditional rivals, the Socialists, who also oppose Catalan independence, as does Ciudadanos. But Sánchez so far refuses to enter into such an alliance, and seems instead to be working on an alternative leftist coalition that would take control of parliament from the PP.
Now, the PP will renew its pressure on the Socialist leader to at least allow Rajoy to form a minority government "to guarantee the country's stability" at this challenging time.
On Monday, the Socialists appeared to remain unmoved.
"We want to reaffirm our absolute commitment to the unity and integrity of Spain, to our defense of the Constitution and to our rejection of any acts that might lead to a violation of the law or the Constitution," said Socialist parliamentary spokesman Antonio Hernando.
But high-placed party sources added that the PSOE would not accept the thesis that defending Spain's unity means supporting Rajoy's reinstatement.
If nobody manages a parliamentary majority within the legal time frame, Spain will be forced to hold fresh elections – an unprecedented scenario that would add further uncertainty to Spanish politics and potentially affect the economy just as the country is emerging from a long crisis.
English version by Susana Urra.