Madrid's 12 most surprising eateries
Our pick of the best restaurants with something new to offer the Spanish capital
Madrid's restaurants tend to focus on fresh market produce, touches of fusion cooking and vintage decor. But some surprising new offerings are also making inroads: eateries based around a single theme, Japanese-influenced taverns, and even places specializing in raw food. Here are 12 restaurants with something new to offer in the Spanish capital.
URBAN SPOTS WITH A VIEW
01 La Bien Aparecida
The combination of modern design and a seasonal menu doesn't always work, but the recently opened La Bien Aparecida (Jorge Juan, 8; +34 911 593939) seems to have got the mix right. The owners are Paco Quirós (Cañadío, La Maruca) and his wife, sommelier Teresa Monteoliva, while José Luis Estevan is the chef. Estevan describes his approach as "a return to the cooking of the past: stews, flavor, slow cooking, and where the process is more important than the products" in the rice, meat and fish dishes. The restaurant adds to the revival that this street in the upmarket Salamanca district is undergoing.
02 Atalanta
For more than two decades, the first floor of the Grassy building, overlooking the Gran Vía, was home to Gula Gula, famous for its cross-dressing singing waiters. But now it's been taken over by Javier del Castillo, who at the tender age of 36 has already worked with a number of top names. The fall menu at Atalanta (Gran Vía, 1; +34 915 23 47 03) includes game, as well as fusion dishes, such as creamy rice with partridge and fried butter beans; grilled venison with peanut sauce; and coconut-filled baked apple. Along with the views, the puddings, such as crème brûlée with figs and chocolate brownie, are also well worth a look. There is also a breakfast and cocktail bar. Sundays feature brunch accompanied by a DJ. And Christmas menus are also available. At the other end of Gran Vía, on the rooftop terrace of the Dear Hotel (Gran Vía, 80; +34 902 090 046), Nice to Meet You features fabulous views.
03 Ôven Mozzarella Bar
The latest venture from Joaquín and Paco Capel offers 18 types of pizza, all made using slow-fermented dough and cooked in wood-fired ovens in this industrial space. Ôven (Gran Vía 6; +34 916 22 57 06 and Fuencarral 74; +34 917 86 42 68) has salads, pasta, burrata, mozzarella, tiramisu and panna cotta. The nearby SteakBurger (Fuencarral, 73; +34 915 31 12 79) serves up gluten-free hamburgers and selected cuts of meat. Fast food has certainly come up in the world.
04 La Lonja del Mar
In the capital's Los Austrias district is the trendy La Lonja del Mar (Plaza de Oriente, 6; +34 915 41 33 33) and its terrace bar, La Mar. Oysters, ceviche, carpaccio and tuna tartare await at the restaurant's raw bar, reflecting a growing trend in the capital for uncooked dishes. There is also shellfish and grilled fish, along with Gewürztraminer wine and cocktails. The upstairs restaurant is decked out to look like the interior of a boat – though with views of the Royal Palace – and offers traditional Madrid cooking such as tripe, and quail with beans.
SOMETHING COMPLETELY DIFFERENT
05 Aire
One of the capital's latest restaurants based around a single concept, this family-owned place specializes in fowl and game, all of it from sustainable sources in Spain and France. Surrounded by art galleries, it's opposite the Hotel Orfila, close to Almagro street. In the old days, quail, goose and duck were what the poor folk ate, while the nobility tucked into wood pigeon, partridge and pheasant. In Aire (Orfila, 7; +34 911 704 228), game birds are grilled on oak-wood fires and served on fine china at rustic tables. The chef is Vidal Gutiérrez.
06 DSTAgE
Located on the edge of Chueca in the upscale Salesas neighborhood, the two-year-old DSTAge (Regueros, 8; +34 917 02 15 86) is run by Diego Guerrero and has just had its Michelin star renewed. Downstairs there's a small inner courtyard filled with aromatic herbs and a wine cellar with more than 200 labels. Upstairs, the decoration is retro, with exposed brickwork, and there's room for 40 diners. Set taster menus are the order of the day here and usually consist of between 10 and 14 dishes.
REINVENTING THE TAVERN
07 A Japanese Kirikata
There is no shortage of traditional taverns in Madrid, and so some have decided to reinvent themselves. A Japanese Kirikata (Antonio Acuña, 19; +34 914 35 88 29), on the edge of the Salamanca neighborhood and close to the eastern end of the Retiro park, is one such place. It is the fourth venture run by Iván Morales and Álvaro Castellanos and combines Japanese and Spanish cuisine. The results include nigiri with foie or steak, and maki with tuna or stewed cheek of beef. The place has something of the air of a British gentleman's club about it, complete with Chesterfield sofa, while the owners describe it as "a tavern with a Japanese feel and Spanish soul." The retro ambiance is reminiscent of Lovnis (General Pardiñas, 56; +34 917 95 77 57) while the fare reflects that served up in the two branches of Arzábal (Museo Reina Sofía, Plaza Santa Isabel, 52, +34 915 286 828, and Menéndez Pelayo, 13, +34 914 09 56 61), with delicious charcuterie, cheese and canned produce.
08 Ronda 14
This has to be one of the most original eateries in Madrid. Located in the Salamanca neighborhood, Ronda 14 (General Oráa, 25; +34 914 11 17 30) offers Peruvian-Japanese and Peruvian-Chinese fusion food with Asturian touches. The chef is Mario Céspedes, a Peruvian who settled in Avilés, Asturias, where he opened his first restaurant. His wife, Conchi Álvarez, is the maitre d'. Céspedes has worked at the Celler de Can Roca, Kabuki and Ramón Freixa. Here he serves up tatakis, gyozas, nigiris, rolls, ceviches and other delicacies such as surf and turf with langoustines with steak. Slices of beef with goat's cheese and wild mushrooms reflect the Asturian influence. To drink: albariños, riojas, wines from around the world, and pisco sours.
09 La Pescadería
There is something of a New York air about this former fish shop located in the up-and-coming Triball area behind the Telefónica building on Gran Vía. La Pescadería (Ballesta, 32; +34 915 23 90 51) has a dining room, a bar and even a private eating area. On the menu are salt-cod dumplings and chunks of ox-tail, all to be washed down with wines, vermouths and cocktails. It belongs to the Lamucca group, which has four other places nearby.
ROMANTIC HIDEAWAYS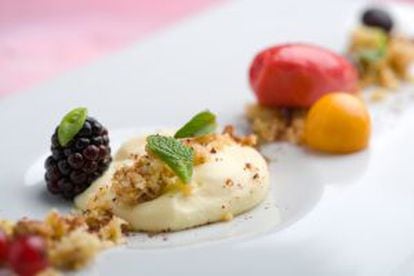 10 Dabbawala
Tucked away in the upscale Almagro area in the center of the city, Luca Rodi has opened Dabbawala (Españoleto, 10; +34 915 93 22 78), a self-consciously old-fashioned restaurant with a seasonal menu that makes it a haven for wild mushroom lovers at this time of year. There is also a catering service, something more and more establishments are now offering. New Indian restaurant Benarés (Zurbano, 5; 913 19 87 16) is also to be found nearby.
11 El Recuerdo
A stone's throw from Real Madrid's Santiago Bernabéu stadium, El Recuerdo (Comandante Zorita, 6; +34 915 33 27 57) recently celebrated its tenth anniversary with a refurbishment in the hippie boho-chic style. The menu hasn't changed much, and it still serves arguably the best salmon tartare in the capital.
A CLASSIC WITH A MODERN TOUCH
12 Atrapallada
A short walk from the Rastro flea market, popular Galician restaurant Atrapallada (Acacias, 12; +34 915 39 08 92) is situated in the Embajadores neighborhood and has recently been refurbished. The result is much more light and space. The menu features hake with black rice, langoustines and scallops; octopus; goose barnacles; clams, along with beef and pork from Galicia. The wines are also from the northwestern region. And there's a tapas bar, too.