Argentinean judge freezes assets of Maradona's former wife
Ex-soccer star is accusing Cecilia Villafañe of embezzling €7.5 million of his fortune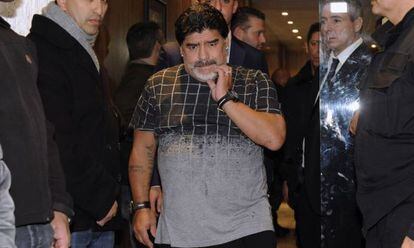 An Argentinean judge has frozen assets and properties belonging to Diego Maradona's former wife, who is being sued by the retired soccer star for allegedly embezzling more than €7.5 million of his fortune.
Maradona's lawyer Matías Morla told a Buenos Aires radio station that the courts had decided to freeze Claudia Villafañe's personal assets until the legal battle was over. "We are safeguarding Maradona's wealth," Morla said.
Maradona has accused Villafañe of secretly purchasing properties in Miami using his money when they were still married
In a bitter fight that is also being played out in the media, the 1986 World Cup winner has accused Villafañe of secretly purchasing properties in Miami using his money when they were still married. The couple wed in 1989 and divorced in 2003, but they did not liquidate their joint assets.
"There was a crime committed relating to concealment of properties," the lawyer said. "When she asked for a [bank] loan in 2002, she put on her application that she was single. The bank is now going to file a complaint against her for fraud, which entails that her [US] visa will be revoked. A criminal complaint has been filed in Miami."
For her part, Villafañe told Argentinean television program Intrusos (Intruders) that she was not "in the least bit" worried.
"I have already said that I am not going to say anything to the media. I am accompanying my lawyer to court," Villafañe said in a telephone interview that was broadcast on the program. "I always find out these things through the press before they actually happen. No one except you has told me anything."
"I don't care what Morla has to say; I am going to wait for the judge to tell me. Then, each one of us will have to deal with what comes next. The father of my daughters will continue being the father of my daughters for the rest of his life – I have known him since I was a young girl. But I never got to know him really.
"I am never going to speak badly about him or do anything to harm him. It is just not my style," she said.
Since 2012, Villafañe has been involved with actor and theater producer Jorge Taiana, whom Maradona once called an "idiot" on a TV gossip show.
"Life is about living and enjoying it, not getting 'wasted' and taking drugs," responded Taiana in reference to the former soccer player's past battles with addiction.
Meanwhile, Maradona continues his relationship with his 25-year-old girlfriend, Rocío Oliva.
English version by Martin Delfín.