WEATHER
Spain swelters in July-like heat
Seville, Madrid and other capitals could break May temperature records on Wednesday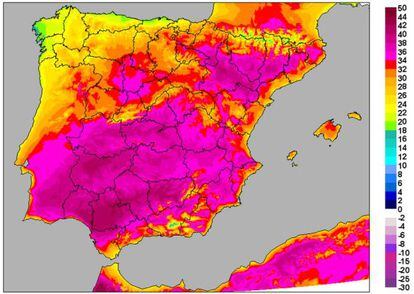 Spain's national weather service has confirmed that the country is experiencing "July weather in May."
And it's about to get worse, warns Aemet spokeswoman Ana Casals.
The excessive heat will last "at least a week" and produce "exceptionally high" temperatures for spring, she said.
Already on Monday, many parts of Spain were registering temperatures of between 30ºC and 36ºC.
They're going to get fried in Seville where temperatures could easily hit more than 40ºC"
Ana Casals, Aemet spokeswoman
The reason is a body of hot, dry air moving in from Africa that will cause thermometers to rise "between seven and 15 degrees more than usual, practically across the entire Iberian peninsula."
"Records are going to be beaten, because temperatures are going up today, a little more tomorrow, and even more on Wednesday," Casals said on Monday.
In Seville, for instance, "they're going to get fried, since temperatures could easily hit more than 40ºC."
If forecasts are right, the Andalusian city could on Wednesday experience its hottest day in May in the last three decades. And the same may also happen in Madrid.
Even so, the phenomenon cannot technically be described as a heat wave, because that requires three straight days of significantly above-average heat, said the spokeswoman.
This will only happen in the Canary Islands, where "there will be a heat wave between May 11 and 16."
For the rest of the country, the hottest day will be Wednesday except in the Valencia region, where Thursday is scheduled to be the real scorcher.
"Friday will be cooler, but by then temperatures will have risen so much that, even if they drop, they will remain high," warns Casals.
The short respite will be followed by excessively hot weather again on Saturday and for much of next week.
Authorities are warning about the health risks of sun exposure without adequate skin protection, especially in Andalusia.