Cover-up complaint against President Kirchner suffers major blow
Top prosecutor in Argentina finds no crime listed in his dead colleague's controversial writ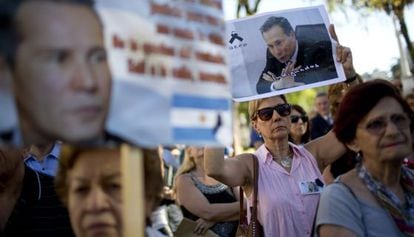 A criminal complaint filed against President Cristina Fernández de Kirchner for an alleged cover-up relating to a 1994 terrorism investigation suffered a major blow on Monday when a federal prosecutor decided to drop the entire inquiry after ruling that the charges have no basis.
The writ had been originally brought against the president and other government officials by Alberto Nisman, a federal prosecutor whose death three months ago remains a mystery.
Nisman was found lying in his bathroom with a gunshot wound to the head on January 18, the day he was scheduled to testify in Congress about the cover-up charges he had filed against Fernández de Kirchner, Foreign Minister Héctor Timerman and other officials.
There has been no official ruling on whether Nisman committed suicide or was murdered.
Nisman alleged that the president and her aides had tried to derail his own investigation into the 1994 bombing of the AMIA Jewish community center in Buenos Aires by trying to negotiate a trade pact with Iran in exchange for impunity for the Iranian suspects wanted in the case. The car bombing at the center took the lives of 85 people and injured dozens more.
Four days before his body was found, the prosecutor had formally asked a judge through his writ to open an investigation into the president.
On Monday, Javier De Luca, a prosecutor at the Federal Cassation Court – Argentina's top criminal tribunal – decided to shelve Nisman's original complaint after he ruled that his dead colleague never outlined any specific crimes committed.
This marks the third time that Nisman's complaint has been dropped since it was reactivated following his death.
This marks the third time that Nisman's complaint has been dropped since it was revived following his death
Geraldo Moldes, a prosecutor with the lower federal appeals court, had pushed to keep the investigation active after an appellate court upheld a prior decision to dismiss it. Moldes had also predicted in the press that De Luca, a government ally who was the latest prosecutor to inspect the case, would eventually have it dismiss before Cassation Court.
The investigation could be reopened if it is assigned to another prosecutor.
But some government opposition leaders have doubted that Nisman's allegations were not solid enough to go as far as charging a president with a crime.
In his own writ, De Luca shot down Nisman's theories about the president's involvement. "It is not possible to move forward and initiate an investigation into some events included in the complaint because those events do not constitute a crime," De Luca wrote.
Fernández's popularity has slowly regained the momentum it lost following Nisman's death
Parts of Nisman's allegations were based on a 2013 agreement Argentina tried to hammer out with Iran calling for a joint investigation into the bombing. However, the memorandum of understanding was never approved by the Iranian parliament and the international inquiry never got off the ground.
"To argue that the signing of a treaty constitutes a criminal plan is absurd from a legal point of view," De Luca wrote.
Fernández de Kirchner's popularity has slowly regained the momentum it lost following Nisman's death, especially among the lower classes. The surge in her approval ratings also comes on the eve of a tough presidential election campaign in which the ruling party's coalition candidate, Buenos Aires Governor Daniel Scioli, is leading in all polls.
Fernández de Kirchner is prohibited under the Constitution from running for more than two consecutive terms.