Spanish police crack down on Gibraltar cigarette smugglers
Tobacco has become a major source of income for communities bordering the Rock
La Línea de la Concepción -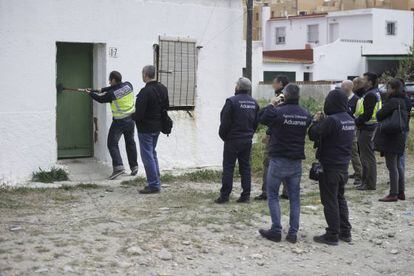 "What are you doing? You can't take my husband away, he provides work and puts food on the table for everybody round here," shouted Elisa Isabel at police officers after they arrested her husband, Manolo Martínez Jiménez, also known as "El Lolo," on February 18.
Spanish police working on Operation Poniente also detained more than 20 people who allegedly worked for El Lolo and searched 18 premises in La Atunara, a run-down neighborhood of La Línea de la Concepción, a town of around 60,000 people that borders Gibraltar.
Eastern European gangs are increasingly becoming involved in tobacco smuggling, say police
Aged 43 and illiterate, El Lolo ran a tobacco-smuggling network with relatives and childhood friends, trafficking around 150,000 packets of cigarettes each week during 2014 – or 7.5 million over the course of the year – according to police and tax authorities.
Police also wanted to arrest Francisco José Mancilla, also known as El Largo, but he was allegedly occupied smuggling hashish; instead they took away his wife and sister-in-law. Three days later, after pressure from the women's parents, Mancilla and his brother presented themselves at court with a €30,000 bail bond in cash for the two women. The men were arrested and charged with belonging to a criminal organization, smuggling tobacco, and money laundering.
Spanish police have cracked down hard on La Línea's tobacco smugglers in recent months, carrying out operations against around 30 different mafias accused of illegally bringing in cigarettes from Gibraltar. The police have also managed to move up the structure of the criminal organizations to identify some of those responsible for laundering the money made from the smuggling.
The Spanish tax authorities and OLAF, the EU's anti-fraud office, say most of the money is pumped back into Gibraltar and held in accounts there. "We have reason to believe that offenses related to tobacco smuggling and money laundering [in Gibraltar] affecting the interests of the European Union have been committed," reads a recent OLAF report.
Tobacco smuggling has long been a source of revenue for the communities bordering Gibraltar, but police say that eastern European gangs, from Lithuania, Bulgaria, and Romania, are increasingly becoming involved. The Spanish tax authorities estimate that Spain is losing around €325 million in revenue each year as a result.
Smuggling provides much-needed income for communities such as La Atunara, which have unemployment levels of around 40 percent. "It's a losing game," says one local man who has been smuggling all his life. He runs three scooters, and says he makes around €210 from each tobacco run.
Up in smoke
Gibraltar, which has around 30,000 inhabitants, imports around 120 million packets of cigarettes a year, according to the Spanish tax authorities – equivalent to 11 packets a day per person.
Tax on tobacco makes up 27 percent of the Rock's revenue, says Spain: around €150 million.
Like other smugglers in La Atunara, he has contacts with the Indian importers based in Gibraltar as well as buyers in La Línea, and makes several trips a day into Gibraltar with his two partners. "This is a way of earning a living: three trips are €210 for each scooter." Aside from the risk of a fine of up to £1,200 by the Gibraltarian authorities, he says he also has to time his return into Spain to avoid attracting the attention of the police at the crossing point: "You can't go past the same guard twice in a day, if only out of politeness." A Civil Guard officer on duty at the crossing says that he and his companions are under constant surveillance by the smugglers: "They know everything about us: they give us nicknames, they know when we come on duty, where we go: they follow us," he adds.
Each smuggling gang has its watchman, tasked with letting the others know when it is safe to bring a motor launch ashore loaded with cigarettes and to run the 50 or so meters up the beach to the road where scooters are waiting to take the haul to a safe house where it will be stored for a couple of days – the occupants of the property receive a cut. So many houses are used in this way that police say they sometimes stumble across dozens of cartons stashed away in a bathroom after they are called out on a routine complaint.
Behind the pastel-colored walls of El Lolo's property, its entrance flanked by two statues of lions – copies of those that stand outside the Spanish Congress in Madrid – police seized more than €100,000 in cash, along with two luxury cars, a banknote-counting machine, 35,250 packets of cigarettes and a number of inflatable motor launches. Police say El Lolo's 14-year-old son is already an experienced driver and has been used to deliver cigarettes to other provinces.
Smuggling has come a long way since the days when old ladies tucked away a few cartons under their skirts, as shown in a photograph in the museum in La Línea. Gang leaders have an army of unemployed young men with no other means to earn a living at their disposal. Equipped with cellphones, they hang around the town's bars, waiting to be told that there's work today and that they will be earning between €10 and €15 per run. "Some nights three or four of them will move up to 100 cartons," says a police officer.
The Spanish tax authorities say around 120 million packets of cigarettes are imported each year into Gibraltar, which has a population of 30,000 people. The British Overseas Territory obtains 27 percent of its revenue from the business. "It is obviously impossible that these cigarettes are smoked, and that they are harboring smuggling," says a tax officer.