Banco de Madrid clients will only get up to €100,000 of their money back
Spanish authorities fall back on deposit guarantee limit, rather than bailing out the lender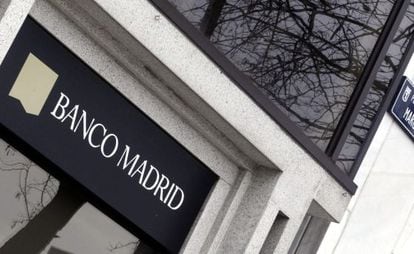 Customers with savings in troubled Banco de Madrid are only guaranteed €100,000 of their money back.
Spain's industry-funded Deposit Guarantee Fund made the announcement late on Wednesday, saying that representatives would soon get in touch with clients to return their money "up to a maximum limit of €100,000 per account holder."
The freeze on deposits affects around 14,000 clients who hold a combined €600 million in Banco de Madrid, as well as around 27,000 customers who placed €1.5 billion in investment funds.
This is the first time since the financial crisis began that Spain has applied the legal limit on deposit guarantees for insolvent lenders. The case sets a precedent in a country whose authorities had, until now, opted to bail out struggling lenders rather than let them fail.
The case sets a precedent in a country that until now had opted to bail out struggling lenders
Banco de Madrid ceased operating earlier this week, and an interim management team sent in by the central bank has requested a creditors' meeting in a bid to prevent outright bankruptcy.
The lender, which manages large fortunes and had plans to expand, saw its fortunes change when US authorities acted against its parent company, Banca Privada d'Andorra (BPA), on suspicion of money-laundering activities.
In an offshoot of that investigation, the Bank of Spain sent two inspectors to BPA's Spanish branch last week. But before the team had time to start analyzing Banco de Madrid's accounts, the entire board of directors walked out, forcing the central bank to appoint a temporary management team and triggering a bank run.
One of the chief criticisms levied at the center-right government of the Popular Party (PP) has been its decision to bail out struggling savings banks with taxpayers' money. In 2012, the Mariano Rajoy administration requested assistance from a EU bailout fund to save lenders that had been hard hit by the property bust.
This time, Spain's Orderly Bank Restructuring Fund (FROB) said it would not step in to save Banco de Madrid, which now faces bankruptcy. A FROB statement said the lender did not meet "the legal requirements" for a rescue.
Andorra legislates to close BPA
Lluis Pellicer
The government of Andorra is paving the way for an orderly liquidation of Banca Privada d'Andorra (BPA), the parent company of Banco de Madrid. Lawmakers in the small Pyrenean principality are drafting a financial restructuring bill that will speed up the otherwise lengthy bankruptcy proceedings.
"It is very difficult for me to think of a solution that does not involve restructuring," said Andorran Finance Minister Jordi Cinca on Wednesday. "It is impossible for the entity to operate under its current name and structure."
Sources familiar with the situation said the Andorran executive is trying to reach an agreement with the opposition and the banking sector on the contents of this bill, in order to project an image of unity to the markets.
"We are very weak in the international context," said Cinca to justify that the government needs to work "hand in hand with all the political forces in the country."
Cinca would not say when the government will lift the weekly withdrawal limit of €2,500 on BPA account holders that it introduced after the bank was targeted by US authorities.