101 wild animals rescued from Mexican politician's home
Local deputy in Puebla state had been operating his own private zoo for 15 years
Mexican authorities on Monday rescued 101 wild animals – including lions, tigers, bears and pumas – from a home in Puebla state where a local politician had been operating his own private zoo for 15 years.
Deputy Sergio Gómez Olivier kept the animals in green cages that extended across a narrow space on the 1,000-square meter property located in Tehuacán, a city of 200,000 inhabitants. According to the authorities, there were enough cages to hold 240 animals.
A documentary filmmaker invited him to give the lions and tigers to a wildlife refuge, but he refused
"The tiny cages were stacked in a small space, it was an abusive situation. Feces was even falling onto some of the other animals," the Federal Prosecutor's environmental protection division (Profeba) explained in a statement.
Among the animals rescued were 15 Bengal tigers, nine jaguars, five pumas, seven leopards, five African lions, two bears, three buffalos, two deer and one toucan.
The existence of the so-called El Club de los Animalitos (or, The Small Animals Club) was widely known about across southern Puebla state.
Before he became a politician, Gómez Olivier was a businessman who began collecting wild animals, keeping them in a small garden in the back of his home in downtown Tehuacán.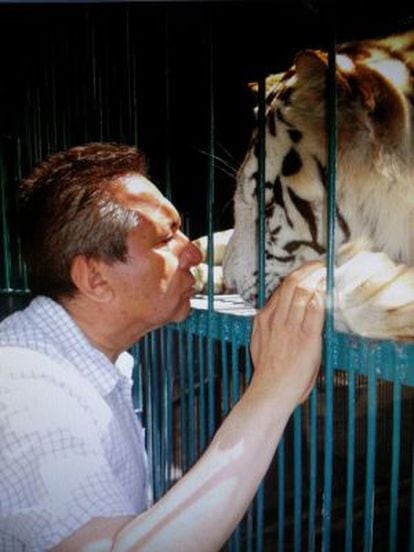 "This my private collection of animals; they are my pets. I really do love them," he said during the filming of a short documentary The Zoo Next Door. "Before I wasn't so open but I decided to let the public see them, and share them with other people."
For a $2.50 entrance fee, one could come face to face with a Bengal tiger.
Mexican authorities said that at least 40 large carnivorous animals, especially the lions and tigers, were in danger because they had been kept in inappropriately sized cages. Anyone ran the risk of getting attacked if they were to stick their hands inside, Profeba said.
In the documentary, the deputy can be seen hugging and caressing the tigers, pumas and lions. "Are you flirting with me?" he asks a jaguar who peers at him from inside one of the cages. In another scene, Gómez Olivier gives candy and lollipops to some brown bears.
Documentary filmmaker Karla Munguía released The Zoo Next Door in 2012 to expose the conditions in which the animals were being kept. She even invited Gómez Olivier to release the majority of the lions and tigers to wildlife refuges in India but he refused, saying that his animals were being properly cared for.
"This is the result of love, caring and good food," said Gómez Olivier, who had a special center for breeding tigers and held a license from local authorities to operate the zoo.
Profepa authorities said that the deputy had no permits to keep at least nine species found at his ranch. Gómez Olivier also didn't have any written evidence of where the animals had come from.
In the documentary, the politician explains that he bought a lion from a circus after he discovered that the animal was being mistreated.
Gómez Olivier represents the conservative National Action Party (PAN) in the Puebla state legislature. He serves on the environmental committee and last year voted against a ban against the use of animals in circuses and at other public events.
Neighbors had complained about the animal noises and foul smells coming from the deputy's home in the center of Tehuacán. Local animal rights groups also denounced him for the deplorable conditions.
While the investigation continues, authorities said they will take the animals to different centers where they can be properly cared for.