Spanish television's clap trap
The cash TV firms pay to studio audiences has become a way for some to make ends meet Crisis-hit pensioners, foreigners and the jobless typically earn around €10 for 10-hour days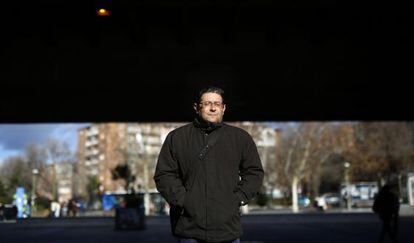 Each morning, Manuel Martín, a 49-year-old father of two who has been jobless for the last three years, makes his way to his local unemployment office, reads the wanted ads, sends off his résumé, and then heads back to the apartment of a friend who's letting him stay in one of the rooms.
Martín receives just €426 each month from the state, and his ex-wife is suing him for failing to meet his alimony payments. He says he's lost everything, and is so hard up that he's prepared to spend hours as part of the audience for a television show, without even knowing what time he'll be able to go home. All he's been told is that he will make €8.
After a half-hour ride on a bus full of people in similar straits, Martín arrives at an industrial park in Algete, 30 kilometers northeast of Madrid. He is herded out into a huge line of over 400 people standing outside a television studio, where they will wait in the freezing cold until they are allowed inside around 7pm.
A hard day's night
The time and place. Participants gather at 4pm at different points in Madrid: Plaza Castilla, Aluche, Colonia Jardín and Alcobendas.
The journey. The buses leave at 4.30pm and arrive at an industrial park about 30 kilometers north of Madrid at around 5pm.
The wait. The studio at state broadcaster TVE doesn't open until 7pm. In the meantime, the assembled audience is kept waiting in near-zero temperatures, and given a sandwich and soft drink.
The show. The program runs over time and filming doesn't finish until midnight.
The reward. As they board the bus to return home, members of the audience are given between €8 and €10.
The return. The bus drops audience members at different points in Madrid at around 12.30am. Many now face an hour's journey home.
The crowd includes many pensioners, twentysomethings and foreigners: Poles, Romanians, Lithuanians and Latin Americans. They have come from all corners of Madrid, and most of them are either living on unemployment checks or not eligible for welfare.
These are the people seen laughing and clapping in the audiences of some of Spain's television shows. They boarded the bus at 4pm and many of them won't be getting home until 2am. In return for a 10-hour day, they'll be given a sandwich and a soft drink, along with €8 or €9.
Those able to stand the boredom and the cold – such as Manuel, who used to work in sewage cleanup, or Jezzy from Peru, Álex and Fernando from Colombia, or the Lithuanian Roberto Pukctys – can earn around €150 a month, traipsing from one show to another. When they are finally allowed into the studio, they sign a form giving up their image rights and acknowledging receipt of €8 or €9 in advance. Or maybe even €10 on a good day.
This is Manuel's second time, and he's not sure he can take it. He thought there could be nothing worse than cleaning sewers, but he is outraged at the way that he and the rest of the audience are treated by the studio staff. "But I'm desperate," he says. "I'm not ashamed to admit it. And when you're desperate, you'll do anything. With this I can buy a loaf of bread and a pack of cigarettes."
The business has changed, says an agent who started out as an audience member 20 years ago and now brings in several busloads of audience members a day. She makes €2 for each "applauder" she finds. "Before this, there were fewer people and the wages were higher. It's become abusive. It breaks your heart to see how they are treated, like cattle. Sometimes I'm ashamed to bring them in," she says.
Tonight's audience will be applauding for the final of Hit, a show produced by state broadcaster TVE that gives emerging songwriters a chance at the big time by having one of their numbers played by an established performer or band. Finally, the stars arrive: Melendi, Mojinos Escozíos and David Bustamante. But their paid audience is not allowed to ask for their autographs. Instead, they are herded in and directed to their seats, where they are then instructed how to clap, cheer, laugh, and generally display boundless enthusiasm.
Ana Belén is a social worker who's been unemployed for two and a half years, and been supplementing her income like this for 16 years. She lives on the little she earns from sitting in the audience, and whatever her family can help her with. Like the others, she does what she's told. If the set manager wants clapping, he gets applause; if everybody needs to stand up and cheer, they do so, laughing and waving their arms.
"I used to enjoy this, and always angled for a front seat," says Ana Belén resignedly. "But now I hide at the back." She says the worst part is the hanging around. To top it all off, she's just lost her cellphone, and says the €8 she's being paid won't even cover the cost of a duplicate SIM card. "Talk about a ruinous business," she sighs. But she keeps on applauding.
She suspects she may have dropped her phone in one of the eight portable toilets lined up outside for the more than 400 members of the audience. Once the program has begun, it's only possible to use the lavatories with permission from the studio managers (it took this journalist three efforts to be allowed out). After dark, entering one of these foul-smelling cubicles becomes an extreme sport. "My wife has to roll up her skirt so as not to stain it, it's disgusting," says one 71-year-old who prefers not to give out his name in case he's not allowed back. "We can't live on this, that would be impossible. But it covers some costs. Some other couples buy their food with what they earn here," he says.
Many of the people here know one another, as they have been doing this for years. Some have even become experts in television production, like Chilean citizen José Becerra, who has analyzed every production mistake on the set. Manuel says he just finds it all very tedious. "Cleaning sewers can be disgusting, and I never earned more than €1,500, but television is a world of lies."
The program was due to finish at 11.30pm. Or at least that's what the audience was led to believe. But it turns out that a number of performances will have to be repeated. Some in the audience shout out that they want more money, but the agent quickly intervenes and quells the mutiny. The show must go on. In any case, the audience has already signed for the amount they're to receive and there's nothing to argue about.
"I know it's very little money, but that's what I'm given," says Penélope, who runs one of the best-known agencies in Madrid. "If I don't do it, somebody else will," she says, adding that what the audience is given isn't pay: "It's a little help." That said, she accepts that the audience is not treated well. "It's hard managing large groups," she says.
When the show finally ends, the agency hands out the money to the recruiters, who in turn pay the members of the audience inside their buses. Ana Belén, Roberto, Borja, Angie and Jezzy will get back to Madrid at 12.30am. From there, it will take Manuel another hour to get back to his friend's apartment in the south of Madrid. He says he's not sure if he'll be asked back.
It's Thursday night, and most of the people on the bus will be back in the audience on Saturday night, this time for a talk show that will feature an interview with Pablo Iglesias, the leading light of Spain's newest political party, Podemos – or to put it another way, the chance to earn €8 for 10 hours of their time.