Divisions appear among Venezuela's opposition factions over strategy
Some parties from the MUD anti-government coalition keen to avoid public protests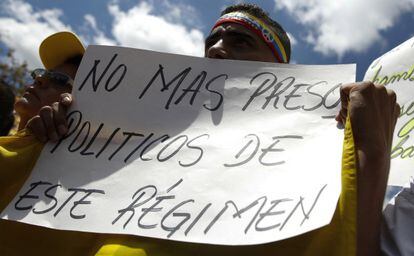 A crackdown by the Venezuelan government on opposition leaders is starting to take its toll.
Last Thursday, Caracas Mayor Antonio Ledezma was suddenly arrested by officers from Venezuela's intelligence branch Sebin after he was accused of being part of a plot to overthrow President Nicolás Maduro. The 59-year-old Ledezma was taken to the Ramo Verde military prison, where Leopoldo López, another leading opposition figure, is being held on sedition and other charges.
The pair are key figures among a section of the opposition that has been most vocal in demanding that Maduro step down and call early elections, having signed an open letter calling for "a national transition." Former National Assembly deputy María Corina Machado had also put her name to the document.
Ledezma, López and Machado had signed an open letter calling for "a national transition" agreement
Maduro has openly accused these politicians – along with members of the military, who were also arrested – of being part of an alleged plot to topple his government. The president claimed that the coup was being planned in Bogota, Miami and Madrid.
Colombia, the United States and Spain all denied their governments were involved and said Maduro's allegations were "baseless."
Machado is the only one of the trio who has not been arrested, but her supporters believe it is only a matter of time before Sebin closes in on her.
In February 2014, hundreds of thousands of Venezuelans took to the streets after the three organized anti-government rallies across different cities. The demonstrations turned violent, especially in the capital, where protestors torched the public prosecutor's office and set fire to official vehicles. At least two people were killed by Venezuelan security forces, while dozens more were injured.
But as tensions reach new heights following Ledezma's arrest, the call for early elections as "the only way out" of the political, social and economic crises facing Venezuela appears to be losing strength.
The call for immediate early elections as "the only way out" appears to be losing strength
Members of other political factions that make up the MUD coalition that groups together the country's major opposition parties believe that this isn't the best time to go out on the streets to protest. A better strategy, they argue, would be to take advantage of the public's discontent with the economy ahead of crucial legislative elections.
The National Assembly races will be held sometime in the second part of this year but Maduro has stated they could be called as early as July.
According to some polls, the opposition has gained enough support over the past few months to potentially take control of the assembly for the first time since the late President Hugo Chávez came to power in 1998.
But Maduro's backers control the National Election Council (CNE), which has the final say in the vote tallying. Some analysts believe that the CNE may redraft election rules that would permit the government's ruling party to add more seats in the chamber representing districts where Maduro has strong support.
While MUD has backed Ledezma and called for his release, many of its member parties appear to be busy with their own plans for the upcoming elections.
Jesús Torrealba, MUD secretary general, said last week that primaries will be held on May 3 to select candidates. This announcement didn't sit well with those who are calling for Maduro's immediate resignation and early general elections, but those differences haven't been aired in public.
"I think that the different agendas we have are perfectly compatible with one another," said Roberto Enríquez, president of the center-right Social Christian (Copei) party. "Just because we don't appear all together at one public event doesn't mean that we do not have the same goals.
Some polls show that the opposition could be on track to take control of the National Assembly
"What is important here is to win the National Assembly and from there, we can introduce a proposed amendment to the Constitution that will eliminate the automatic re-election of the president and reduce his terms in office. This would mean the calling of new presidential elections," Enríquez explained.
Nevertheless, there is a growing concern among the international community over the Maduro government's latest actions.
Colombian President Juan Manuel Santos asked the Venezuelan government to free López and Ledezma, while Roberta Jacobson, the US secretary of state for the Western Hemisphere, said that Washington "was deeply concerned" about the crackdowns against the opposition.
Former Colombian President Ernesto Samper, who now serves as secretary general of the Union of South American Nations (Unasur) will travel to Caracas this week with a delegation to discuss Ledezma's detention.