CC OO union spent millions on trips, food and bonuses during crisis years
CC OO's banking section paid €14 million in travel expenses and €3.7 million on bonuses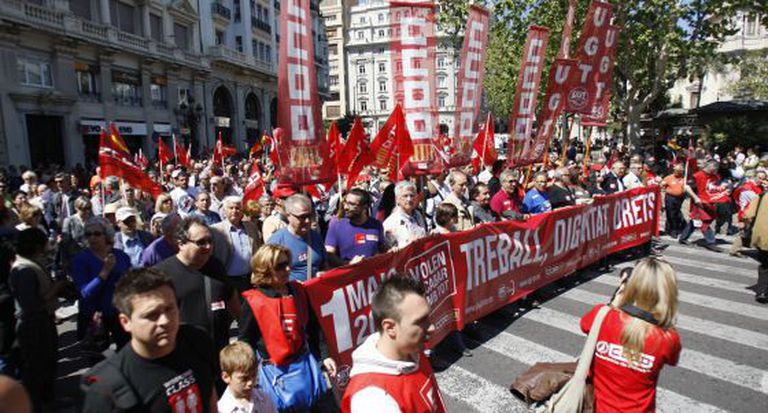 One of the trade sections of Comisiones Obreras (CCOO), Spain's largest labor union, spent more than €14 million on meetings and travel, and €3.7 million on bonuses between 2008 and 2012, Spain's worst crisis years, according to internal union accounts to which EL PAÍS has had access.
Members of Comfia, the union's former banking branch – which has since been merged with the hospitality and commerce sections – presented their organization with restaurant bills worth tens of thousands of euros a year, very often for meals at expensive establishments frequented by economic elites.
It may seem like a high cost, but our union charter forces us to do this"
Benito Gutiérrez, CCOO organization and finance secretary
Millions more were disbursed on a multitude of conventions at the local, regional and national level, some of which cost more than €300,000 to organize. The accounts also show numerous items recorded under generic headings such as "other" or "Visa," making it impossible to see exactly what the union's money was spent on.
Comfia leaders said the elevated expenses were justified.
"In banking, the union's activity takes place across the entire territory," said Benito Gutiérrez, CC OO's organization and finance secretary. "We visit every branch office in Spain two or three times a year, and there are several thousand of them. This represents a large expense in terms of transportation, lodging, food..."
Comfia's accounts show that some union leaders dined out three times a week at restaurants where the price per head was upwards of €50. These unionists favored fashionable establishments such as Dantxari, Kupela, Zerain, La Buganvilla and Casa Jacinto in Madrid, as well as 7 Portes, Senyor Parellada and Merendero de la Mari in Barcelona. Some of the checks were for more than €1,000 at a time.
Benito Gutiérrez himself racked up €37,057 in travel expenses in 2009. Of this amount, €15,810 was for restaurants and another €7,200 for generic items such as "other" or "union action." José María Martínez López, secretary general of Comfia, charged the union €26,719 that same year for mostly undefined items.
Both men also enjoyed annual bonuses of up to €20,000, car rentals worth around €10,000 a year, and a permanent parking spot costing €2,000 a year. Gutiérrez, who lives in Mora (Toledo), also benefited from an apartment rental in Madrid worth €12,000 a year.
Meanwhile, a convention held in Seville in the spring of 2009 cost more than €300,000 to organize
"That meeting forced us to bring together 600 people and provide them with hotel rooms, food... It may seem like a high cost, but our union charter forces us to do this," says Gutiérrez.
In one case, Comfia paid a €250 traffic ticket for Madrid secretary Francisco López. "That should not have been paid," admitted a union source.
In 2008, Manuel Rodríguez Aporta, in charge of international cooperation, presented the union with a bill for €509.50 from a Peruvian firm called Inkanatura Travel, which specializes in nature tourism and organizes trips to the Amazon rainforest and Machu Picchu. A Comfia spokesman said that "Rodríguez was training local union leaders in Peru, and that expense must be for a meeting space he rented out." The agency's website provides no such service.
Some union members dined out three times a week at restaurants where the price per person was more than €50
The organization admits it has implemented some savings measures through the use of new technology, bringing travel and meeting expenses down from between 2.7 and 2.9 million between 2008 and 2012 to two million in 2013.
Meanwhile, Comfia also handed its delegates bonuses worth €3.7 million between 2008 and 2012, a period when the banking sector shed more than 30,000 jobs and around 20 lenders had to be bailed out with taxpayers' money.
The accounts show that these additional payments went mostly to national leaders (€1.97 million) and to the Madrid federation (€0.49 million), although over 100 people benefited in total. The Catalan delegates are not included in these figures as they keep their own separate territorial accounts.
Most of the recipients perform their unionist duties as "free agents," meaning that their salaries are paid not by CC OO but by the lenders they work for. The union-paid bonuses were as high as €20,000 a year in some cases.
In recent years, Comfia has consolidated its position as the leading union in the financial sector, with support from 30 to 50 percent of workers. Affiliation grew notably during the crisis, going from 99,000 members to 120,000.