AIR TRAGEDY
Controls failure caused F-16 crash
Engine malfunction alone does not explain why Greek plane veered right after takeoff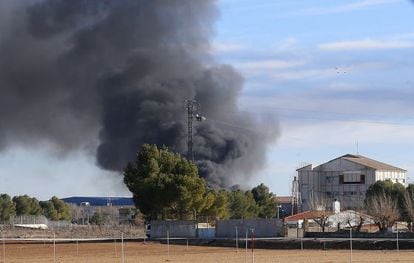 A controls failure was behind the crash of a Greek F-16 fighter jet that killed 11 and injured 20 at a Spanish airbase last Monday, according to first investigations.
An engine failure alone could not have been enough to cause the tragedy at Los Llanos base in Albacete, which operates as a NATO training center to improve joint air operations.
Sources familiar with the investigation said that even if the aircraft's single engine malfunctioned on takeoff, the F-16 should have normally continued in a straight line and the pilots would have been able to control where their plane crashed.
The fighter jet did a 45-degree right turn and headed straight for the hangar
Instead, the fighter jet veered 45-degrees right and headed straight for the hangar where Italian and French aircraft loaded with fuel were waiting to take part in a routine training exercise. As well as those planes' pilots, ground personnel were also in the area.
The F-16 barely rose a few meters off the ground and never pulled up its landing gear. Both Greek pilots on board ejected before crashing, but because by then the aircraft had tipped sideways, they were sent straight against the ground. Their bodies were found outside the hangar.
The nine other casualties were French military personnel.
The Albacete base had all necessary safety measures in place and the affected countries did not raise questions
While the F-16's black boxes are analyzed, investigators have already determined that the airplane did not hit the parked jets directly, but instead struck the ground a few meters away, burst into flames, and skidded into the area where two Italian AMX jets and two French Alfa Jets and one Mirage were on standby.
The F-16 was the fourth aircraft to take off as part of a training exercise involving nearly 30 planes from seven NATO member states.
Sources consulted by EL PAÍS insisted that all necessary safety measures were in place at the Albacete base. None of the affected countries have raised any questions regarding safety at the site, and the incident is being regarded as a chain of unfortunate events.