Civil Guard seizes €300,000 worth of Egyptian antiquities
Five people arrested in Spain as part of smuggling ring after discovery of haul in Valencia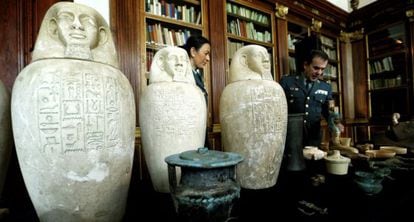 The Civil Guard has announced the recent breakup of an international ring that smuggled ancient Egyptian archeological treasures through the port of Valencia, on the Mediterranean coast.
Law enforcement officers confiscated a container filled with 36 pieces all estimated to be more than 3,000 years old and worth €300,000.
Authorities made five arrests last November in connection with a haul following an undercover operation that began in June 2014, said Civil Guard officials at a news conference held Wednesday at Madrid's National Archeological Museum (MAN).
Among the most valuable artifacts confiscated were a bust of the Egyptian goddess Sekhmet, various statues of the god Osiris, several small boxes and canopic jars.
"Without a doubt, the most valuable piece is the bust of Sekhmet – it could be worth around €100,000," said Captain Javier Morales, who was in charge of Operation Hierática (Hieratic).
The law enforcement agency confiscated the goods from a shipping container that came from Alexandria, Egypt.
Speaking alongside the Egyptian ambassador to Spain, Morales explained that the alleged ringleader had enough resources to organize a massive antiquities trafficking operation that allowed the group to smuggle valuables from the country and resell them at fairs and events in Spain and France. The conspiracy may have been in operation for years.
Four Egyptians and one Spanish antique dealer were arrested in Spain while authorities in Egypt detained two people who acted as intermediaries. Those arrested in Spain face trafficking in antiquities, money laundering and criminal conspiracy charges. They could spend up to 15 years in prison if convicted.
Civil Guard general director Arsenio Fernández de Mesa stressed the importance of breaking these smuggling rings because, according to him, they could be used to finance jihadist terrorism activities.
"This deserves congratulations, as we must raise awareness within the European Union about the need to stop the trafficking of these goods, not just because they can favor conflicts and terrorism, but because they are part of the culture of the country they were stolen from," he said.
For that reason, the treasures will not be placed on show in Spain, but instead will be sent back to Egypt as soon as the pieces are completely identified.
"The bust of Sekhmet probably came from Luxor [in the Nile valley] because she was their goddess. The other pieces possibly came from Alexandria because they have Greek-Roman characteristics, but we are not exactly sure," explained María del Carmen Pérez Die, an Egyptian art expert and head of the conservation department of antiquities at the museum.
Pérez Die said that with the exception of the bust, the rest of the artifacts may have come from a tomb.