Why working 8am to 3pm is still a dream for most Spaniards
Power company Iberdrola's timetable has made its 9,000-strong workforce happier But the rest of the country's private sector is reluctant to make the change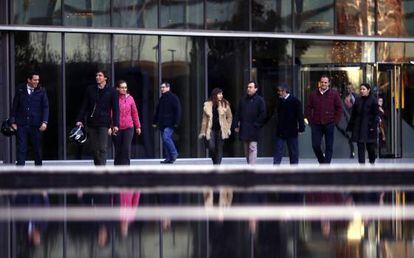 It's 3pm on a typical Tuesday afternoon in one of the new districts built in Madrid's northeastern outreaches, and thousands of people are pouring out of a high-tech building. In a country notorious for its late eating habits, the casual observer might be forgiven for thinking these employees were going to lunch. But they work for electricity utility Iberdrola, which in 2008 introduced compressed working hours for its 9,000-strong workforce. The day begins at 7.15am and ends at 2.50pm, with a 45-minute flexi-time option.
"This is something that can be good for staff and can certainly benefit companies," says Ramón Castresana, Iberdrola's head of human resources. Six years on from the initiative, Castresana, who was behind the move, says the facts speak for themselves: "We have improved productivity and increased our working hours by more than half-a-million per year. We have reduced absenteeism by 20 percent, while accidents in the workplace have fallen by 15 percent." But despite the evidence, Iberdrola is alone among Spanish private-sector employers in moving toward more rational working hours, although Barcelona-based brewery Damm is about to follow suit.
We have reduced absenteeism by 20%, and workplace accidents have fallen by 15%"
"You arrive at work with a different mentality," says Teresa Roch, a 31-year-old who works in Iberdrola's human resources department. After a period spent working in Scotland, she joined the company in July 2013. "In Glasgow, I worked right through the morning until lunchtime. A lot of my colleagues didn't bother going out to eat, and ate a sandwich at their desks, checked their emails, or read the paper. And nobody stayed on after hours," she says.
In contrast, Spain continues to cling to old habits, with long working days still the norm: this means stretching the day out, and making up for time lost in the morning by staying on into the evening. "You have to fill in the time, because nobody is capable of being productive for 10 hours," says Roch. "That's why people look for other distractions."
Paz Montes, a 47-year-old in the company's supply department, worked for Iberdrola for 10 years before it introduced a compressed week. "We had a union meeting where we were told what the company was proposing," she says. "People were skeptical. We thought that the idea was simply to get rid of the compressed week we worked in the summer months. When they said that the idea was to extend it, we were all very surprised." But the unions were initially hostile, complaining that the proposal meant working an extra 15 hours a year. There were also problems with some sectors of the company's management, who found the adjustment difficult. At the same time, some employees were concerned that they wouldn't know what to do with the free time they would suddenly have at their disposal.
Castresana admits there were initial problems: "It's hard adapting to new hours after 30 years following the same routine," he says, adding: "This was a major change in our working culture, and we had some people who asked if they could opt out and continue working their old hours." Montes says that her colleagues soon began to realize that they could use their time outside work to learn a new language, or go to the gym, or any number of activities: "I don't know if anybody actually bothered to though!" she jokes.
The unions were initially hostile, complaining that the proposal meant working an extra 15 hours a year
"But people soon made the switch," Castresana continues. "And it didn't cost the company anything to do this. Our workforce is aware that they have to use their time at work to the best advantage, get the job done, and then leave on time. They don't interrupt their work, and just concentrate on the task at hand. The result has been a huge increase in productivity."
He says that one of the reasons Spaniards, and by extension, Spanish companies, may be reluctant to work a compressed week is simply habit, as well, to some extent, due to the benign climate in much of the country. "There are more hours of daylight here, and the shops stay open late, so there is less hurry to get things done. It's deeply rooted, and so we spend more time at work." A survey by employment agency Randstad in 2013 showed that 80 percent of employees said they worked more hours than the previous year, most of whom did so without actually doing any more work.
Montes says that the compressed working week at Iberdrola has meant she rarely has to work after hours. "And even if you do work a little extra to finish a project off, you are still leaving at a reasonable time. But I can count on the fingers of one hand the number of times that I have had to stay beyond 3pm. Knowing that you have time for yourself changes things completely. I am a lot happier at work now," she says.
Perhaps more Spanish companies would be inclined to make the move to a compressed week if they were aware of the benefits, says Castresana. Rational Time, a time-management consultancy, recently noted in a study that, "poor management of working hours and lack of flexibility can have a negative impact on companies."
Even if you do work a little extra to finish a project off, you are still leaving at a reasonable time"
"I feel that my professional and family life are now balanced," says Montes, a mother of two. "I no longer feel stressed out trying to fit everything in," she says. Like most of her colleagues, she eats at the office, and leaves a little later. "We're allowed to adapt our hours to our working lives," she says, adding that she now feels more in control of her life. "My friends are very envious, and I can see why, I think that most people would work better under these conditions."
Castresana says that Iberdrola has been approached by several large companies about the experience of the compressed week. "In 2015, we're going to sign a new agreement, and I have no doubt that we will continue with this arrangement. I think that the coming generation of employees will demand these kind of collective agreements, and that this will soon spread as the norm throughout Spain."
The cost of long working hours
A study by the University of Zaragoza shows that compressed working hours reduce costs and increase productivity on average by around six percent.
Spaniards leave work around two hours later than their counterparts in the rest of Europe, says a commission set up in Spain to look into working hours.
Companies that give employees a feeling that they are being looked after, typically by offering compressed hours and flexi-time, tend to have happier workforces, as well as seeing an increase in productivity by up to 19 percent, according to a survey carried out by Spanish business school IESE and consultants Edenred in 2012. Furthermore, employees feel up to four times more committed to their work. However, due to the crisis, Spanish companies have cut spending on work-life balance by 40 percent, according to a survey by consultants PeopleMatters.