Let it snow!
Rush headlong into our guide to Spain's top ski destinations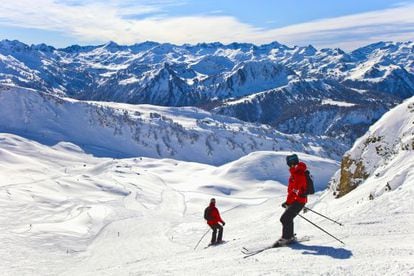 Two of Spain's best-known ski stations celebrate their 50th anniversary this winter: Baqueira Beret and Formigal, both in the Pyrenees. In the intervening half century skiing in Spain has gone from being an elite sport to one that attracts hundreds of thousands of people each year, generating revenue in once-depressed mountain regions.
In a bid to keep visitor numbers up during the economic crisis, growing numbers of ski stations have been replacing ski lifts with magic carpet conveyor belts, which are low maintenance and easier to use for beginners. What's more, many resorts are creating special areas for the growing numbers switching to mountain skiing.
And it's never been easier to buy competitively priced all-in packages for the major ski resorts that include accommodation and ski pass, along with other required extras.
BAQUEIRA BERET
Skiing safaris
Pistes: 153 kilometers. Altitude: 1,500-2,510 meters. Daily ski pass: €48. Information: www.baqueira.es and 97 363 90 00.
Back in 1964, Baquiera became the first Spanish ski station to install a ski lift. Since then, the area's economy has been transformed by the sport, becoming the country's largest and most popular ski station. Located in the highest part of the Aran and Aneu valleys, it's divided into three different zones: Baqueira, Beret and Bonaigua. This winter, the resort will offer 21 pistes more than last year to create a skiing area of over 2,166 hectares. There are a total of 99 marked pistes and three itineraries, adding up to 153 kilometers of skiing routes.
The Aran Valley station has 35 lifts. The newly installed Jesus Serra four-seater chairlift replaces the Vista Beret chairlift and links Orri with Beret quickly and comfortably. The new Saumet button lift at Vista Beret reaches up to 2,384 meters, providing access to four new pistes for expert skiers.
Baqueira also offers group tours: the Blue Safari, covering 25 kilometers, and the Black Safari, which offers access to some of the station's most challenging pistes. January will see celebrations to mark Baqueira's 50th anniversary, including a number of competitions, concerts and exhibitions.
ARAMÓN FORMIGAL
Down the slopes to the village
FORMIGAL & PANTICOSA pistes: 176 kilometers. Altitude: 1,145-2,251 meters. Daily ski pass for both stations: €43. Information: www.aramon.com and 97 449 00 00 (Formigal) and 97 448 72 48 (Panticosa).
Formigal dates back to the early 1960s, when people in the area unable to make a living from farming began to leave in large numbers in search of work. Taking their initiative from Baqueira, a group of local residents began collecting money, and eventually saved enough to buy a simple two-person ski lift. Since then, Formigal has grown to become one of Spain's most important ski resorts. This year, to celebrate the opening of the first ski lift, Formigal will be holding competitions, concerts and a range of other activities. It will also be teaming up with the neighboring station of Panticosa to offer a single ski pass for the two resorts. A bus will ferry skiers the 13 kilometers between the two stations.
Formigal has improved its infrastructure over recent years, as well as creating further links with neighboring stations: in 2004, right on the French border, the Portalet area was opened. It will soon be connected with Astún in the Aragón valley, via the Canal Roya valley.
Proficient skiers will now be able to head straight down into the center of Panticosa via a new piste, El Estrimal, which will link Selva Verde with the station's base.
Over the last half century, skiing has transformed the economy of the area, and most residents are involved in the sport in some way.
SIERRA NEVADA
Frozen prices
Pistes: 105 kilometers. Altitude: 2,300-3,300 meters. Ski pass: between €33.50 and €45, depending on the day. Information: www.sierranevada.es and 902 70 80 90.
For the fourth year running, Sierra Nevada, in Granada province, has frozen its prices, as well as creating a new ski pass for youngsters aged between 13 and 16, in the hope of encouraging more families to visit. The station has also extended its artificial snow areas, providing a total of 35 kilometers of slopes.
Three new snow machines will ensure around 382 hectares are available for skiing. A new website provides real-time weather reports, as well as information on the state of slopes, news, social networks and webcams. The Sierra Nevada is one of southern Europe's largest skiing areas, and also boasts Spain's longest descent, at 1,200 meters.
ARAMÓN CERLER
Spectacular slopes
Pistes: 79 kilometers. Altitude: 1,500-2,630 meters. Daily ski pass: between €24 and €40.50, depending on the day. Information: www.cerler.com and 97 455 10 12.
Few ski stations offer so many easy and attractive routes, winding their way through woodland, while also providing really demanding, steep descents, such as El Gallinero, which begins at 2,630 meters.
This is a very special mountain, intertwined with black and red routes that challenge even expert skiers. The Molino piste, which ends at the base of the station, is ideal for children and beginners. El Gallinero and Amplia are spectacular, and more akin to pistes in the Alps. Visitors to this station, in the Benasque valle, in Huesca province, will now find it easier to reach thanks to improvements to the road coming up from Cerler. In a bid to attract families with young children, the station has set up a snow garden close to the main parking area.
LA MOLINA
All aboard the skibus
Pistes: 61 kilometers. Altitude: 1,700-2,445 meters. Daily ski pass: €41 (€38 if bought from the website). Information: www.lamolina.cat and 972 89 20 31.
With some stations preparing to celebrate their 50th anniversary, last year saw La Molina, in Girona, commemorate 70 years of glorious skiing. It has around 61 kilometers of sunny, open slopes descending through woodland to la Cerdanya. Most of them are relatively straightforward, such as the Volta Muntanya Sagrada, but there are also other, longer and more difficult pistes, such as the Tosa d'Alp, at the point where it joins the Masella, with some 135 kilometers of skiing. Aside from the snowpark, the resort offers a range of other activities, including snowshoe excursions, dog-sledding, snow segways, snowskis, and even under-ice scuba diving. Ski passes can be recharged online, and there is a ski-bus service from Barcelona on Wednesdays and Saturdays costing just €34, including ski pass.
JAVALAMBRE-VALDELINARES
Double the kilometers
Barely an hour from Valencia, Javalambre and Valdelinares are located in Teruel province. These two modest ski stations have undergone extensive remodeling over the last year, with the addition of three new pistes, increasing the skiable areas from seven to 14 kilometers.
Two sled descents have also been added at Javalambre.
ASTURIAS, GALICIA, CENTRAL REGIONS
Innovation in the snow
Located between Asturias and León, the Fuentes de Invierno and San Isidro ski stations have taken their first step toward merging with the opening of a 200-meter piste that links the two, creating around 45 kilometers of slopes, the most in Spain's Cantabrian mountain range. Leitariegos, in León province, has just been refurbished, while Manzaneda, in Ourense province, has four new slopes, offering a total of 17 kilometers of skiing.
Alto Campoo in Cantabria marks its 50th anniversary this winter, and has opened a new restaurant to celebrate. Meanwhile, further south, the Santa Inés ski station in Soria is gradually expanding its facilities. Astín, in Huesca, now has a central reservations service on its website, while Masella, in Girona, has opened a new piste in the Coms de Das area, along with a bus service from Barcelona, as well as night skiing on Thursdays. Valdesquí, in the northwest of Madrid, has refurbished its bar, as well as creating new areas for freestyle skiing and snowboarding, while the neighboring Navacerrada station has bought a snow grooming machine.
Spain's ski stations
Alpine skiing
Cantabria
Aragonese Pyrenees
Catalan Pyrenees
Sistema Central
Penibaetic System
Sistema Ibérico
Others
Cross-country skiiing
Aragonese Pyrenees
Catalan Pyrenees
Penibaetic System
Navarrese Pyrenees
More information