Spanish royal portrait that was 20 years in the making finally unveiled
"I wouldn't want you to think I am lazy," artist Antonio López jokes after finishing work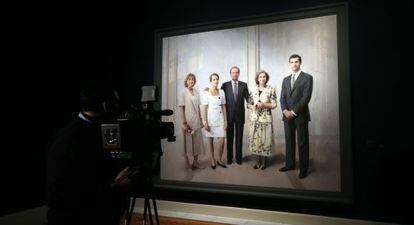 Few works in the history of Spanish art have generated quite so much expectation as Antonio López's portrait of King Juan Carlos I and his family, which was officially unveiled at the Royal Palace in Madrid on Wednesday.
Two decades have passed since López accepted the commission from Spain's National Heritage agency: a long time for most of us, but perhaps not so long for a meticulous artist used to working on numerous pieces at once. "I wouldn't want you to think I'm lazy," he joked during an interview with EL PAÍS ahead of this week's presentation.
I got stuck for a while on the clothes. Something wasn't working" Artist Antonio López
The huge 3-by-3.9-meter canvas shows Spain's former King Juan Carlos in the center of the group with the Infanta Elena to his right and Queen Sofía to his left. Flanking them are King Felipe VI on one side and Infanta Cristina on the other.
He says he never had any interference or felt any pressure from the royal family while painting the portrait. "The only thing they asked of me was that they were portrayed like a Spanish family. Nothing more," López said ahead of the unveiling. "I wanted to give them dignity and a powerful demeanor, as well as harmony and beauty."
The criteria and composition did not change that much over the years, he explained. "But I got stuck for a while on the clothes. Something wasn't working. I wanted to play with the dark blots of the male figures and the brightness and paleness of the females. Queen Sofía was portrayed in a pink dress with a damask print that at one point wasn't working for me. I asked her to repeat the photos in another dress and she came to my house with three different ones in a bag. She posed again and I restarted the portrait… But later on I decided to return to the original dress, the one you can see in the painting."
National Heritage President José Rodríguez-Spiteri revealed at the unveiling that upon seeing the finished painting King Felipe exclaimed: "We are all how we were 20 years ago!" His parents Juan Carlos and Sofía will have the opportunity to examine the work for the first time on Wednesday afternoon. It will be on display as part of the exhibition El retrato en las colecciones reales. De Juan de Flandes a Antonio López (or, The portrait in the royal collections. From Juan de Flandes to Antonio López) at Madrid's Royal Palace until April 19.
While he has no complaints about the royal family, López is upset about the criticism he has received over the €300,000 he was paid for the commission. "I regret that they are not talking about the quality of the work and they are seeking scandal. It is a problem of the disdain there is for culture. I don't like that glibness and frivolity when it comes to dealing with these things. They could ask whether or not culture is necessary. I am one of those people who thinks that some things are necessary but others aren't."
Seeing the result, does he think the painting will come to be exhibited alongside the other great Spanish royal portraits, such as Goya's Charles IV of Spain and His Family in the Prado? "I have no idea, nor do I think about it. Time will tell. It would sound arrogant on my part to expect such a thing."