EBOLA CRISIS
Passenger with fever prompts Madrid airport to activate health protocols
Nigerian man complained of feeling ill on flight from Paris He has been taken to Carlos III Hospital, where Spanish Ebola patient is being treated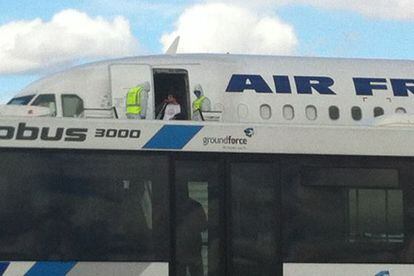 Emergency health protocols were put into action at Madrid's Adolfo Suárez Barajas airport at midday Thursday after a passenger on an Air France flight from Paris complained of fever, a headache and sweating – symptoms of possible Ebola infection. The passenger had caught the connecting flight in the French capital after arriving from Lagos, Nigeria. The plane's crew alerted Spanish authorities about the situation onboard.
The Nigerian man was taken by ambulance to Madrid's Carlos III Hospital, where a Spanish nursing assistant with Ebola is being treated, and 15 people are under observation for symptoms of the virus.
Other passengers have been told to get in touch with Carlos III Hospital should they present signs of fever
The remainder of the passengers had their details taken by health authorities, and have been advised to get in touch with Carlos III should they present signs of a fever.
The passengers disembarked from the plane after it was parked in a special area of the airport, according to health alert protocols.
The plane left Charles de Gaulle airport at 9.35am on Thursday morning and landed in Barajas at 11.30am. Flight AF1300 was carrying 156 passengers and seven crew.