Nurse's assistant came into contact with 21 people at Alcorcón Hospital
Staff including doctors, nurses and ambulance crew will be monitored for symptoms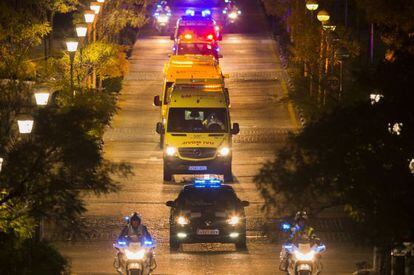 A day after news broke that a Spanish nursing assistant had become the first person in Europe to contract the Ebola virus, health authorities were working to close the net around people with whom the 40-year-old woman could have come into contact.
The nurse's assistant, who was part of the health team who looked after two Spanish missionaries with Ebola who had been brought back from Africa for treatment in Madrid, was initially treated in Alcorcón Hospital in the southwestern suburb of the same name. The hospital has so far identified 21 members of staff with whom the patient came into contact, including an ambulance crew and doctors and nurses, according to health sources contacted by EL PAÍS.
All of them have been contacted by the health center and told they will have to be monitored for symptoms of the disease. They will have their temperature checked twice a day, but can continue with their normal day-to-day lives, given that the virus is not contagious until symptoms, which include fever, appear.
The patient was taken to Alcorcón hospital in a "conventional" ambulance, and without any special protection, according to the same sources. Once in the hospital, protocol for dealing with possible Ebola cases was put into action. She was put into an isolation unit and the health professionals who treated her wore special suits.
The center will now have to decide how to clean the section of the hospital in which she was treated. For now the area has been closed off and sealed with plastic sheeting to prevent contagion.
With these 21 staff, around 50 health professionals are now being monitored after having come into contact with Ebola sufferers in Spain. The health authorities who appeared at a press conference on Monday alongside Health Minister Ana Mato reported that 30 or so staff were already being monitored after having had contact with the two missionaries.
It is not yet known whether the nurse's assistant had contact with members of her family last week, when she was already presenting symptoms of the fever but was going about her daily life as normal.