Sweets from the Syrian conflict
Madrid store owner Abud Alkarmi continues to import pastries from Damascus despite the civil war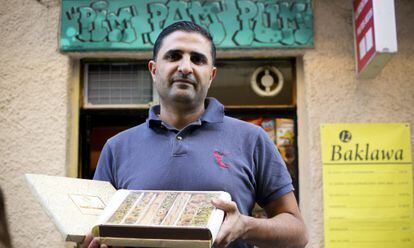 Abud Alkarmi is a Syrian Kurd who has been living in Madrid for the last eight years and, among other things, imports baklava and other Middle Eastern sweets from back home. Even during the toughest moments of the civil war, life still goes on there, he explains from behind the counter of his specialist pastry shop in calle Martín de los Heros, just behind the capital's Plaza España: "The bombs may be falling, but people have to make a living."
Sitting atop the counter are rows of mouthwatering baklava and kunafa, all of it made in Syria, which have undergone an odyssey to get here. "Damascus-Lebanon-Turkey-Madrid is the usual route, but sometimes things go wrong …" says Alkarmi. "Before the war, an order would take about two weeks, but now they can sometimes take up to four months," he explains.
One of 12 children, Alkarmi was born 41 years ago in Al-Quamishli, a small town on the Syrian-Turkish border. He says he still remembers his father returning from trips to Damascus or Aleppo bearing boxes of baklava: "It's a cultural thing. It's the typical gift when you come home. Nobody would think of turning up empty-handed, but of course there wasn't a war going on then."
Before the war, an order would take two weeks, but now they take up to four months"
The EU embargo on Syria means that bakers who supply overseas markets must first get their cakes and pastries out of Damascus into neighboring Lebanon, from where they can be shipped to Europe. "Sometimes there are bombing raids in the neighborhoods where the boxes for the sweets are made, or production is halted, but in the end, everything starts working again. People have to live," he says.
Alkarmi imports around 20 tons of baklava a year, and supplies the El Corte Inglés department store. He is highly critical of the role of the US in the Middle East. "Saddam Hussein, Al Assad, Gaddafi: puppets. Every time there is a serious crisis, like now, we need a big war to sell arms and get the economy going … And now it's our turn," he says. "Either the United States is very smart, or very stupid. The Taliban, Bin Laden, Saddam … all of them, and other terrorists, all came to power under the protection of Washington, and look what has happened. What we have to ask ourselves is just who is benefiting from the fear we have to live under?"
Alkarmi imports around 20 tons of baklava a year, and supplies the El Corte Inglés department store
In the same street where he sells his sweets, in front of Arab restaurant Ebla, where he used to work, Alkarmi has just opened a bar. "There is no point in being afraid of life. We're in the middle of a crisis right now. Fine. If this doesn't work, then we'll see what we can do." Some of his friends told him he was crazy when he decided to open Abude's Bar after his baklava business slowed down. But he was undaunted: "Life doesn't like people who are afraid."
Known throughout the neighborhood, Alkarmi says he often used to chat with Felipe and Letizia, who regularly visited Ebla when they attended the local cinemas before they became king and queen. They would discuss events in Syria, as well as more mundane matters. "But one doesn't talk about conversations with friends," he says, refusing to be drawn.
He says he is deeply worried about how events in Syria will play out: "I'm as afraid as anybody about the Islamic State, but Washington hasn't thought properly about the consequences of arming the Kurds: as I said, either Obama is very smart, or very stupid."