Vicente del Bosque: "We don't need a revolution. We need a transition"
The Spain coach is counting on experience as well as new talent to move on from World Cup failure
Win or lose, Vicente del Bosque remains steady and calm. Following the national side's disastrous defeat to the Netherlands in its opening match in this summer's World Cup, and its subsequent failure to make it out of the qualifying group, Del Bosque says he has tried to be "humble and down-to-earth," insisting that Spain "put everything it had" into its performance in Brazil. He says he wants to continue in the job, and is readying the side – which meets France in a friendly on Thursday night (9pm, Telecinco) – for the European Championship in two years' time: "We need a transition, not a revolution," he explains.
Question. Do you remember what you did on the night after the Spain-Netherlands defeat in Brazil?
Answer. Not especially. I suppose I thought about the game, and the upcoming match against Chile, which was also a tough rival. It was a difficult night, like any when you are used to winning and then such a painful defeat comes along, and so significant as well. The lads played better on a personal level, but the Dutch played a better game. I can't pick out any one thing: it was lots of little things. The Dutch had two men whom we just couldn't control. We didn't play well as a side. But the lads had a great attitude, which is no small thing. We had no idea this would happen. We trained well, and they were clearly focused. There was nothing in particular. And I don't want to focus on individual players, that wouldn't be fair. That said, I don't think we connected with Diego Costa, we didn't use him properly. But he wasn't at 100 percent. But he's a great lad, and fitted in perfectly. After the defeat against the Netherlands, we were weak against Chile. We were barely able to keep the ball in the safety areas, because they were so aggressive in attack and defense. All the time.
Q. Have the wounds healed, or will Brazil stay with you forever?
Spain's upcoming fixtures
September 4: France-Spain. Friendly (9pm, Telecinco)
September 8: Spain-Macedonia. First Euro 2016 qualifier (8.45pm, TVE)
October 9: Slovakia-Spain. Euro 2016 qualifier (8.45pm, TVE)
October 12: Luxembourg-Spain. Euro 2016 qualifier (8.45pm, TVE)
November 15: Spain-Belarus. Euro 2016 qualifier (8.45pm, TVE)
November 18: Spain-Germany. Friendly
A. You have to move on: you can't dwell on defeat, and you can't live off your victories. In 2010 we kept our heads when we won the World Cup, and I think we did the same when we lost this time around. In 2010 we remembered that there was a lot of luck; we got a lot of little things wrong, and this time round it was the opposite.
Q. Has the criticism hurt?
A. Some has. One of your colleagues described our defeat as "wretched." We were anything but wretched. It was a disaster, we played badly, but we weren't wretched. Another journalist talked about the mood within the team as being "unbearable." But we had a great group. Obviously, sometimes players are unhappy about not being picked to play, they all want to play. But there was no question of there being a bad atmosphere between the players. We all got on, and we got on with the job.
Q. After the World Cup you looked ready to throw in the towel…
A. If I wasn't ready to carry on, I would have stepped down. At this level of soccer you have to be hungry and you have to be determined. After the World Cup I tried to be humble and down-to-earth. What's more, everybody wanted me to resign. I knew that. There are always those who want the same people to resign. You do your best, but if things don't work out, well, nobody is totally protected. It's not that big a deal. The thing is to value the ability, the hard work, and the enthusiasm. I don't know if I am capable, but I am a hard worker and enthusiastic.
Q. The defeat in Brazil has brought your style of play into question. Are you surprised?
A. Not at all, that's perfectly normal. To begin with, there isn't just one style of play, there are many. But we have to play with what we have, and the new players coming in have played like their predecessors and so we can't change things too much. We like to control the ball, to move forward rapidly, short passing, and to move the ball up the field. The way forward is clear, and there is no room for doubt.
Q. Do you think that the side had grown a little complacent with its style of play?
A. I don't think so; and it has been precisely those who believed we were going to win a second title who have been our severest critics. But it's certainly true that we failed to meet everybody's expectations.
Q. The qualifying rounds for the 2016 European Championship are approaching, with some tough games, new players, and no room for failure…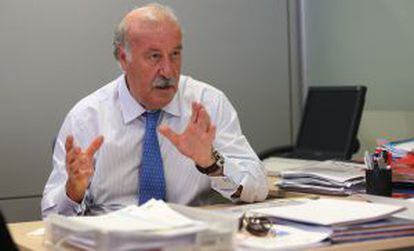 A. Even if we had come out of the World Cup with a better result, the new line-up wouldn't have been that different. We've been accused of sentimentalism, but it's not a bad thing. I'm not talking about playing with relics, but with players at the top of their game. Xavi and Alonso are heroes of Spanish soccer, playing for Barcelona and Bayern Munich. We don't need a revolution; we need a transition. In fact, the side has been in transition since 2008. Look at Busquets: he took over from Senna. Soccer needs new blood. When we won in 2008, three players were left out: Navarro, Palop and Sergio García. Then Piqué came along. There aren't enough players out there to make a revolution, and as I said, the World Cup squad were all players at the top of their game.
Q. Have you spoken to Iker Casillas to see whether he wants to help lead the transition?
A. No, I haven't spoken to him. He's in an ambiguous position, and I'm sure he's going through a bad time. But I don't want to get involved in Real Madrid's day-to-day affairs.
Q. What are your priorities?
A. We are about to start things up again, which means that players need to be excited about playing for the national side. This is not routine stuff. The younger players understand this, but the older ones need to get their heads round it.
Q. Do you think the coming months in the run-up to 2016 are going to be tough?
A. I have every confidence in my squad, in people like Iniesta, Cesc, Silva, Busquets, Ramos, Alba, Piqué, absolute confidence. What's more, we've got new talent coming in from the winners of the European Under-21s. We shouldn't be nostalgic or slaves to the past. We need balance. We have played in every major tournament since 1992. That is a long time in the elite of soccer. That's what keeps us motivated.