The 'Good Samaritans' who are only interested in helping other Spaniards
Anti-immigration group opens Madrid soup kitchen, prompting fears among locals of violent clashes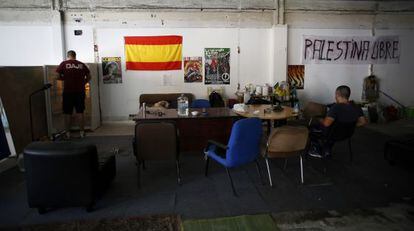 Tucked away amid the maze of narrow back streets in Madrid's working-class Tetuán district, an abandoned three-story building has been taken over by around 30 young people who are cleaning it up with the aim of turning it into a soup kitchen and hostel.
Such initiatives are to be found throughout the capital, sometimes set up by neighborhood associations, or as often as not by groups describing themselves as anarchists or anti-system. But the swastikas and signs daubed on the walls of the building reading "Nazis get out of my neighborhood" suggest that the people inside are of a very different stripe, and that the offer of food and somewhere to sleep will apply only to Spaniards.
"In this country there is positive discrimination in favor of foreigners," says one of the group, a young woman in her mid-20s who is a single-mother and philosophy student, and prefers to remain anonymous. "If you give help to foreigners, then they are going to keep coming back for more. Money needs to be spent to help them in their own country," she says, adding: "I don't like to see anybody rooting through rubbish looking for something to eat, but your anger, tears and frustration need to be for you own people. People from Dominican Republic breed like rabbits, and they are getting all the state aid," says the young woman.
There is positive discrimination in favor of foreigners in this country"
The Tetuán district, in the north of the capital, was built in the early years of the 20th century to house soldiers who had fought in Spain's colonial wars in Morocco. It is now home to one of the city's largest immigrant communities, with around 17 percent of its 150,000 residents from overseas.
"We have been accused of coming here to cause trouble, but how provocative is it that there are associations only for foreigners?" says the young woman, referring to a nearby commune set up by a far-left groups. Last Saturday, the commune rallied around 1,000 people to protest against the presence of the far-rightists. The incident passed off without violence.
The new occupants of the building insist they are not "Nazi child-eaters", adding that neither are they racists. "We need to get Spain in shape before we start helping other countries," says another young woman, who prefers to call herself a "social patriot." The center has been named after Ramiro Ledesma, an admirer of Mussolini and Hitler who set up the National Syndicalism movement, which was later absorbed by Franco's Falange. He was murdered by Republican militias in 1936 at the outbreak of the Civil War. "He was a great intellectual of his day" he lived round here, and we think he has been overlooked," she adds.
People from Dominican Republic breed like rabbits, and they are getting all the state aid"
The group is still busy cleaning up the inside of the former office block, which they say belongs to Gao Ping, the Chinese business leader currently in jail awaiting trial on money-laundering and tax-evasion charges.
One room has been turned into the main office, and hanging on the wall is a sheet spray-painted with the words "Free Palestine". "The Jews exploited the Germans after World War I, then they suffered, and now it seems that they can do what they like with the Palestinians," explains one young man.
For the moment, the group says it is trying to keep a low profile, entering the building as discreetly as possible during the clean-up stage. "But one of the extreme-left groups saw somebody coming in wearing a t-shirt with 'Brotherhood' written on it and a Celtic cross," one of them explains, and the word went out on the social networks that a group of Nazis had moved into the neighborhood.
Outside the building, broken glass from bottles thrown against the windows lies on the pavement
"We have had death threats issued via Twitter," says one member. Outside the building, broken glass from bottles thrown against the windows lies on the pavement, and the front door is scorched from where somebody tried to set it alight. Last week, the main door was jammed shut from outside. "That was the extreme leftists," says a young woman.
Meanwhile, local residents have told police that they fear outbreaks of violence on their streets between rival groups. "They come in twos and threes in the middle of the night: they throw stones or bottles, and then run away," says a woman living nearby.
Although the center has yet to open properly, one Spaniard has taken up the offer of shelter and food. José has been unemployed for seven years, and is currently sleeping on a mattress, as far from the windows as possible.
"We are going to put together a list of places for foreigners, in case any show up here looking for help," says one of the group. She says she is against Spanish taxpayers' money being used to fund NGOs "who leave Spaniards out and only help immigrants. One thing is to be good and quite another is to be dumb," she concludes.
Meanwhile, a police car cruises slowly past in the street outside, making sure that young radicals from both ends of the political spectrum keep their distance from each other.