On the heels of Spain's illicit shoemakers
Some 100,000 people are thought to be employed illegally in Alicante, the highest of any province A crackdown on clandestine footwear workshops has so far secured 44 closures in the area But as the crisis bites deeper, combating the submerged economy is getting harder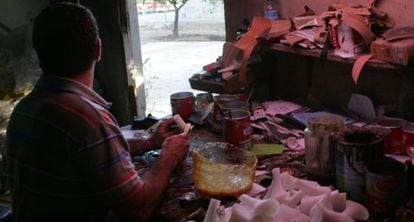 On Wednesday April 30, police in Valencia enter a small, shabby workshop in the old quarter of Callosa de Segura, a small town in the south of Alicante, a region traditionally known for shoemaking. Inside they find eight women hunched over sewing machines, along with the husband and wife who own the premises.
One woman panics and tries to run out of the back door, but is stopped by a police officer who calmly tells her that she is not a criminal.
The officers then photograph the workshop, which is crowded with spools of thread and littered with piles of shoe parts. They go round each table, noting the model numbers of the sewing machines, and then take everybody's name and address. Most of the women, who live nearby, say they earn around €400 a month stitching shoes for a local brand called Panter. None of them have labor contracts, and the workshop, a firetrap, is in breach of just about every health-and-safety regulation in the book. The owners say they are not registered as a business, and not even as self-employed.
The authorities in Valencia have so far closed down around 44 clandestine workshops, 60 percent of them supplying the shoe industry. The others, located in basements, garages and farm buildings, were involved in everything from car cleaning and leather goods, to furniture making. In some cases, the premises doubled as living and sleeping areas.
The illegal workshops are often located in basements, garages or farm buildings
Of the 369 men and women found to be working in these workshops, 253 did not have contracts and were not paying Social Security contributions.
Over the course of the last year, the regional government of Valencia has been carrying out inspections of illegal factories and workshops like these as part of Operation Ecosub, which is aimed at trying to dismantle a hidden economy worth an estimated €253 billion in Spain. That is equivalent to 24.6 percent of GDP, according to 2012 figures, placing it on a par with the likes of Italy and Portugal, but way above Germany (13.1 percent), France (10.8 percent) and the United Kingdom (10.1 percent).
The operation is made up of two 10-member units led by an officer, identified only by the initials F. G., with more than 15 years' experience in combating drug trafficking. The units work closely with inspectors from the regional and central governments' environment and labor departments.
"We have found shoes in some of these illegal workshops that are sold under international brand names for €100 a pair," says one police officer. A spokeswoman for Panter says the company deals only with suppliers that have their paperwork in order, and does not know whether these suppliers then outsource to other manufacturing units.
The hidden economy is estimated to be worth €253 billion in Spain, equivalent to 24.6 percent of GDP
Spain's Tax Agency says the hidden economy is expanding most rapidly in those areas hit hardest by unemployment and the bursting of the housing bubble, particularly coastal areas such as Andalusia and the Canaries. Reserves of undeclared cash created by the housing boom, high Social Security payments for self-employed workers and the amount of red tape involved in setting up a legitimate business are all factors contributing to its growth.
Nevertheless it is hard to make an accurate assessment of the size and scale of Spain's hidden economy. For example, workers whose income is below the minimum wage are not required to pay Social Security contributions. Around 100,000 people are estimated to be employed illegally in Alicante, the highest percentage of any province in Spain, equivalent to one in six of the workforce. In neighboring Valencia, the figure is around 75,000, and in the Balearic Islands, around 50,000.
Combating the submerged economy in Spain is getting harder as the crisis bites deeper: Valencia has been trying since 1986, when value-added tax (VAT) was introduced, but the problem is deep-rooted, and it admits it has made little progress over the last 30 years. Around a quarter of the region's economy is off the books, it believes.
Alicante's shoe industry has survived over the years on low wages and by avoiding taxes, and has faced ever-tougher competition from China.
Although the sector is now dominated by the Chinese, some local firms survived by improving quality
Fortunes have been made in the province's shoe industry. The soccer stadium in Elche is named after Manuel Martínez Valero, a businessman who began supplying footwear to US companies in the 1960s. Since then, just about every industry within a 30-kilometer radius is involved in the shoe industry in some way, whether it's supplying cardboard boxes or treating leather. Working conditions have always been poor, and many employees used to sleep in the workshops, some of them contracting diseases as a result of their continual contact with the glues used in the manufacturing process.
But by the 1980s, as Spain's economy took off and wages rose, growing numbers of local manufacturers began relocating production to Wenzhou, China, which now dominates global footwear manufacturing. The idea was for Alicante to become a logistical center. But as China embraced capitalism in the 1990s, Chinese businesses began exporting their shoes to Alicante, bringing them in through the port of Valencia, and avoiding import duties in the process. This allowed them to undercut Spanish manufacturers, who soon saw that it made more sense to simply sell their warehouses and factories to the Chinese.
The Chinese in Elche copied the model established in the northern Italian city of Prato, using Chinese migrants who worked in near slave-labor conditions, in the process driving down prices, and wages, in the city. In 2004, unemployed local shoe workers burned down two Chinese-owned warehouses.
Today the sector is now largely dominated by Chinese businesses. Some local companies were able to survive by moving into higher quality footwear. By 2005, for the first time in decades, more local people were employed in the service industries, particularly construction, than in shoe-making. Then the crisis kicked in, and the region's service industries collapsed, forcing many people into the submerged economy, and back into making shoes for a living, this time at even lower wages.
Martín Carpena, who heads a local business organization, has monitored the worsening situation: "Since 2008, there has been a seven-percent increase in the number of businesses working in the submerged economy. It's clear that some people are making a lot of money out of this. Anybody who doesn't want to play by the rules doesn't have to go to China any more: it is possible to save up to 30 percent on costs by paying starvation wages and cheating the Social Security system."
The men and women who work in the shoe industry are only employed for short periods each year: at the beginning of the summer they are required to produce for the winter season, and then later on in the year for the summer collections. One worker who prefers not to give his name says that in a good year he earns around €2,500 a month for six months, producing around 1,000 pairs of shoes a week. From what he earns he must deduct the cost of the glue he uses, as well as the costs of driving to and from the supplier to collect and deliver materials. He is aged 50, and has been sticking heels on shoes in a small workshop next to his house for the last 15 years. "When I finished high school there was nothing else available," he says. He only began making Social Security contributions two years ago, because local businesses said they could no longer employ him otherwise. "I am now self-employed, I pay the minimum contribution, as a cleaner. That's €70, which gives me no rights in reality, but I am legal. I bill the company I work for as a cleaner. I don't have to file a tax return, and my son banks my wages so as not to attract any attention from the tax authorities."
In 2004, unemployed local shoe workers burned down two Chinese-owned warehouses
He says that his premises have never been inspected by health-and-safety officials, and that he uses non-toxic glues. When he is required to, he works seven days a week, 15 hours a day. "It's tough, but if I didn't do it, somebody else would, and I have to pay the mortgage somehow," he says resignedly.
Javier García Lillo, the secretary general of the Federation of Spanish Footwear Industries, represents a sector that in 2012 employed 24,263 people in 1,397 companies that exported 132.4 billion shoes. But it is a sector that is on the defensive, under attack from competitors that do not play by the rules. "The men and women working in those illegal workshops should be the ones reporting their employers, not us. If those companies are operating outside the law, then the Tax Agency should do something about it," he says.
He says that one of the main problems facing a shoe industry that sells to 150 countries worldwide is that companies rely on seasonal orders, and that the government should recognize this. In any event, he insists that illegal factories are "isolated cases" and that the majority of shoes made in Spain are medium- and high-quality products. "The difference is in the design and the marketing, not in manufacturing, which always costs the same. These small companies that are cheating the taxman are living in the past, working for third parties because they do not add value to their products," he explains.
My back is destroyed from so many years hunched over the sewing machine"
Talking to one woman who makes shoes in her kitchen, the concept of added value is hard to understand. In her mid-fifties, she spends up to 10 hours a day making boots, for which she is paid €2.60 each. She produces around 150 a week. "The problem is that I have to make the entire item, and I am being paid the same as I was 15 years ago. There are few jobs, and those are in the factories. They are doing me a favor by letting me work from home, because I need to eat," she explains.
She says that she's worked in the sector since she was 15, and has been trying to find work in other industries for several years. Hers is a typical story: she has only paid her Social Security contributions for seven years over the course of her working life. After her relationship broke up, she says she was forced to return to making shoes. "My back is destroyed from so many years hunched over the sewing machine, I would rather do cleaning work," she explains. "I tried being a supervisor – it is easier, but I don't like exploiting other people. I am stuck doing this, but I have to accept that they are doing me a favor. The companies cannot pay more because the competition is so tough. The Chinese will do this for less, and there are so many of them. It's not their fault, and it's not ours. It's just the way things are."