Five TV stations fade to black
Xplora, La Sexta 3 and Nitro among those forced to shut down just before midnight Industry Ministry had given networks May 6 deadline to comply with Supreme Court ruling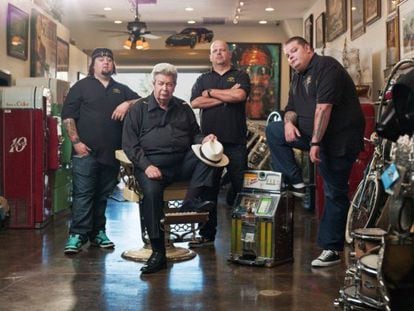 The two major private broadcasters, Mediaset and Atresmedia, timed the programming of five of their channels to fade to black at exactly 23.59 on Monday night.
Xplora, La Sexta 3, Nitro (Atresmedia), La Siete and Nueve (Mediaset) all ceased to exist at that time, in compliance with orders from the Industry Ministry to stop broadcasting by May 6.
The shutdown is the result of a 2012 Supreme Court ruling that cancelled the concessions of additional channels to existing broadcasters, on the grounds that they were made without a public bid, thus depriving new operators the chance to join the market.
The last movie to show on Nitro was the classic western Johnny Guitar, while the La Sexta 3 movie channel opted for the appropriately themed Cinema Paradiso, and documentary station Xplora offered viewers a retrospective on its own short life.
"The channels shutting down now were pioneers in their genre and leaders in their categories," said Carlos Fernández, content director for Atresmedia. "They contributed decisively to bring content, quality and variety to television since the advent of digital terrestrial TV in 2010."
The last movie on film channel La Sexta 3 was the appropriately themed 'Cinema Paradiso'
The five channels had a joint audience share of 6.7 percent. Another four channels that were ordered shut down either faded to black some time ago or were TV shopping channels.
Atresmedia will keep Xplora available online, where viewers will be able to keep watching some of its most popular shows such as Pawn Stars, Hardcore Pawn and 1,000 Ways to Die.
The Socialist Party claims that the government has done nothing to expand the number of channels on offer in the whole time since the Supreme Court handed down its verdict. It says the executive "is putting the interests of the big telecommmunication companies ahead of citizens," in the words of Juan Luis Gordo, the party spokesman in the RTVE state broadcaster committee. Gordo asked whether the government had any kind of deadline in mind to call a competitive tender for new stations "that will repair the channel loss."
Infraestructuras y Gestión 2002, the company that appealed the concession to the Supreme Court, says the ruling will only truly be respected when the nine channels in question get reassigned via a public competition. The government has not yet revealed whether new licenses will be awarded.