civil unrest
Amnesty International reports "abuse" in sanctions against street protestors
Fines are already acting as a deterrent against further demonstrations, says human rights group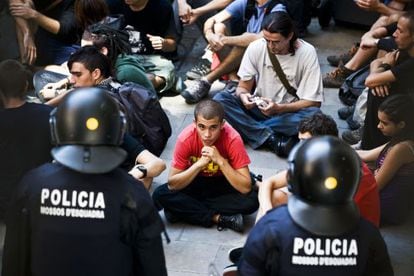 When the government's draft Citizen Safety Law goes into effect, it will put the finishing touches to a progressive "deterioration" of the right of assembly, association and expression in Spain. So says human rights group Amnesty International (AI) in a 2013 study that was presented on Thursday.
The report concludes that "abusive use" of administrative and penal sanctions against protesters has already begun to put off citizens from taking to the streets.
"We have found clear evidence that the sanctions imposed on people for participating in acts of protest may be deterring others from joining public demonstrations," said the authors of "El derecho a protestar, amenazado" (or, The right to protest, under threat).
The conclusions are based on the number of fines issued by Spanish authorities, including 1,117 by the Madrid delegation in 2012. The grassroots anti-eviction movement Mortgage Victims Platform (PAH) has accumulated more than €40,000 in fines alone.
The Mortgage Victims Platform has  run up more than €40,000 in fines alone
"Some people who have been especially active in these protests have been targeted on several occasions, to such an extent that they have run up debts or their own lawyers have recommended that they reduce their visibility in public activities," reads the report.
The study also underscores "abusive use of force" by law enforcement officers, "degrading treatment" and attacks against journalists, as well as a lack of transparency in internal investigations. "Violations of human rights have been committed by members of law enforcement," says the report.
The presentation comes one day after the National Police commissioner, Ignacio Cosidó, announced that the Madrid riot police chief is being dismissed over failures in crowd control during the Dignity Marches of March 22, which ended in street violence and an injury count of over 100, most of whom were police officers.
Presented in November, the Citizens Safety Law includes fines of up to €30,000 for shouting slogans or carrying signs "that are harmful or abusive to Spain or any region" during a protest. It also focuses heavily on breaking up street demonstrations.
Critics say that the legislation seems tailor-made for the Popular Party (PP) government to quell public displays of citizen discontent over its handling of the economic crisis and the corruption cases that have been surfacing regularly in the news.
Parts of the bill have been deemed unlawful even by Spanish legal bodies such as the judiciary watchdog CGPJ, leading the government to announce that it will change some of the wording before sending it to Congress.