Police find few links between Bárcenas' Swiss accounts and PP donations
High Court subpoenas former treasurer and his wife to testify on Thursday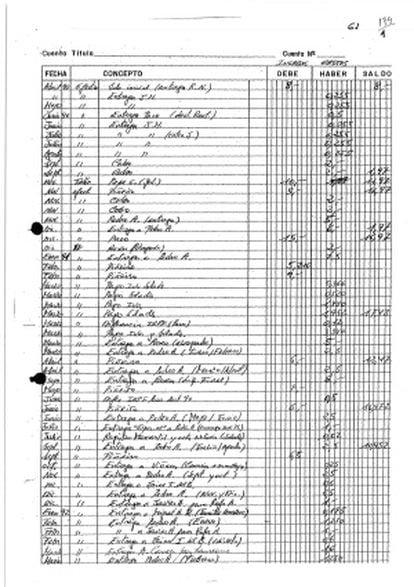 Investigators searching for connections between the fortune amassed by former Popular Party (PP) treasurer Luis Bárcenas and alleged illegal contributions made to PP political campaigns recorded in secret accounting ledgers appear to have hit a stumbling block.
In a report filed with High Court Judge Pablo Ruz on Friday, the police's UDEF economic crimes squad said it had so far only uncovered three suspected links between the entries Bárcenas recorded in the party's ledgers with money he deposited in two Swiss accounts.
Deposits made in 2001, 2003 and 2007 at Dresdner Bank and Lombard Odier – where Bárcenas and his wife held accounts – may coincide with "amounts delivered by people connected to construction and other firms" and recorded in ledgers he kept for the PP, UDEF said.
Last week, Judge Ruz said in a writ that there was enough evidence to suspect that Bárcenas may have funneled money from the PP's slush fund to accounts he and his wife Rosalía Iglesias held in Switzerland. Ruz, who is investigating the secret ledgers and the massive kickbacks-for-contracts Gürtel scheme that has engulfed many local and regional PP officials, has subpoenaed Bárcenas and his wife to appear in court on Thursday.
Bárcenas has been held in preventive custody at Soto del Real prison outside Madrid since June. He is facing money-laundering, conspiracy, tax evasion and other charges. Tax auditors claim that the former treasurer and his wife avoided paying around €11.5 million between 2000 and 2011.
UDEF investigators identified as suspicious deposits made in 2001 for €30,050 that allegedly came from Cecilio Sánchez, who was acting on behalf of the FCC construction firm; in 2003 for €120,000 by Manuel Contreras of Azvi construction; and in 2007 for €60,000 again by Contreras.
Deposits made in 2001, 2003 and 2007 may coincide with "amounts connected to construction and other firms"
In January 2013, EL PAÍS published a series of ledgers kept by Bárcenas that purportedly show that the PP treasurer kept a parallel accounting system that reflected bonus payments made to top party officials, including Prime Minister Mariano Rajoy, and incoming money recorded as contributions from influential Spanish businessmen.
According to the allegations in the Gürtel inquiry, a group of businessmen led by Francisco Correa paid local PP governments backhanders in exchange for fat municipal and regional contracts. The investigation has been ongoing since it first broke in February 2009 with the arrest of Correa and others.
As part of the investigation, Ruz is also looking into allegations that architect Gonzalo Urquijo was paid under the table for remodeling the PP's Madrid headquarters between 2005 and 2011. Both PP officials and Urquijo have said the payments were upfront. But the ledgers purportedly show that the architect may have received around €5.6 million that he never declared.
Ruz has subpoenaed three of Urquijo's former workers next month as targets of his investigation.