Madrid's heartbreak café
For a year now a group has been meeting to share its romantic misadventures in a coffee shop A mediator steers the sessions and keeps the conversation flowing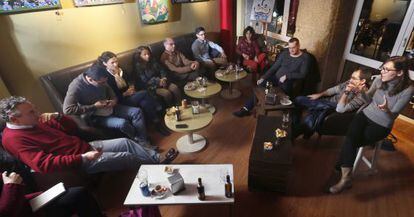 Luis has been here before. Last time people complained that he was hogging the conversation, and here he is doing it again. And then somebody asks the big question: "What are you looking for in a partner?" He doesn't think twice about it: "She's gotta be hot."
Trouble is, when half of your audience are women, this may not be regarded as the best reply. Quickly, Luis realizes his mistake and tries to cover it up: "Seriously now, I want a natural, fun kind of girl who I can talk to about anything."
But the controversy rages on at Priorité, a coffee shop situated at number 42, Montera street in Madrid. For a year now, between 15 and 20 people have been meeting here twice a month to share their romantic misadventures.
For three euros, which includes the price of a drink, participants get to spend two hours telling others about their troubles and listening to the woes of others. There are no rules, no scripts, no taboos. A man can stand up and bashfully reveal to the group that his wife has been cheating on him. A divorcée might recount her failed experience at a dinner for singles. Then that same lady might add that, after dinner, she met and shared a car with a farmer from Burgos with whom she ended up having a lot in common.
Now I have a partner, but I haven't stopped coming. Others' opinions enrich my experiences"
"There are very odd stories," says María Ángeles, who is the veteran of the group after attending six meetings. "The first time I came I was single. Now I have a partner, but I haven't stopped coming. I feel other people's opinions enrich my own experiences."
Although nobody is forced to speak, even the shyest people end up sharing their personal stories. Lucía Jiménez, who came up with the idea, also acts as a host, putting questions to the group and making sure people take turns talking.
"Being able to discuss your personal relations, to feel understood, to get feedback from people who have been through something similar... all of this is very beneficial, almost therapeutic I would say," says Jiménez, 39. Before serving as an arbitrator for broken hearts, this mother of two used to work at a travel agency. But one day she realized that her shelves held more books about behavioral psychology than about exotic travel destinations. Her extraordinary interest in café talks and a diploma certifying her as a coach in neuro-linguistic programming (PNL) did the rest. "I am not an expert, there's already too many of those on television," she confesses. "It's more practical to listen to those with the same problem."
And maybe that is the key to the success of a gathering of people who don't know each other, yet agree to openly share their romantic troubles. Maybe some of them feel like Blanche, the character in A Streetcar Named Desire who always depended on the kindness of strangers. Others might simply not have any other outlet for venting their feelings.
"The initiative works because you walk out feeling like you know the way humans work a little better: their fears, their impressions of love, the relationships between men and women," says José Manuel, 53. This is his first time here, but just like Luis, he plans to return.
The next meetings are scheduled for March 18 and 25. More info at www.ytuquequieres.es