column
Columns
Opinion articles written in the style of their author. These texts are to be based on verified facts and must be respectful towards people, even though their actions may be criticized. All opinion articles written by individuals from outside the staff of EL PAÍS shall feature, along with the author's name (regardless of their greater or lesser renown), a footer stating their office, academic title, political affiliation (if any) and main occupation, or the occupation related to the topic being assessed
So long
After 12-and-a-half years of adding local Spanish value to the 'International New York Times,' Friday's edition of the EL PAÍS supplement was the last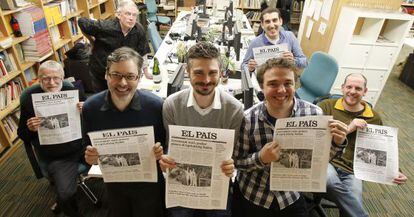 The February 28 edition of the EL PAÍS supplement in the International New York Times — the Trib as was — was the last of its kind, after 12-and-a-half years of adding local Spanish value, or flavour (today we let the style rules go to hang, UK spelling it is), to its pages. It has allowed someone like myself, the last editor of the supplement, to learn a great deal about the news production process, while for other members of the team, it has been a place in which to bring their already considerable experience to bear.
But what is it really that we have been doing? In a recent academic study in which some of our work was analysed, the word "transediting" was used. I had never seen that term before but I sure knew what it meant. Our task, as we have understood it, has been to render the information amassed by EL PAÍS journalists in a language and a context that helps international readers understand a little more about Spain, and sometimes, though too rarely I accept, Portugal, where the supplement was also distributed with the IHT/INYT. Part of our task was to find easily understood terms to make a good fit with local concepts, so lehendakari becomes Basque premier. But try as we might to produce a snappy, headline-friendly rendering of imputar, we rarely succeeded. If we said the judge accused someone, we got letters howling in protest at the bluntness of the term used; if we said the suspect had been officially targeted in the judicial investigation, the snores could be heard across the Iberian plains.
In short, some hard-bitten journalists have become damn fine translators, while some raw translators have developed a natty newswriting style.
Some hard-bitten journalists have become fine translators, while some raw translators have developed a natty newswriting style
It has been a unique experience and place to work. We have been an island of Anglo-Saxon sounds and, as such, been treated with fondness by Spanish colleagues. Occasionally being called "English" made me feel like Lawrence of Arabia, although it was more usual to hear "Herald!" shouted across the newsroom — as the section has been known in-house for all these years — pronounced with a strong "H" more akin to the Spanish jota sound. I never failed to find it curious and touching that some of the journalists whose articles reached hundreds of thousands of readers via EL PAÍS could get excited by seeing their stories in English, produced, it has to be said, for a much smaller readership.
It wasn't all a bed of roses; we made our share of mistakes, printing stories that were later spiked by the Spanish edition, getting our millones and billones mixed up. We also learned pretty fast to call Gibraltar a colony. Sometimes it was hard to encapsulate the essence of a 2,000-word piece on the naming of a new judges' panel in 200. Other times, it was frustrating to see a great story come up but not be able to cover it as our remit was always to focus specifically on Spain and Portugal.
So it is simply time to say some thank-yous in the name of the whole "Herald" team. First and foremost, EL PAÍS has provided what for some of us has been our first taste of a sophisticated newsroom environment. We have seen how high the stakes are without being leant on to give one angle or another. We have seen the impact of economic difficulties on the print media — the reason the supplement will no longer be around after Friday. Just over three years ago we created EL PAÍS in English, part of the newspaper's website, which we hope will be a lasting legacy of the partnership with The New York Times. Whether American, English, Scottish, Australian, Irish, Canadian, or even bilingual Spanish, the journalists who have produced these pages have all left their mark.
But mainly, thanks to you, the reader, whether occasional, stalwart or first-timer. I have seen people on airplanes extract our supplement from the old IHT and stare at it blankly for an instant before setting it to one side; but I have also read enthusiastic readers' letters and, more recently, seen the hit count light up on the top web article of the day. So thanks for being interested, and so long.