Growing majority of Americans favor new relations with Cuba
Poll by the Atlantic Council demonstrates shifts in attitudes over longstanding US policy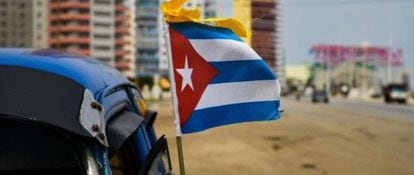 A report released on Tuesday shows that a strong majority of Americans believe that Washington should rethink its policy on Cuba, including lifting the 52-year-old embargo.
In a poll conducted by the Adrienne Arsht Latin American Center at the prestigious Atlantic Council, residents of the state of Florida, home to a large and vocal anti-Castro community, were those who gave the most support to lifting the 50-year-old US embargo on Cuba and normalizing relations.
President John F. Kennedy broke diplomatic ties and imposed the economic blockade in 1961, the year after Fidel Castro came to power. Over the past few months, some influential US congressmen and businessmen have been calling on Washington to hold a formal dialogue with the Cuban government.
"The United States has two structural problems in regards to Latin America – one is immigration and the other is Cuba," said Peter Schecter, director of the center at the Washington-based think-tank. "The country's policy with respect to the island has been frozen in time while at the same time the island is prospering from an avalanche of tourists and political support from other nations. What we're tried to do with this poll was to consult US public opinion about Cuban relations – this is the voice that is least heard from on this issue."
It was an accepted fact that Cuba could not be touched to avoid shifting the electoral balance in Florida. But this no longer exists"
According to the poll, 56 percent of US citizens favor a change in policy, with breakdowns of 63 percent of Florida residents and 62 percent of all Latinos also siding with that majority.
The majority of those polled favor lifting economic sanctions (62 percent); removing travel restrictions (61 percent); opening negotiations with Cuban authorities on security issues such as drug trafficking and smuggling (77 percent); and removing Cuba from the State Department list of countries that support terrorism (52 percent).
The favorable figures are also high among residents in Florida, which support the notion that the political clout of hardline exiles in Miami has dropped.
"This is one of the biggest conclusions of the poll," said Schecter. "In the last 55 years, it was an accepted fact that Cuba could not be touched to avoid shifting the electoral balance in Florida. But in reality, this no longer exists."
"This is one implication that both the administration and Congress should take into account."
A new generation of Cuban-Americans agree that the policies of the past five decades don't work, and they are the ones who firmly support closer ties with the island under this new reality, which is "something that national lawmakers must take into account when the time comes to change policy toward Cuba in order to satisfy" growing new interests, Schecter said.
The new poll was released a day after the European Union agreed to launch negotiations with Cuba to increase trade, investment and dialogue on human rights, turning the page on its long-standing "common position" that was promoted almost two decades ago by then-Spanish Prime Minister José María Aznar. The latest move is the most significant diplomatic shift since Brussels lifted some sanctions against Cuba in 2008.
Last week in an interview with The Washington Post, Alfonso Fanjul, a wealthy Cuban-American sugar baron in Florida and a major political donor, spoke publicly for the first time about trips he has made to the island and his interest in investing there one day.
Shortly after he came to office, President Obama favored relaxing some restrictions, such as sending cash remittances, allowing Cuban-Americans to visit their families on the island, and extending options for ordinary citizens to make trips. However, the policies were frozen in 2009 following the arrest by Cuban authorities of US development contractor Alan Gross, who was sentenced to 15 years for distributing satellite phones, computers and other equipment to the Jewish community.