latin america
Peña Nieto unveils state rescue plan
Mexican president earmarks $3.4 billion for investment and social programs in troubled Michoacán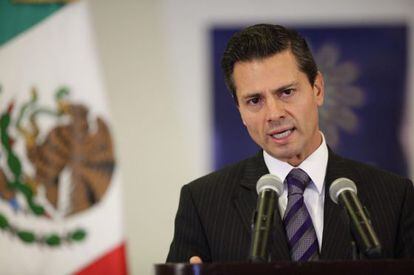 Mexican President Enrique Peña Nieto on Tuesday announced plans to pump some 44.5 billion pesos ($3.4 billion) into the country's troubled state of Michoacán, which has been plagued by violence stemming from the ongoing struggle between a powerful drug cartel and vigilante groups that have taken up arms to protect the citizens.
The money, which is nearly double Michoacán's annual budget, will go to build highways, hospitals and schools, and to pay for grants for agriculture, ranching and education, the Mexican leader said. The move is aimed at "reversing the conditions of institutional weakness," Peña Nieto said in an address from Michoacán's capital, Morelia.
In early January, the government sent in 10,000 federal police and military troops in an effort to extinguish the violence that has engulfed the state's Tierra Caliente region, where the Caballeros Templarios (Knights Templar) drug cartel hold their base of operations and the self-defense groups have taken up arms. Peña Nieto said that the troops and police would remain there "as needed" and until local authorities can regain control of the situation.
As soon as the first phase of the Mexican government's security operation is completed, Peña Nieto explained that it was crucial to begin pumping money into the state to promote development and improve social conditions.
From the funds, the government will hand out some 350,000 school grants, repair roads and bridges, and modernize the Pacific port in the city of Lázaro Cárdenas. The president also asked the Mexican Development Bank to begin granting loans to Michoacán businessmen.
"Public workmanship is necessary for the state's development and prosperity," he said.
This was the second time that Peña Nieto had traveled to Michoacán since he came to office on December 1, 2012. However, it was the first visit he has made since the security crisis began.
His presence in one of Mexico's most violent states appeared to demonstrate his willingness to personally oversee the federal government's operations. His predecessor, Felipe Calderón, made a similar gesture when he announced a rescue plan for Ciudad Juárez, where an ongoing bloody drugwar turned the border city across from El Paso, Texas into one of Mexico's most dangerous metropolitan areas. However, Calderón's funding for Ciudad Juárez was considerably less than what Peña Nieto has allotted to Michoacán.
Until now, the Institutional Revolutionary Party (PRI) administration point man in the crisis has been the president's chief of staff, Miguel Ángel Osoro Chong. But now Peña Nieto has named Alfredo Castillo, a special commissioner, to oversee the security operations and the funding drive.