Spanish vessel breaks in half in rough seas off the French coast
Rescue team is dispatched to evacuate the 12-member crew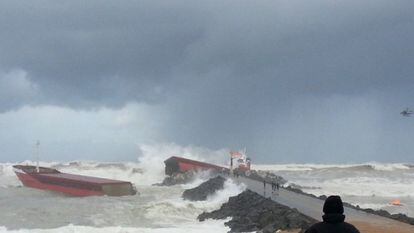 A Spanish cargo ship broke in two off the southwestern coast of France after hitting a sea wall early Wednesday morning near Bayonne, French maritime authorities said.
Helicopters from the French Gendarmerie and the military were dispatched to the scene to rescue the 11 crew members – 10 Spaniards and Cuban – of the Luno vessel, including one who was reportedly injured in the accident. Also on board was an official from the port of Bayonne who had been asked to assist in guiding the ship in.
Rough seas and high winds thrashed the vessel against the wall as it tried to reach port. There were reports of fuel leakage from the boat, which wasn't carrying any cargo at the time of the incident. However, maritime officials said they hadn't been able to inspect the damage.
The Luno was carrying 127 metric tons of fuel and 12 tons of oil, leading the French authorities to implement emergency contamination measures.
The Luno's captain alerted authorities in Bayonne after the ship lost electrical power in the storm. "There were several problems on board, in particular a complete electrical breakdown. The captain tried to drop anchor but the ship split in two," said Captain Lunel Delort of the Atlantic Maritime Prefecture. Delort added that it was too soon to tell if there had been a spillage but said that the Luno was carrying light fuel and there was no danger a "black wave" of oil.
France's Transport Minister, Frédéric Cuvillier, said that there was "no drama," and that the incident was a "minor accident."
The north Atlantic coast has been battered by heavy waves and high winds this week, reaching up to 150km/h in some areas.