LATIN AMERICA
Mexico arrests one of the leaders of Templarios cartel
Forces in Michoacán detain alleged drug boss during operation to restore law and order in state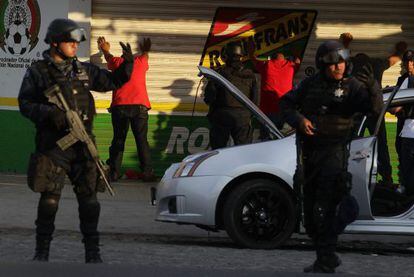 Federal police in Mexico have arrested one of the seven presumed leaders of the Caballeros Templarios (Knights Templar) drug cartel that has been terrorizing residents across the state of Michoacán, a top security official said Sunday.
Jesús Vázquez Macías, known as "El Toro," was captured in the Caleta de Campos district in the port city of Lázaro Cárdenas in a government offensive initiated last week to restore law and order in Michoacán.
The leaders of the armed citizens groups on Tuesday had demanded the arrests of Vázquez Macías and other cartel leaders, saying they would not disarm unless they were detained. The vigilantes emerged early last year in Michoacán to evict Los Caballeros Templarios from the state.
"El Toro is considered one of those responsible for the violence waged across the region by this group of criminals," said Alejandro Rubido, secretary of the National Public Security System (SNSP).
José Manuel Mireles, leader of the Tepalcatepec self-defense forces, had explained that Vázquez Macías was responsible for the extortions that took place across the state, and would kidnap women – daughters of ranchers in the region – for sexual purposes. Mireles said this was why ranchers had taken up arms and joined the vigilante groups.
El Toro was arrested without incident along with two other men. Police found four weapons, 23 magazines and a grenade at the time of his arrest, said Rubido.
Last week, the government of President Enrique Peña Nieto launched an offensive in Michoacán, with federal police and army officers taking over security in 27 municipalities.
Authorities ordered the arrests of all leaders of Los Caballeros Templarios, even those who may have fled the state as many suspect. Rubido said he had no information as to whether the cartel leaders who are on the run had established their operations in another state.
"The government is working to find and arrest them wherever they may be," he said.
Meanwhile, around 1,200 municipal police officers in Michoacán have been relieved of their duties by federal authorities and taken to a military training center in Tlaxcala state where they will be evaluated.
The self-defense forces have accused many officers of working for the drug cartel and other organized crime groups. They will be evaluated to determine whether they should be allowed to return to their jobs, Rubido said.