Messages reveal how PP officials used Caja Madrid as their personal bank
Bosses at lender were pressured to agree to a range of questionable deals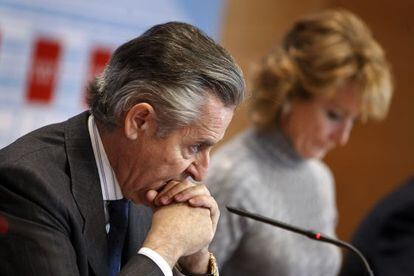 Hundreds of messages sent and received by Miguel Blesa during his final three years as Caja Madrid chairman reveal publicly for the first time how top Popular Party (PP) officials tried to impose strategic decisions on the savings bank's board, ordered million-euro investments that had been deemed unnecessary, and demanded favorable treatment for their friends.
Among the discussions were plans to grant the faltering regional television station Telemadrid financing so that it could buy the broadcast rights to Real Madrid games. In another instance, Blesa and his associates gossip about the internal struggles between then-regional premier Esperanza Aguirre — who they refer to as "blondie" — and the former Madrid Mayor Alberto Ruiz-Gallardón to influence the savings bank's leadership.
But the most eye-catching messages focus on an attempt by former Prime Minister José María Aznar and his son, José María Aznar Botella, to convince the Caja Madrid Foundation to purchase an art collection belonging to the late artist and sculptor Gerardo Rueda for an exorbitant price, which was well above the appraisal of experts at the bank.
The more than 8,000 emails and SMS messages — to which EL PAÍS has had access — are part of the case file compiled by Madrid Judge Elpidio Silva, who was investigating Blesa in relation to the purchase of a Florida bank and a 26.6-million-euro loan he granted to the now-jailed former Spanish Businessmen's Confederation (CEOE) president, Gerardo Díaz Ferrán.
Aguirre wanted funds for broadcast rights to Real Madrid's games
Silva was taken off the case in June by the Madrid High Court after defense lawyers for Blesa filed a petition asking for his recusal. They argued that Silva was acting unfairly against their client after the judge had placed Blesa in preventive custody on two occasions.
In 2009, Blesa — who is still under investigation but no longer in jail — found himself at the center of a political storm that pitted PP heavyweights Esperanza Aguirre and Alberto Ruiz-Gallardón against one another. Both were supporting different candidates on the Caja Madrid board. Aguirre wanted Ignacio González, who is now the current regional premier, to replace Blesa, while Ruiz Gallardón was lobbying on Blesa's behalf.
But by the fall of 2009, Blesa had fallen out of favor with former Prime Minister Aznar when the Rueda art deal fell through. Aznar had put his friend at the head of Caja Madrid in 1996.
Aguirre took advantage of Blesa's weakened clout to try to have him replaced by González, who at the time was deputy regional premier, but she encountered fierce opposition by the bank's other board members, especially the center-left party representatives.
González and blondie have screwed up for the umpteenth time"
Also on her tail was Ruiz-Gallardón, her fellow PP colleague with whom she had countless public battles on a range of issues, including the proposed privatization of the Canal Isabel II waterworks company. The then-mayor had a lot of support on the Caja Madrid board.
The battle ended up in the courts, with Blesa at the center of the legal storm. After the courts ruled against Aguirre, who wanted to elect new officers, Matía Amat, the bank's general manager and Blesa's right-hand man, sent the chairman an email on October 2, 2009 celebrating their victory.
"This is the umpteenth time that [Ignacio] Nacho González and blondie screwed things up. Will they ever learn? Those who were part of that pact were left once again looking like ass----s. Congratulations!!"
In a subsequent email that followed from another supporter, who also sent a congratulatory message, Blesa answered: "It is one battle won, but not the war. Nevertheless, it was a slap in the face for blondie. There comes a time when one feels satisfied."
Some months later, Blesa left his post and Aguirre once again found hostile opposition in the battle for Caja Madrid, but this time from Prime Minister Mariano Rajoy, who eventually emerged the victor and put his choice, former IMF director Rodrigo Rato, at the head of the savings bank.
Aguirre had also tried to get Caja Madrid to finance Telemadrid's purchase of broadcast rights to Real Madrid games in 2006. "Nacho is going to discuss something very important with you. Pay attention to him," she texted Blesa on October 27, 2006. A month later González wrote to Blesa: "Miguel, I need you first thing tomorrow to sign the contract with Telemadrid, just as we had discussed, so that [Real president Ramón] Calderón can have it by noon. You don't need to change anything, just your signature along with that of [Telemadrid general manager] Soriano."
The offer was for 120 million euros for seven seasons. But the deal fell through when Mediapro won the rights.
But the most noteworthy batch of SMS texts and emails concern the proposed art deal that former Prime Minister Aznar was trying to push on the Caja Madrid Foundation in 2008. He had asked Blesa to help Gerardo Rueda's son, José Luis, in the sale of his father's art collection, for which the asking price was put at 54 million euros.
Aznar and José Luis Rueda gave the bank several appraisals that put the total value of all the pieces at more than 50 million euros. But the Caja Madrid Foundation commissioned its own experts, which appraised the works at three million euros.
Rafael Spottorno, the current head of the royal household, and who at the time was the director of the Caja Madrid Foundation, questioned the appraisals that Aznar gave Blesa.
"I don't know of anyone who, after viewing a few exhibitions, writes to the owner of the collection that is being shown and proposes to buy them collectively based on a hard-sale price of between 50 million and 60 million," Spottorno wrote Blesa.
The foundation's experts concluded that only a small part of the works that were being offered were actually created by Gerardo Rueda, who died in 1996. The rest were gifts to the artist or pieces that he received in exchanges with fellow artists.
The son reconsidered and proposed selling 24 of his father's original pieces for six million euros, and agreed to take part in the marketing of a museum that was being planned by Madrid City Hall to house the collection. But the deal fell apart when Caja Madrid concluded that the more than 100 million euros needed to construct a building just to house part of a collection was prohibitive.
Soon after, the former prime minister's son, José María Aznar Botella, gave Blesa a scathing dressing down. "Of all the things we have done for you — and there have been many — it seems to me an utter disgrace what you have done or better yet, haven't done. We didn't deserve this kind of disappointment," Aznar Botella wrote in a SMS on July 16, 2009.
"Maybe you are too young to understand this," Blesa wrote back the next day. "There are procedures at [Caja Madrid]; it is not my own farm. Your father has never doubted the honesty and seriousness of a true friend."
Some hours later, Mercedes de la Merced, a former PP councilor who served on the Caja Madrid board, wrote to Blesa telling him that "Anzar is saddened over Caja's rejection;" and "Alberto [Ruiz-Gallardón] is also upset."
Blesa got another response that day from Aznar Botella: "If you want, ask your friend about the message that I sent you. I can assure you that there is hurt and disappointment, and it has nothing to do with how this issue ended up or your responsibilities. There are many ways of doing things and I think this time they were done the wrong way."
In his response, Blesa said he was "perplexed" by Aznar Botella's reactions. "You are very off the mark if you want to put the blame on me. But I don't want to discuss this further; this is very annoying. I hope all of this can be forgotten."