Citizens take to city streets to object to Brussels' call for more cutbacks
Greenpeace unfurls massive banner against government's planned "anti-protest law"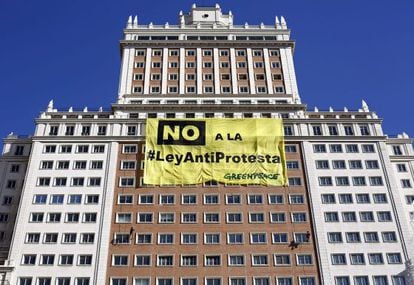 Thousands of people in more than 50 cities across Spain took to the streets on Saturday to protest against the European Commission's latest call for further austerity measures. At the same time, campaigning organization Greenpeace took advantage of the fresh demonstrations to draw attention to the Popular Party (PP) government's plans to tighten measures covering public protests, including issuing steep fines and other sanctions for certain types of conduct by citizens at such rallies. Greenpeace unfurled a massive placard from the España building in downtown Madrid that read: "No to the anti-protest law."
Hundreds of organizations, ranging from unions to social groups, called their members out to join the street demonstrations in Madrid, Andalusia, Catalonia and Valencia. The marches coincided with a call made by the European Trade Union Confederation (ETUC) for protests across the continent.
In a report released on Friday on the European Union's budget, the EC warned that Spain risked failing to meet its deficit-reduction targets for the next three years if the government didn't introduce an additional 35 billion euros of budget cutbacks during the same period.
The Madrid march, which ended in Puerta del Sol, was headed by representatives of the city's street cleaners, who were widely applauded by rally-goers. Last week they successfully headed off a layoff plan that would have affected one-third of its workforce, after a two-week strike that left garbage piling up on the streets of the capital.
Spaniards will not tolerate a "coup against labor, social and civil rights"
Alongside were workers from a number of public service agencies, who have also been highly critical of cutbacks by the Madrid regional and city governments.
"Our democracy is a fallacy," and "Labor reform is legal violence" were just two of the slogans that were chanted during the march. Among those taking part in the demonstration were teachers, health workers, researchers and employees from a number of companies that have announced layoffs for the coming weeks.
The few representatives from the opposition parties that showed up — the Socialists, United Left (IU) and Equo — had discreet roles at Saturday's event, only briefly addressing the public. Soraya Rodríguez, Socialist spokeswoman in Congress, and Tomás Gómez, Madrid Socialist Party (PSM) leader, both read off lists of the types of cutbacks that have been made by Prime Minister Mariano Rajoy and his PP government since they came to office.
Cayo Lara, the IU's national coordinator, warned that Spaniards will not tolerate the government's "coup against labor, social and civil rights."
Meanwhile, at the España building, Greenpeace activists left their massive banner unfurled for around two hours after they climbed the façade of the huge structure to hang it. Under the government's proposed Citizens Security Law, such an action would cost Greenpeace a 30,000-euro fine.
Rodríguez, the Socialist spokeswoman in parliament, argued that the idea behind the proposed law is to allow the government to regulate public demonstrations however it sees fit.
"Mr Rajoy, we don't have to ask for permission, as you say. We only have to tell what we are going to do," she said, in reference to the planned requirements for future demonstrations.