Coming home to jail
Many convicts incarcerated abroad are not aware of their rights Spanish prisoners should be able to access support from their government
Twenty-five years ago this week, Spain and the United States put an end to a bitter 20-month diplomatic embroilment, partly ignited by a media storm, that brewed over vociferous demands for the release of an American citizen who had been jailed in Barcelona for cocaine trafficking.
Conan David Owen, then a 23-year-old freelance photographer from Virginia, was sentenced to serve six years after police arrested him on March 13, 1987. He had arrived at El Prat airport carrying a suitcase with a false bottom loaded with about four pounds of cocaine. Throughout his ordeal, Owen proclaimed his innocence, saying that he was duped by the people who had hired him to take photos for a series of tourist brochures. For the next 20 months, Owen's family and friends rallied Washington, successfully seeking the support of about a dozen lawmakers from both parties on Capitol Hill so that they could pressure the then-Socialist government of Felipe González to release the young American. (Owen had once served as an intern to Vice President George Bush.)
In April 1988, hundreds of people showed up for a rally outside the Spanish Embassy in Washington demanding Owen's release from the Modelo prison in Barcelona. His parents hit the media circuit, giving interviews on NBC's Today Show and CNN's Larry King Live. The New York Times and Rolling Stone also published long stories about Owen's plight.
Just one month before Owen's trial was to begin, then-US Attorney General Edwin Meese flew to Madrid with a sworn statement in hand by the man who hired Owen, Jorge Barahona, confessing before a US federal court that it was he who had switched the cocaine-filled suitcase in Santiago, Chile - where they both traveled to go over details of the job - before the young photojournalist boarded his plane to Barcelona.
It is better for an inmate to stay close to home where he can see his family"
Meese, who came to Spain to sign a supplementary extradition treaty, handed the copy of Barahona's deposition to then-Justice Minister Fernando Ledesma. The Spanish press criticized what they believed was the Reagan administration's interference in the local judicial system. Still, the Spanish courts refused to budge.
But amid mounting pressure and bad publicity in the United States about the flaws in his court trial and attacks on the entire Spanish legal system, Owen arrived in New York on November 7, 1988 - just days after Felipe González's Cabinet had approved his return. "It is the end of a nightmare," he told EL PAÍS on board the passenger jet that brought him home, escorted by federal marshals. He wasn't exactly a free man but the Spanish government came to an agreement whereby he would be allowed to continue to serve out his sentence in his home country.
The Owen case is perhaps the most politically heated and publicized prison inmate transfer that has ever taken place between Spain and the United States. Without actually setting him free, the Spanish government had decided to invoke the multilateral Council of Europe's Convention for the Transfer of Sentenced Prisoners. The 1983 treaty, signed by both countries two years later, was rarely used until then.
And today there are many indications that a good number of inmates from both Spain and the United States who are serving time abroad do not know or are not adequately informed about its existence, as government officials on both sides of the Atlantic warn.
The most recent figures by the US Justice Department show that nearly two dozen Spaniards were transferred from the federal prison system in the United States to their home country between 2005 and 2010 under the convention. During that five-year period, 48 Spaniards incarcerated in the US federal prison system had applied for transfers but only 27 applications were approved and 20 actually sent home. That figure doesn't include Spaniards who were being held in state prisons and county and municipal jails throughout the United States.
A breakdown of US prisoners who have been transferred from Spain was not available from Interior Ministry statistics posted on its website. Government officials and prison experts both in the United States and Spain say the most common convictions at both ends are drug-related.
At the end of September, there were 67,950 prison inmates throughout Spain, the latest figures from the Penitentiary Institutions section of the Interior Ministry show. Of that amount, 21,766 are foreigners.
In comparison, the prison population in the federal system in the United States stood at 219,335 at last Thursday, according to the US Bureau of Prisons (BOP). The entire prison population in the United States was registered at just under 1.6 million in 2011 by the US Justice Department's Bureau of Statistics.
Overcrowding isn't too bad in Spain, but in Greece and Romania it is severe"
Although inmates are not broken down by nationalities or countries of origin, a 2011 US Inspector General's report on prison transfers stated that in the previous year - 2010 - the federal system had seen 40,651 prisoners incarcerated from nations that have bilateral transfer treaties with Washington and 11,789 from non-treaty nations. The federal inmate population at that time was 195,649.
In February, Spain's Popular Party (PP) government approved the incorporation of a series of European directives into Spanish law requiring member nations to send inmates from EU countries back home where they will continue to serve out their sentences. Currently, treaties allow inmates to petition for such a transfer, but their return isn't mandatory. This new adaptation of the penal code, which is expected to take effect this year, will now oblige countries to take in their own inmates and, if needed, provide them with supervisory parole if the convicting nation requires it. This could affect an estimated 5,000 inmates from EU countries serving time in Spanish jails, according to the Interior Ministry.
A Madrid lawyer who works mainly with lawyers in other European countries on inmate transfers believes that the new directives were enacted by Brussels to also help ease overcrowding in some prisons.
"It is better for an inmate to stay close to home where he can see his family on a regular basis and at the same time they can offer him encouragement. But it is also beneficial for the state to move prisoners from overcrowded facilities. Overcrowding isn't a big problem in Spain, but in countries such as Greece and Romania, the situation is severe at some prisons," said the lawyer who asked not to be identified because he works closely with foreign governments.
According to a 2007 study conducted by Acaip, the union that groups together penitentiary employees, 20 percent of the foreigners in Spanish jails come from EU nations, with Romanians comprising the most numerous community, followed by French, Portuguese and Italians. While the number of foreign-national inmates rose in five years in the United States, those numbers have dropped in Spain over a similar period. At the end of September 2008, there were 25,604 foreign inmates, of whom 2,282 were women, Interior Ministry statistics show. As of September 2013, there are 21,766 foreigners serving time in Spain, of whom 1,661 are women.
Two months ago, the Spanish Foreign Ministry reported that its consular services across the globe were helping 2,184 Spanish prisoners serving sentences abroad with "what is comparatively one of the most comprehensive care systems for prisoners abroad in Europe." In a statement, the ministry said that more than 80 percent of all Spanish prisoners abroad were convicted for illegal possession of, or selling, narcotics. At least 55 percent are held in Latin American countries, 37 percent in European countries and six percent in Africa.
Over 80 percent of Spain's prisoners abroad are in jail for narcotics offenses
The government in Madrid provides an incarcerated Spanish national with up to 120 euros a month if needed. "The Ministry of Foreign Affairs has a budget for this purpose, which represents a significant percentage of the total budget provided to protect Spanish nationals abroad," ministry officials said in an English-language statement. "The purpose of this assistance is to alleviate the precarious situation of countries in which prisons have conditions inferior to those of Spain, mainly related to health, personal needs and food."
But at the same time, the ministry also reminds people about the international prisoner transfer treaties, which Spain has signed with about 90 countries inside and outside the EU. "This transfer is only possible when the sentence is final, authorized by the authorities of Spain and the sentencing state and is requested by the prisoner. These duties are a priority for the civil servants of Spain's Consular Offices."
Yet in a report issued in 2011, Spain's ombudsman denounced the way the Spanish government drags its feet in some prison transfer cases that are deemed urgent. In one example, a Spaniard, who was arrested for drug trafficking in Panama and convicted in 2010, immediately asked for a prison transfer to serve out his sentence in Spain. The Spanish Embassy knew that he was suffering from depression and was suicidal following his arrest in 2009; he had attempted suicide at least once while in custody, and had had a heart attack, according to the ombudsman's report. After his conviction was ruled final in 2011, he quickly asked for the transfer. The paperwork took time to be finalized and signed by both Panamanian and Spanish authorities, and his removal to Spain was approved. But it came four months after he had suffered another heart attack, this time a fatal one.
"The situation regarding the confinement of Spaniards in foreign jails continues to be, for obvious reasons, one of the most worrisome concerns of this office," the ombudsman wrote.
In the United States, questions have also been raised as to whether foreigners are being adequately informed of their rights to transfers. A US Inspector General's Office report issued in 2011 on the transfer system found that "few foreign national inmates from treaty transfer nations are approved for transfer."
"Although it appears that the BOP [Federal Bureau of Prisons] is informing foreign national inmates about the treaty transfer program, language barriers, especially for inmates who do not speak English, French, or Spanish, may be keeping some inmates from fully understanding and participating in the program," the report states. "Also, the BOP does not routinely inform inmates whose transfer requests have been previously denied that they are eligible to reapply [...] and it does not remind inmates who previously indicated they were not interested in the program that they may remain eligible for it."
A US expert says that transferred convicts are less likely to reoffend
Allan Ellis, a San Francisco lawyer who specializes in helping foreign-born inmates get back home, said he has seen very few instances in which an inmate is denied a transfer.
"Rarely will [the US Justice Department's International Prison Transfer Unit] reject it," he told EL PAÍS. "One of the few ways would be if a federal law enforcement agency intervened and said, 'Listen, we have this person under investigation. We don't want him to leave the country.' But they normally don't reject a transfer."
After a brief stay at a federal correctional facility in Pennsylvania, Conan Owen was allowed to go home for Thanksgiving in 1988 but wearing an electronic ankle bracelet. His curfew conditions were relaxed and the monitoring device was eventually removed after he found a job at The Washington Times. Even though the family had continued to petition President Reagan for a pardon, Owen was paroled in March 1989. The time pending on his six-year sentence was considerably reduced. But this isn't an unusual practice, and all countries that have prison transfer agreements know that shorter sentences than the ones initially imposed will most likely occur when an inmate is sent home.
"The US government, generally speaking, is aware that in some places the inmate will serve less time. This is not a consideration [in deciding whether to approve an inmate's transfer], again, generally speaking," said attorney Ellis, explaining that it is better for any foreign-national inmate to be sent home to serve out his sentence and be rehabilitated in his country's own correctional system "because they are less likely to reoffend."
Spanish authorities have also been lenient with their own nationals who have returned home. The most notable recent case was the prison transfer of Ángel Carromero, a member of the PP's youth wing, Nuevas Generaciones, who was convicted by a Cuban court and sentenced to four years for vehicular manslaughter related to the traffic deaths of dissident Oswaldo Payá and his assistant Harold Cepero on July 22, 2012.
After some behind-the-scenes diplomatic wrangling, Cuban authorities allowed Carromero to return to Spain so he could continue his sentence. He spent some weeks at a Segovia prison until penitentiary authorities approved a work release in February. The 28-year-old, who still wears an electronic bracelet, was hired by the Madrid regional government as a technical advisor at 4,000 euros a month, and in October was elected secretary general - the number-two post - of the Nueva Generaciones Madrid chapter. The black plastic bracelet is still wrapped around his ankle.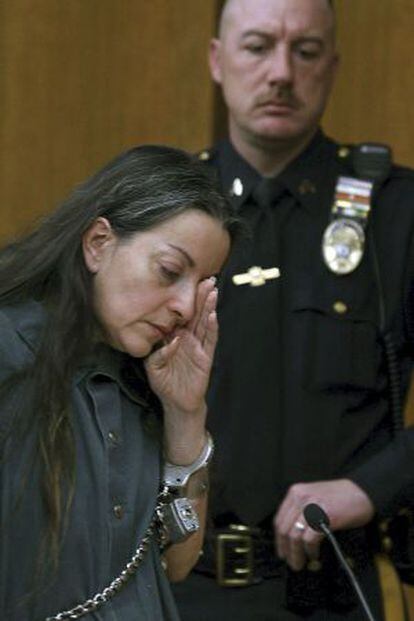 In May, Carromero began denouncing in a series of international interviews that Cuban authorities had run him off the road and were responsible for the traffic accident that killed Payá and his assistant. He claimed that he was later drugged and coerced so that he could publicly assume responsibility for the accident.
But there are others who haven't been as lucky as Carromero and Owen. The Spanish-Filipino citizen Francisco "Paco" Larrañaga, who was convicted and sentenced to death in the Philippines for a double murder in a case that was highly sensationalized in the islands, is waiting for Spanish prison authorities to change his security status so that he may file for early release. Larrañaga, whose father is Basque and mother is from the Philippines, was sentenced to two life terms in prison in connection to the 1997 rape and murders of two sisters on Cebu island. He has always denied being on the island when the homicides occurred and eyewitness accounts and other evidence to show that he was not at the scene of the crime.
Then in 2004, the Philippine Supreme Court changed his life sentences to capital punishment. But a year later, the death penalty was abolished and in 2006 his sentence was officially commuted after Prime Minister José Luis Rodríguez Zapatero personally intervened. After a lengthy legal process, he was transferred to Spain in 2009.
He is currently being held at Bilbao's Martutene prison, according to recent press reports.
In New Jersey, 48-year-old María Jose Carrascosa is awaiting her next parole hearing date scheduled for April to see if she will be able to return to her family in Valencia. In what has become one of the most high-profile parental abduction cases in recent years, Carrascosa was arrested in 2006 and sentenced to 14 years by a New Jersey state court after a judge found that she had violated a custody decree signed with her former husband, a US citizen, by taking their underage daughter to Spain without his consent.
Family and friends of Carrascosa, who is currently behind bars at the Edna Mahan Correctional Facility for Women, a mental health facility located in Clinton, have maintained active campaigns for her release through the social networks.
Meanwhile, US attorneys for Pablo Ibar, the only Spaniard who is currently on death row in the United States, continue to wage their fight to save his life. Ibar, the son of Basque immigrants, who holds dual Spanish-US citizenship, was sentenced to death for the 1994 murders of two models and a nightclub owner. His lawyer filed papers last month before Florida Supreme Court in his appeal.