US intelligence broke into former Mexican president's email account, says report
Germany's 'Der Spiegel' claims NSA targeted Mexico to gain policymaking insight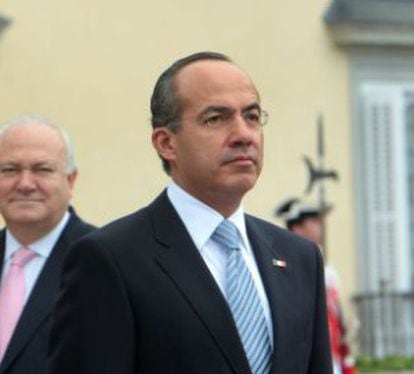 New revelations by former National Security Agency (NSA) contractor Edward Snowden purportedly show that the United States regularly spied on Mexico and tapped into the private emails of former President Felipe Calderón, a top German publication reported.
On Sunday Der Spiegel said that documents provided by Snowden point to a special NSA program called "Tailored Access Operations (TAO)," one of the main missions of which was to keep tabs on Mexican politicians in an effort to gain insight into policymaking and the political system.
In May 2010, a report classified as "top secret" said: "TAO successfully exploited a key mail server in the Mexican Presidencia [president's office] domain within the Mexican presidential network to gain first-ever access to President Felipe Calderon's public email account," according to Der Spiegel online
Calderón, of the National Action Party (PAN), served from 2006 to 2012 and is the predecessor to current President Enrique Peña Nieto of the Institutional Revolutionary Party (PRI).
The new leaks add more details to a growing list of countries that the NSA and CIA reportedly spied on. On Monday, the French Foreign Ministry summoned the US ambassador after Le Monde newspaper reported that the NSA had tapped into millions of French citizens' phone calls and emails throughout the years.
Over the summer, Brazilian media reported that the NSA, in conjunction with the country's telecoms companies, spied regularly on ordinary Brazilians, even monitoring the personal communications of President Dilma Rousseff. Tensions over the espionage scandal climaxed when Rousseff canceled her state visit to Washington, which was scheduled for Wednesday.
Mexican government officials said they would be seeking answers from US officials "as soon as possible."
"This practice is unacceptable, illegitimate and contrary to Mexican law and international law," the Mexican Foreign Ministry said in a statement. "In a relationship of neighbors and partners, there is no room for the kind of activities that allegedly took place."
The first allegations that the NSA was conducting spying activities in Mexico surfaced in July when Brazil's O Globo newspaper published an article written by Glenn Greenwald, The Guardian journalist who met with Snowden when the former contractor was on the run from US federal authorities. But his report didn't point specifically to the alleged espionage on Calderón.
Among the other Latin American countries the NSA spied on, according to Greenwald, were Peru, Colombia and Venezuela.
At the time, Peña Nieto announced that he was appointing a diplomatic committee to formally ask the United States for information concerning the allegations.
Last month, allegations also emerged that the NSA had monitored Peña Nieto's personal communications last year when he was a presidential candidate. The information, which also purportedly came from Snowden, reported that the NSA knew of his Cabinet appointments before they were officially announced.