Public officials in Mexico become latest targets in country's ongoing drug war
Four out of 10 mayors live under death threats from cartels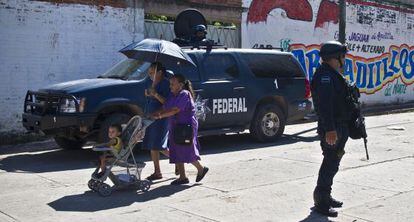 In the space of less than 24 hours, two officials from different municipalities were murdered in separate incidents in the violent state of Michoacán this past week.
The killings bring to light the growing number of public workers who are being caught up in Mexico's ongoing violence.
In Puruándiro, around 360 kilometers from Mexico City, a top police officer was gunned down early Wednesday morning. Investigators recovered around 50 bullet casings at the scene. Just hours before, a municipal employee was found dead with his throat slit in Taretán, about 400 kilometers from the capital.
Crime experts state that four out of 10 mayors throughout Mexico are living under death threats and around 1,200 public workers have been killed in the past four years.
Since 2009, 43 mayors have been murdered and another 30 have been kidnapped, according to figures released this week by the National Federation of Municipalities of Mexico (Fenamm). Fenamm states that at least 983 of the country's 2,457 municipalities have been threatened by drug cartels.
The danger in some townships is so great that many mayors don't even reside within the city limits. In municipalities located near the United States, it is not uncommon for the mayor and other city officials to live across the border, said Fenamm President Leticia Quezada.
One of the biggest threats has been the shakedowns by the drug cartels. Many mayors have been forced to make regular payoffs to criminal gangs from their official municipal accounts for fear they might be murdered.
Some 70 percent of Mexico's municipalities are bankrupt. One mayor, Ygnacio López Mendoza, of Santa Ana Maya in Michoacán state, went on a hunger strike on October 4 in front of the Senate in Mexico City to demand more resources for the country's municipalities.
Many of the residents in Tierra Caliente, Michoacán's most dangerous region, are under siege after it emerged in February that armed vigilante groups had begun battling the so-call Los Caballeros Templarios, a drug cartel that has been waging a bloody war against their enemies for the past seven years. The people who live in this region accuse local police officers of working side-by-side with some of the mafias that operate in the area. And those who do so do it to supplement their income. A local police officer earns 5,000 pesos ($378) a month – 10 times less than a federal agent.
Compounding the crime problem are the road blockades. Eduardo Sánchez, security spokesman for President Enrique Peña Nieto, on Wednesday said that because the cartels were controlling major access routes, food and gasoline distributors are having troubling entering some areas, resulting in severe shortages in some towns.
Manuel Mondragón, Peña Nieto's national security chief, has ordered the army and federal police to "take care of the matter," which will mean they will go in and retake control of the roads and highways.
Since the previous government of Felipe Calderón waged a war with the cartels in 2006, around 70,000 people have died in the violence, while more than 30,000 others have been reported missing.