DOPING
Domínguez: a poisoned chalice
Spanish authorities are passing around athlete's doping case like a hot potato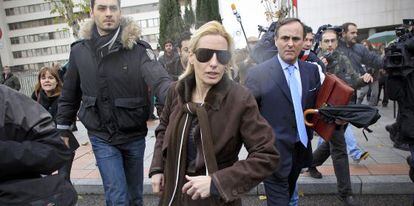 Last June the Spanish Athletics Federation (RFEA) received a poisoned chalice from the IAAF international governing body. There you have it, RFEA president José María Odriozola was told: all the biological passport documentation you need to prove your most decorated athlete, Marta Domínguez, has been doping for years. Off you go.
Three months later, the RFEA has gathered all the papers that could lead to a two-year ban for the poster girl of Spanish track and field and sent them to the National Anti-Doping Commission, which is part of the CSD Higher Sports Council, the country's sporting supreme court. With the files was a note: We don't know what to do with this. It's a very complicated matter and we can't issue a sanction or absolution. You decide.
But the CSD, which received the papers on September 27, does not appear to be willing to rule on the case, not out of fear of punishing Domínguez, who is a Popular Party senator, but because it does not believe it has competency to do so. And if that is the case and the CSD does ban the athlete, the entire process could be ruled null and void.
Domínguez's lawyer, José Rodríguez, is no stranger to the procedural tangle
CSD sports director general Ana Muñoz Merino has requested a report from the State Attorney on this lack of power to act, but if it is decided it is legitimate, it does not prevent CSD from liaising with the RFEA and IAAF to seek a swift and satisfactory solution to the legal tangle.
The labyrinthine and murky world of competencies, committees and tribunals has already been well-traveled by Domínguez, who was cleared of involvement in the massive Puerto doping investigation, despite evidence that she had worked with Eufemiano Fuentes and that the name of her dog, Urco, corresponded to the code on a bag of frozen blood uncovered among many more in Civil Guard raids on Fuentes' Madrid home and offices. She was also arrested during the Operation Galgo investigation in 2010 but later acquitted on charges of trafficking and distribution of doping substances.
Domínguez's lawyer, José Rodríguez, is also no stranger to the procedural tangle. He is a specialist in bamboozling disciplinary hearings with hundreds of pages of unintelligible scientific studies in English to prove the flimsiness of the accusations. In the case of biological passports, which experts always stress should be used as objective proof, these studies can multiply infinitely, to the extent that a panel of lawyers can be completely overwhelmed.
"With these maneuvers," says anti-doping sources, "lawyers hope to open a ream of potential petitions to fall back on as well as giving society at large the sensation that every doping case is fishy and any punishment unjust."
Whatever the CSD decides, or the RFEA if the file is returned, the case will ping-pong between different courts. If Spain elects not to sanction Domínguez, the IAAF will appeal to the Court of Arbitration for Sport (CAS) in Lausanne, as it did over Alberto Contador's absolution by the Spanish authority. If the RFEA does ban the senator, who is practically retired from sport, she can also go to the CAS or Spain's appeals courts, not so much to avoid a sanction that would barely affect her sporting future but to defend the validity of her past titles. If she is found guilty of doping, Domínguez could be stripped of her 2009 3,000 meters steeplechase World Championship gold.