LATIN AMERICA
Argentina's leader undergoes "successful" surgery to drain cerebral blood clot
Official spokesman says president is in good spirits following the procedure Fernández de Kirchner reportedly gave orders to keep her condition secret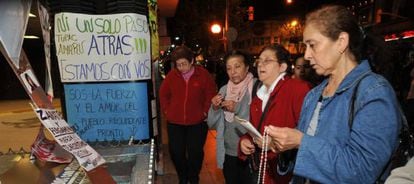 Argentinean President Cristina Fernández de Kirchner was recovering at a private hospital on Tuesday after undergoing "successful" surgery to remove a cerebral blood clot caused by a head injury she suffered last August, her official spokesman said.
Alfredo Scoccimarro, the minister for communications, said the 60-year-old president was "in good spirits" in her room at the Favaloro Foundation Hospital.
"The operation has been successful," Scoccimarro said, adding that the procedure took about two hours.
Earlier Buenos Aires Governor Daniel Scioli informed the press that Fernández de Kirchner was still under anesthesia but was in the recovery room at the Favaloro Foundation Hospital, where she returned on Monday complaining of migraines and a tingling in her left arm.
It was expected that by the weekend she can be moved without any problems
Fernández de Kirchner had been diagnosed at the same hospital on Saturday as having a "chronic subdural hematoma" – a blood clot on the brain's surface beneath its outer covering, which is called the dura. But doctors released her with orders to rest for a month to allow the clot to be absorbed.
Fernández de Kirchner was taken to the operating room at around 8.30am, according to several Argentinean media outlets.
According to the surgeon's plan, the president was to be given full anesthesia so that the clot could be drained and to be kept as calm as possible for 72 hours.
It was expected that by the weekend she could be moved without any problems.
Acting president under suspicion
Argentinean Vice President Amado Boudou had to cut short a visit to Brazil this weekend after President Cristina Fernández de Kirchner was first hospitalized on Saturday. Since then, there had been much speculation — as well as controversy — concerning the duties he will assume and how far his executive powers will extend now that the president will have to take at least a month off to recover.
"It is the vice president who is in charge," said Cabinet chief Juan Manuel Abal Medina in a radio interview on Wednesday.
Boudou officially signed the transfer of powers act on Monday despite cries from an outraged opposition that a criminal investigation into alleged money laundering and illegal enrichment charges filed against him has not concluded.
Abal Medina said that Boudou met with Fernández de Kirchner on Monday night and she explained to him what his duties would be.
Until Monday, Boudou hadn't played a major role in the Argentinean government's decision-making process. In the past months his name has only appeared in the Argentinean press linked to court inquiries into his role in a purportedly fraudulent financial scheme involving the sale of a currency-printing company while he served as economy minister.
He has denied any connections to the lawyer Alejandro Vandenbroele, who eventually purchased the press. Nevertheless, Vandenbroele's former wife has stated that both men were involved in secret business dealings.
On television, Boudou regularly appeared alongside Fernández de Kirchner, often shown applauding her speeches. The 49-year-old became her vice-presidential running mate in 2011, the same year in which Fernández won her second term. As the criminal allegations against Boudou grew as soon as he took office, it was believed that the president was preparing to dump him, but instead she attacked the attorney general, prosecutor and judge in charge of the investigation. The attorney general, Esteban Righi, a longtime Peronist, stepped down and the judge and prosecutor were later removed from the case.
The sudden decision for her to undergo this procedure came as a surprise to many inside her Cabinet, including Vice President Amado Boudou, who on Monday signed the act of powers transfer shortly after she had been brought to the hospital without his knowledge.
Boudou told reporters that Fernández de Kirchner was at her presidential residence Los Olivos where she needed to rest for 30 days. "And really, from the bottom of my heart, she really needs this time off for all the work she has been doing during these past few days," Boudou said, unaware that the president was back at Favaloro Foundation Hospital.
It was the president's own decision to tighten the lid on all information about her health during her rest period at Los Olivos, La Nación reported, citing several government officials.
Boudou wasn't the only one kept in the dark about Fernández de Kirchner's admittance to the hospital on Monday.
"A lot of us ministers and secretaries found out through the news portals or through statements issued by the president's office or hospital. Everything was handled by a small group at Los Olivos," said one official, who is normally informed about the president's activities, in an interview with La Nación.
The secrecy surrounding the president's health had extended further back to August when, it was only revealed in an official statement on Saturday, Fernández de Kirchner had suffered a fall and injured her head.
Photographers outside the hospital captured Fernández de Kirchner in an unusual image as she arrived in a gray car – without makeup and with red blotches on her face that appear to be a flare-up of the psoriasis from which she suffers.
Scores of supporters kept vigil outside the Buenos Aires hospital on Monday night, holding candles and saying prayers for the president.