Road where the postman won't even ring once
Residents are cut off from Madrid services due to proximity of a drug-dealing point Mail isn't delivered and trash pickup occurs twice a month because of insecurity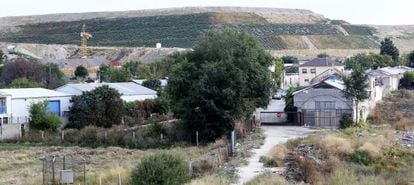 On Francisco Álvarez street in Villa de Vallecas, only the residents are permitted to enter. They are typical people who pay their mortgages, take their children to school, and lead normal lives. But mail never arrives and taxis don't dare to enter this urban enclave that is located between the M50 highway and Cañada Real in Madrid.
The garbage man only comes around every 15 days, according to residents, who still have to pay the municipal waste collection fees and property tax (IBI).
All this is because of the goings-on in an area located just 200 meters away called Sector 6 of the Cañada Real herders' trail which has become a line of shanties. They are also located near the incinerator at the Valdemingómez landfill, which has become one of the major drug points in the region and one of the largest in Spain.
To reach Francisco Álvarez street you have to go through Sector 6 or use a longer route on a gravel road.
When a reporter tried to reach the area in taxi, the driver refused to enter the street. "You can get out here; I am not going in there," he said. The unpaved road was filled with used syringes. Three children ran among a group of junkies, unsteadily walking like zombies. Some people in shacks motioned the driver to park in a certain area while others threw astonished looks at the driver and his passenger.
"If I had known we were coming here, I would not have picked you up," the driver complained as he backed up his vehicle. After he collected his fare, he sped away.
I had known we were coming here, I would not have picked you up"
Because there is no regular garbage pickup, trash is piled everywhere and rats can be seen running in front of the houses. This sector officially falls under Madrid City Hall's jurisdiction. Jaime Lissavetzky, the Socialist spokesman in Madrid, called the situation "an embarrassment."
"These citizens pay IBI and garbage taxes but they are provided with third-world services," he said. "Look at the road, it isn't even paved. This looks like an islet left in God's hands."
The Socialist leader called on Mayor Ana Botella to visit the area and meet with residents to find a solution. "This too is part of Madrid and those who live here are madrileños like in any other neighborhood."Officials from Madrid's environmental department clarified that the garbage truck makes its rounds twice a week, not twice a month as the neighbors claim. But they did not explain why trash pick-up doesn't occur every day as it does in other neighborhoods.
The Socialist bloc at Madrid City Hall will present a proposal on October 8 demanding that officials, including those from the regional government and the Villa de Vallecas local council, both of which are controlled by the Popular Party (PP), solve the problems of the residents living there. If not, the Socialists say they will demand that they be relocated.
Until that time comes, Mario and Violet, who live on Francisco Álvarez, will have to continue to go regularly to the post office in La Gavia before their mail is sent back after seven-day holding limit. If not, they may miss a letter informing them of a doctor's appointment.
Mario, 46, owns a car but Violet has to walk two kilometers to the highway to Valencia where she catches a bus that "comes by every 40 to 50 minutes" to take her to Conde de Casal, where she transfers to another bus to reach the shopping center at Ensanche de Vallecas. The establishment is close to where she lives but she has to take a circuitous alternative route to reach the shopping center.
"Sometimes you don't even feel like to going the doctor's surgery," says 50-year-old María del Carmen, whose health center is in Villa de Vallecas.
All of the neighbors on Francisco Álvarez who have been living there for more than 10 years said that before the drug trade the area was a typically urban landscape with bars and plots of land. "And the gas keg deliveries were made twice a week," says one resident.
Two decades ago, residents lobbied for an improved sewer system and traffic lights. Now they organize themselves to pick up trash and have even attempted to pave the road on their own, which could land them with a 3,000-euro fine.
"They don't want to do it, and they won't let us do it. Letters don't arrive, but the fines will," said 43-year-old Violeta who works as a locksmith.
The residents are also asking for an outlet to connect to the road leading to the Valdemingómez landfill so that they can use a different route to take their children to school without having to pass through Sector 6.
"Many of our children come home on the bus, which is filled with junkies," says one resident. "Do you know what it is like when you tell your children they cannot go and visit their school friends at their homes, because they would then have to invite them over here and you don't want them to see all of this? You can't even imagine the embarrassment."