Spanish forces hand over control of Badghis base to Afghan army
Close to 100 Spanish military personnel died during the mission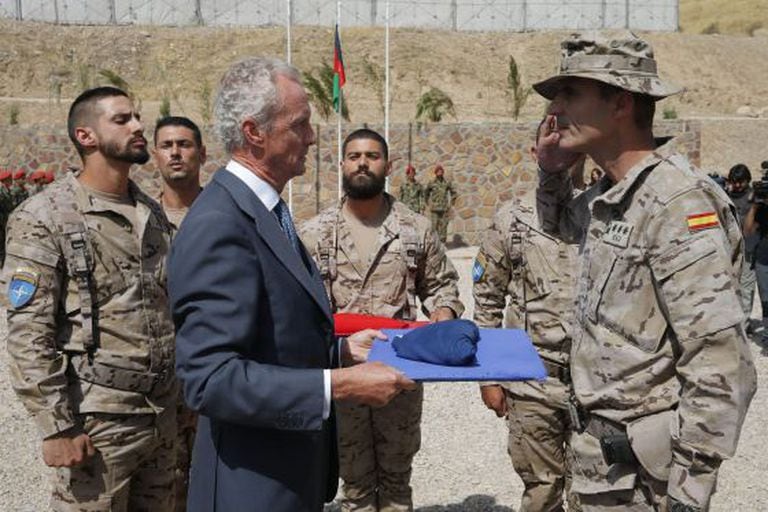 The Afghan flag was raised over the Ruy González de Clavijo military base in Qala-i-Naw, Afghanistan, on Wednesday as Spanish forces completed the handover of security in the Badghis region to the Afghan National Army.
"The ties created between these two nations are and will continue to be very strong because the blood and sweat of our compatriots has fallen on this land," said Defense Minister Pedro Morenés, who presided over the ceremony alongside the provincial governor, Ahmadullah Alizahi.
During an emotional speech, Morenés paid tribute to the 100 lives lost during the Spanish mission in Afghanistan, which has been in the country for almost 14 years attached to the NATO-led International Security Assistance Force. Of the Spanish fallen, 98 were military personnel and two were interpreters, one of Afghan origin.
Around 170 service personnel left the base Wednesday with the remainder to depart overnight in convoy for Herat. The withdrawal from Badghis is "the biggest logistical operation of the past few years," Defense Ministry sources said due to the volume of hardware that needs to be removed from "an inland island without access to the sea."
The total cost of the withdrawal is 24 million euros.
Since last July, a total of 13 convoys have made the 12- to 24-hour journey from Qala-i-Naw to Herat, an arduous trek that involves altitude changes from 800m to 2,300m. However, the ministry said there have been "very few incidents" on the road. Command of the post will now pass to the III Brigade, 207 Corps of General Dawood Wadar, who called it a "glorious and historic" day.