Rototom: the politics of reggae
Benicàssim's other festival espouses a philosophy of tolerance and having a good time
For the last four years, Benicàssim has played host to one of Europe's oldest and largest reggae festivals, Rototom Sunsplash, which runs until Friday. The Mediterranean beach town is already home to another major music event, the Benicàssim International Festival, better known by its Spanish acronym FIB. This in part explains why the organizers of Rototom chose to move from Italy, where it had been based since 1993.
"We fell foul of the politics of Silvio Berlusconi and his allies in the Northern League," says Filippo Giunta, Rototom's director, explaining that the far-right group had been waging a long-running campaign to close down the multi-cultural event. It used to be held in the small town of Gaio de Spilimbergo, deep in the territory of the Northern League, which introduced tough drugs legislation that put marijuana in the same category as heroin.
"People are suspicious when a festival moves from one country to another," says Giunta. "But the mayor of Benicàssim at the time understood that the issue wasn't about drugs, but politics. This is a music festival, and obviously people smoke a bit of dope, which of course in Spain is not a big deal, and we make sure that there are no other drugs on the site: no cocaine or chemicals. Rototom is a very relaxed, easygoing festival. We have not had a single incident in 20 years, which is pretty amazing when you think that around 200,000 people attend over the eight days it runs for. But I guess the philosophy of tolerance and having a good time is contagious."
This year's numbers are up 30 percent on 2012, says Giunta. "This has helped us overcome the value-added tax hike and problems with the owners of the land."
We have running drinking water on site. Water is a right, not a business"
This year, Giunta and the festival's organizers took advantage of the opening ceremony — to which they had invited local council officials, although none turned up — to express their fears that the festival might not survive for another year. There are also doubts about whether FIB can survive. "The local council was initially more concerned about FIB than us, but after our comments at the opening ceremony we got a phone call and a meeting was set up," says Giunta, who believes that Rototom can become an important part of the local economy.
Giunta says that Rototom is 90 percent self-financed through ticket sales, but that they wanted some support from the local authorities. He and the other organizers now live in Benicàssim. "All the suppliers are local companies. We buy locally, and we have worked on the site to make sure that it is environmentally sustainable: there are no chemical toilets here, as in most festivals, and we have running drinking water on site. Water is a right, not a business; we're not going to charge people three euros for a bottle. We have established a fair price policy with the people who run the bars on site: beer costs a maximum of two euros. There is no advertising, because the majority of multinationals are not compatible with our principles, so that means no banks, or car makers that deal arms, and of course you won't see any Coca-Cola signs here either."
Claudio Giust, Rototom's communications director, says that the key to the festival's independence is self-financing. "We don't rely on anybody, so we can organize chats, for example, to discuss subjects that the political parties find uncomfortable. We make our own decisions: our only commitment is to the public, our shareholders, if you like, the people that put food on the table, the real owners of the festival."
Garbage bins with different colored bags for recycling are distributed throughout the site, and all plates and glasses are made of recyclable materials. Aside from the area immediately in front of the main stage, it has to be said that the site is remarkably clean. "People who come here for the first time soon understand the philosophy of the festival, and help out," Giust explains.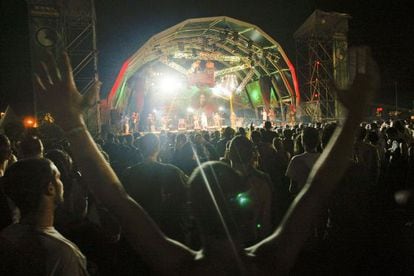 The festival attracts a varied public, 80 percent of whom come from the rest of Europe. The majority are Italians, prepared to make the 2,000-kilometer trek from Rototom's original home.
More than 200 artists will be performing this year, and among the lineup will be veterans Third World, Morodo, The Skatalites, and U Roy, along with Damian Marley. Representing Spain is La Pandilla Voladora, the collective created by Albert Pla, El Canijo de Los Delinqüentes, along with flamenco guitarist Tomasito, and Colombian Caribbean outfit the Royal Rudes.
But Rototom is not just about the big names in reggae, says Giunta. "Music is just the soundtrack for this small community of people who believe that we can make the world a different place."
At this year's event, Nobel Peace Laureate Rigoberta Menchú was in attendance, telling children's stories in the Mundo Mágico tent, and then later in the evening leading a discussion about the continuing human-rights abuses in her native Guatemala.
Last year, writer and thinker Zygmunt Bauman was invited, and Nobel Laureate Shirin Ebadi has also attended. Aside from myriad discussion groups, there are also music, circus skills and yoga workshops, play areas for children, and even a small African village with thatched huts, whose occupants offer dancing on the beach each morning. "At most of these big festivals, the emphasis is on the performers, as well as looking after the VIPs, but here, we're much more interested in the people attending: the musicians are here to work, and the atmosphere should reflect that," says Giunta.
"Our formula is unique," says Giust, "there is no festival like this anywhere in the world — not even in Jamaica. This is a place to have a vacation, a place where many different things can happen, because the people who come here want the world to be a different place. We're going to be together for a week, so let's have a good time, in the spirit of peace and love."