Looking for a living beyond paradise
Andorran Banks are turning their eyes to Spain in the wake of European Union moves expected to unwind the principality's standing as a tax haven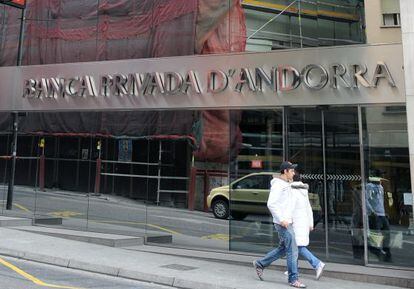 For many years, the 78,115 residents of Andorra have lived in paradise: a fiscal one. However, the principality's days as a place with low taxes and opaque operations on which the territory's banks rely for business are numbered. "In very few years this industry will have disappeared. I am sure of that. It's a question of time," says an executive at an Andorran bank who asked to remain anonymous. The territory is under growing pressure from Brussels to dismantle its tax haven status and Andorra is already in negotiations with the European Union on the automatic exchange of fiscal information.
The development augurs a profound change for the principality, 16 percent of whose wealth is derived from the financial sector. The five Andorran banks — Andbank, Grup Crèdit Andorrà, Banca Privada d'Andorra, MoraBanc and BancSabadell d'Andorra had resources worth 31.089 billion euros under management in 2011. With the banking business in this landlocked haven for skiers stagnant, Grup Crèdit Andorrà, Andbank and Banca Privada d'Andorra are now looking to Spain as a natural solution to their situation. The moment seems ripe, but the banks' descent on Spain has been so rapid that it has shaken the dust in Spanish private banking circles, which are more accustomed to a sedate state of affairs.
The restructuring in the Spanish banking sector has seen many lenders disappear, and the Bank of Spain — for years reluctant to allow the entry of Andorran institutions — is now granting them banking licenses, which cost 18 million euros.
In addition, the tax amnesty in place in Spain last year has seen the return of a large amount of money belonging to wealthy Catalan families, who have historically been good customers of the offshore services of Andorran banks, says a director of a Swiss private bank present in Spain.
Another factor has been the fact that many clients of Spanish private banks have been left with a bad taste in their mouths after being trapped with preferred shares that have lost a lot of their value or in investments made on their behalf in Bernard Madoff's Ponzi scheme.
As a result, banking on their own track record and taking advantage of the mistakes made by others, Andorran banks have turned their ambitions toward the Spanish market in force, using a variety of different strategies. The most aggressive has been Banco Madrid, which is owned by Banca Privada d'Andorra. In only the space of a few months, it has acquired the brokerage firm Interdin and the wealth management businesses of Banco Valencia, Nordkapp and Liberbank Gestión.
The only blank it drew was in its attempt to acquire investment fund manager Inversis. In a surprise move, Banca March ultimately decided to exercise its first right and bought the business for 217 million euros. Banca March now plans to sell Inversis' private banking business to Banca Privada d'Andorra's rival Andbank for 180 million euros. At the same time, it is aiming to place 50 percent of Inversis with the Portuguese group Orey Antunes. Esteban Sánchez, a partner of Spanish think-tank Analistas Financieros Internacionales (AFI), says the strategy of breaking Inversis up and selling the parts will bring in more money for Banca March than selling it as a whole.
We will achieve growth rates in some segments of our business of 30 percent annually, and we will continue to work on other corporate deals."
Banca Privada d'Andorra seems undaunted by its failure to get its hands on Inversis, at least on the surface. "We're not planning to change anything," the chairman of Banco Madrid, José Pérez, says. "We have a well-defined plan and we will carry it out. We will achieve growth rates in some segments of our business of 30 percent annually, and we will continue to work on other corporate deals. There are other options."
However, despite his apparent calm, Pérez continues to harp on about Banca March's foray as "surprising" and the process surrounding it as "singular."
The events surrounding the battle to acquire Inversis highlight the enormous competition that exists in the sector, and in this case between two banks "with similar business models," AFI's Sánchez says. Banca Privada d'Andorra and Banca March might clash again.
While the Andorran banks are betting heavily on Spain, nobody believes they will abandon their offshore business. "Their business will tend toward a certain degree of rebalancing, but they will continue to offer their services to clients in low-tax countries, even if it is not Andorra," says Íñigo Martínez of GBS Finanzas. One formula could be to set up platforms in places with less draconian tax regimes such as Hong Kong, Panama and Singapore.
The private banking sector in Spain is based on offering products to clients, while in Andorra the focus is on managing wealth, looking for an agreed return"
Although in this new phase the Andorran banks are finding it complicated to maintain an equilibrium between offshore and onshore activities, their work will be even more cut out to compete in the Spanish market. "The private banking business in a tax haven is really easy. The client walks in the door — you don't have to go out and find him — with his portfolio and he asks you to conserve its value and make it grow," says a top executive at an Andorran bank.
The focus is different in Spain. "The private banking sector in Spain is based on offering products to clients, while in Andorra the focus is on managing wealth, looking for an agreed return," says Diego López, the managing director of management consultancy group Accenture in Madrid.
In order to bring about their transition, Andorran banks need to take on personnel. The banks of the principality have been signing up Spanish professionals who work with competitors by offering them high salaries. Carlos Alemany, a partner at headhunters Alemany & Partners, says two Andorran banks have already contacted headhunter companies. They want people with experience in commercial banking, not just private banking, who have a good list of contacts.
A list of clients is worth its weight in gold, particular when it comes to banks such as Crèdit Andorrà Spanish unit Banco Alcalá, which focuses on so-called ultra-high network investors with more than five million euros in liquid assets. This is Crèdit Andorrà's strategy not only for Spain but also for the rest of Europe. It already has a presence in Luxembourg and Switzerland to provide services to Portuguese, German and French customers. As a result, Banco Alcalá "will end this year with 1.1 billion euros under management and 2 billion if you include custodial services," says Frank Martínez, the chief executive officer of the bank.
However, MoraBanca, which has a workforce of 309 employees and 2.368 billion euros in assets, is a notable exception in opting not to go the way of other Andorran banks in turning their attention on Spain. "They're not interested in Spain," an analyst that knows the bank well says "On the contrary, their managers believe that the private banking business in Spain will go downhill and they are only interested in it as an area where they can gain Latin American clients." And it would appear easier to do that out of Miami rather than Madrid.