When being in employment is no guarantee of taking home a wage
As firms struggle to survive, more and more workers are not being paid The Salary Guarantee Fund budget has been cut by a third, to 843 million euros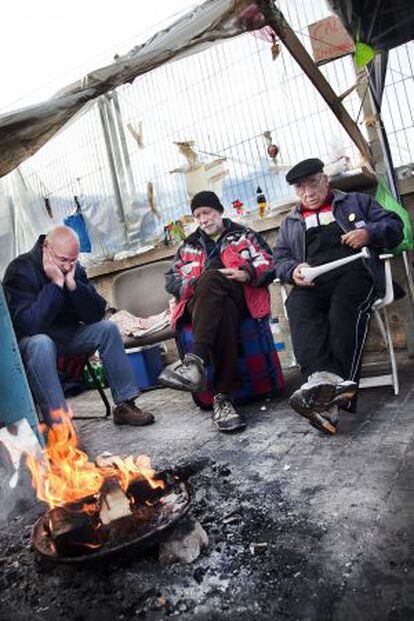 Official figures allow us to build up a picture of the crisis: of the more than six million people who are out of work; of the two million households without a single breadwinner; and of the homes where there is no income at all. But there is a group that has been affected by the crisis that the statistics have largely failed to detect: the thousands of employees officially still in work, but who are either no longer being paid by their employers, or at best are being paid intermittently, and after long delays. There has been a 50-percent increase in the number of complaints brought by workers for non-payment of wages or redundancy settlements since 2008. The Employment Ministry says that it received 7,875 such complaints last year, 500 more than in 2011.
In most cases, the prolonged inability of an employer to pay the workforce's wages is the prelude to bankruptcy proceedings, meaning that the workforce will then have to resort to Fogasa, the government's Salary Guarantee Fund. The problem is that while the number of employees seeking redress for non-payment of wages continues to rise, Fogasa's budget has been cut by a third on last year's, to 843 million euros.
Pilar Camacho, aged 52, is one of the many hidden faces of the crisis. According to the figures, she works for the Husa hotel chain in Madrid, but over the course of the last three years her monthly salary payment has been delayed repeatedly: she has just been paid for February. "The situation is no longer sustainable. My husband has been unemployed for two years, and is about to receive his last emergency monthly payment of 426 euros; the mortgage repayment is 600 euros every month. This is a big problem for my family: my 29-year-old daughter cannot afford to leave home because her income is helping us out," says Camacho.
The company has now promised to pay 15 days from March, and says it will pay April's salary in July.
My daughter cannot afford to leave home because her income is helping us out"
"In the meantime, we're all working flat out because the hotel is full and there are fewer staff," she explains. "The problem is that I can't leave this job because I have nowhere else to go, and if you leave voluntarily, there is no compensation," adds Camacho.
Husa admits that it is finding it difficult to pay salaries in its other hotels, but claims that it is resolving its cash-flow problems. "The goal by July is to be behind in payments by a maximum of one month," says a company statement, highlighting what it calls "poor financial results." Husa negotiated a deal with its banks at the beginning of the year to refinance 80 percent of its 42-million-euro debt. The hotel chain has been given a year off from making its repayments, and will not have to pay more than nine million euros until June 2014.
"It is virtually impossible to really assess the scale of this problem: employees continue to turn up for work, but they haven't been paid for months. Employees are having to put up with the situation due to the lack of alternatives in the labor market," says Miguel Ángel García of the CCOO labor union. "Collective negotiation is the only way to resolve these kinds of situations, to reach an agreement, and to oblige the company to act in good faith and not to keep things hidden from the workforce," he says.
If the Employment Ministry only received 8,000 complaints last year about non-payment of wages, it is largely because "the ministry begins administrative proceedings that, aside from demanding payment, include measures to force the company to look for an agreement, but those affected tend to pursue judicial proceedings to demand back payment of salaries," say sources there.
Companies pay part of what they owe, which starts the process all over again
"The usual procedure is to try to reach agreement so that the workforce can be paid when the circumstances permit," adds an Employment Ministry spokesman. Companies can be fined anything up to 180,000 euros for failing to pay wages or compensation, but this means little when a company is already on the road to bankruptcy and simply adds to its debt, making it less likely it will pay, sources at the ministry explain.
Cubigel, a Barcelona-based company that used to make fridge motors under the name of Unidad Hermética, began bankruptcy proceedings in February 2012. Its 162 employees were not compensated when it went to the wall, and they also lost three months' pay, says the workforce's representative, Joan Roura. The employees had already taken a 25-percent wage cut to allow the company to buy parts. More than a year after declaring itself bankrupt, the company has been bought by Chinese outfit Huayi, which has continued output and kept some of the workforce on, resuming their monthly salaries. But those laid off will have to wait for the government's Fogasa fund to pay them their compensation, which will likely take several months.
Fogasa's money comes in part from a fund fed by a levy on salaries paid by employees and employers. The maximum amount Fogasa can pay out is around twice the minimum salary for each year worked, with a limit of 120 days' pay. Silvia Ramos of labor union UGT says that many workers find themselves between a rock and a hard place: "They can only demand that their contract be rescinded, with the right to compensation and unemployment benefit when the company has not paid their salaries for three straight months, or six non-consecutively - after that it's up to the judge. What happens in reality is that companies will delay the process by paying part of what they owe to an employee, which simply starts the process all over again."
UGT and CCOO have complained repeatedly that Fogasa is overloaded with claims and is no longer able to function properly. "In most cases it takes at least 12 months for claims to be processed: there are more than 150,000 cases outstanding," says a report by the two labor unions. They estimate that Fogasa "participates in thousands of bankruptcy hearings, and is cited each year in around 90,000 hearings."
Claims take a year to be dealt with; there are 150,000 outstanding cases"
UGT is calling for new measures that would allow Fogasa to deal more efficiently with the mounting number of companies facing insolvency and to deal with its backlog of claims. As well as longer-term measures, the unions want immediate action to increase Fogasa's staff, as well as "a new structure with adequate staffing that will allow for new strategies in the future."
The Employment Ministry says that while growing numbers of companies are going to the wall, many others are surviving only because they do not pay their employees' salaries on time. "This practice is widespread, and applies to a broad range of sectors," says a spokesman. Take, for example, sport. Growing numbers of clubs are being hit hard by the sector, with spectators unable to afford matches, and advertisers and promoters no longer providing subsidies. Some have gone out of business, and others are surviving by cutting back on salaries or simply not paying them.
Success at the sporting level is no guarantee of survival. Take the case of León-based handball team Ademar: it hasn't done badly over the last season, coming fourth in its league, and eighth in the European championship. But in late February, when it began bankruptcy proceedings, almost half of the 500,000 euros it owed was in unpaid salaries.
Companies in the home assistance sector that provide services to the elderly and infirm have also been affected. Encarna Barrios works for a company used by Jerez City Hall. She has only just been paid her salary for January. "Most of the people working here are women, and the average wage is around 800 euros a month; in those cases where this is a second salary it's possible to just about get by, but for some households, these women are the only breadwinners," she says, adding that the problem dates back at least three years. Last year she says that she went seven months without payment.
Many firms are only surviving because they don't pay salaries on time
Since 2008, Jerez City Hall has been in a lot of financial trouble. That was when it began having repeated problems paying its employees and covering its debts. In April it sent a clutch of bills to the tune of 32 million euros to the Economy Ministry in the hope of joining a new government scheme for indebted local authorities that would allow them to pay their suppliers. The government has also set up new credit lines. Jerez has already taken advantage of such schemes four times in less than a year, in order to pay off debts dating back to before 2012.
When companies fail to pay their employees, they set off a ripple effect throughout the wider economy. A worker who hasn't been paid has to get by on any savings they may have squirreled away. When these are used up, rent and mortgage payments are not met, and other repayments are also delayed. In some cases it is possible to negotiate an overdraft or a loan, but this often just creates more debt that can't be repaid, which is why banks are so reluctant to lend right now.
"It's a vicious circle," says Antoni Cañete, president of a new association that represents more than 700,000 business owners and self-employed workers who are currently facing bankruptcy and debt.
Cañete, who is also the secretary general of Pimec, a small- and medium-sized business confederation in Catalonia, says that the crisis is swelling the ranks of companies unable to pay their employees, but that non-payment of wages is the last resort for most businesses.
"Especially in the case of small- and medium-sized companies, because of the close relationship between owners and employees," he explains. "By the time the owner is unable to pay the workforce, things have really hit rock bottom. A company that cannot pay its debts simply generates more debt, and the lack of credit is making it impossible to break this vicious circle."
The redundant workers awaiting their payoff
MANUEL V. GÓMEZ, Madrid
In 2010, the former Socialist Party administration announced companies that were making a profit and that wanted to reduce their workforce by laying off staff that had turned 50 would have to foot the bill for their former employees' unemployment benefit, as well as continuing to pay their social security contributions.
Since then, the legislation has been approved, amended, put into law, and subsequently changed again. Two years on, now under a Popular Party government, the Employment Ministry admits that nobody who has been laid off by big companies still turning a profit has been paid.
"Given the dates and the paperwork it has not been possible to make any compensation payments in 2012," admitted the ministry in April in response to a question put by the Plural Left bloc in Congress. "The first compensation payments will be made over the course of the current financial year," says the ministry. It argues that the delay in payments is because redundancies tend not to happen suddenly; in most cases they take place over time, and in some cases it takes months for contracts to be definitively rescinded. The ministry further points out that the rules on compensation payments were not worked out until October.
"What we can clearly see in this case is nothing has really been done, despite all the promises about what was going to be done," says Joan Coscubiela of Plural Left. Companies with more than 500 employees have been obliged to pay unemployment benefits and social security for employees aged over 50 since August 2011. In July last year, taking advantage of new labor legislation, the government announced that companies with 100 employees would also be subject to covering all their redundancy costs. Only one detail was missing before companies would begin paying: the guidelines on how the money would be paid. This was established in October 2012, and the Employment Ministry calculated that it would receive around 350 million euros a year. Before it had received so much as a cent, the government again changed the rules, in March, saying that it wanted to make it more difficult for companies to get rid of older employees. Having changed the law so that companies would have to foot the bill even if they weren't making a profit when they announced mass redundancies, the ministry upped its estimates, saying it would receive 390 million euros into its fund.
The problem is that so far it has not received any money from companies laying off older employees, as the example of Telefónica reveals. Spain's telecommunications giant announced in April 2011 that it was laying off 6,500 workers. The measure was agreed with employees' representatives as part of a new collective agreement that committed the company to no more redundancies, the recruitment of at least 450 new employees, and a grants program for young workers. The company was also forced to reimburse the government for the resulting state unemployment payments. But it has yet to make any payment. The company says that it has not paid because the ministry has taken so long in preparing the new legislation, adding that it has already set aside the money and will begin payments in the coming weeks.