Capriles asks Colombia not to "abandon Venezuela"
Santos' meeting with opposition leader angers Maduro government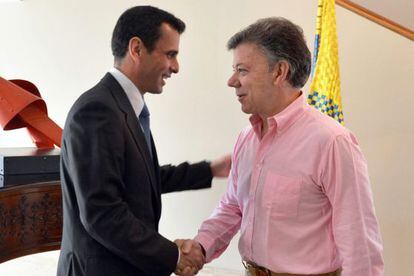 Venezuela's opposition leader, Henrique Capriles, on Wednesday took his drive to recount the presidential votes in his country to Colombia where he was warmly received by President Juan Manuel Santos – a gesture that has angered top Venezuelan government officials who warned that bilateral relations were in jeopardy.
Capriles, who narrowly lost the April 14 elections to President Nicolás Maduro by less than 1.8 percent, reaffirmed his commitment to denounce the vote before the Organization of American States (OAS) while asking for Colombia's support. He claims there were massive voting irregularities which worked in favor of Maduro, the late President Hugo Chávez's handpicked successor.
"Please don't abandon Venezuela because there are a lot of things happening, and we are in a battle over there. But it is very important that our Colombian brothers stand by us," Capriles told the Colombian Congress after holding a private meeting with Santos.
The 40-year-old Capriles, who serves as governor of Miranda state, was accompanied by members of the opposition and Colombian Senate speaker Roy Barreras and House speaker Agusto Posada at a news conference afterwards.
"The government is buying private media outlets so that only one voice is heard in Venezuela," Capriles said, in reference to the sale of the private Globovisión television network to pro-Maduro businessmen. "In Venezuela, no one would have known that I was in Colombia if the Colombian media hadn't reported it."
In Caracas, Venezuelan Foreign Minister Elías Jaua warned that the Colombian president's meeting with Capriles could "derail the good relations we currently enjoy." Senate president Diosdado Cabello compared it to "placing a bomb on a train."
Santos' meeting with Capriles, which took place at the Casa de Nariño presidential palace in Bogota, lasted for more than an hour. Although neither the president nor Capriles spoke to press about what was discussed, sources close to Santos said that the president preferred not to make any public comments about the issues brought up.
Capriles, for his part, is said to have told Santos about the Maduro government's refusal to keep its pledge and recount nearly half of the votes as it initially said it would before receiving the backing of the Union of South American Nations (Unasur) – an action he later called "a farce" during his news conference.
After he arrived in Colombia on Tuesday night, Maduro accused opposition leaders of traveling abroad "to hire hit men" to "sabotage the Venezuelan economy."
For his part, Cabello suggested that Venezuela may pull its support from the ongoing brokered talks between the Santos government and rebels from the Revolutionary Armed Forces of Colombia (FARC) taking place in Havana. He asked the Bogota government for "some consideration to those who have done so much to win peace."
Since November, Santos government officials and FARC rebels have been holding peace talks in an effort to ending the 50-year-old insurgency. One Sunday they reached their first agreement on land reform – one of the six issues being negotiated by the two sides.
Besides Venezuela, the talks are being brokered by Chile, Cuba and Norway.