Brazil's Roberto Azevêdo to head up WTO
Diplomat becomes first Latin American to lead the international trade agency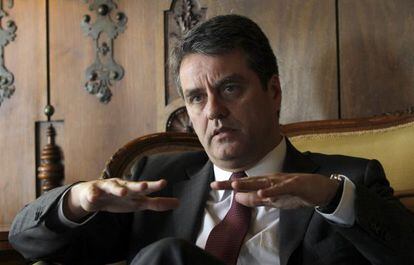 Brazil's Roberto Carvalho de Azevêdo will be the next head of the World Trade Organization after defeating the Mexican candidate, Herminio Blanco, who had support from the entire European Union, including Spain. Azevêdo will replace France's Pascal Lamy on August 31 and lead the international organization for the next four years, with an option to run for re-election.
Azevêdo will be the first Latin American to lead the WTO in its 60-year history (including its predecessor, the GATT). The agency has only had one director-general from an emerging country, and then just for three years.
The winning candidate was backed by 93 countries, according to sources in the know, among them emerging powers from the BRIC group (Brazil, Russia, India and China). Azevêdo, a diplomat, is very familiar with the organization, since he has had ties with it since 1998; since 2008 he has been Brazil's ambassador to the WTO as well.
It is precisely this knowledge of how the agency works that led Azevêdo to run as the representative from the South, while member states from the North found a better reflection of themselves in the Mexican contender. Although both men come from developing nations, Blanco is considered one of the architects of NAFTA, the North American Free Trade Agreement, and is viewed as a champion of the private sector and of liberal views.
The great challenge for the new director-general is to prevent the WTO from losing all relevance as an arbiter of international trade, given the proliferation of regional and bilateral agreements, such as those likely to emerge from talks between the EU and the US and among countries in the Pacific arc.
Multilateral forums
"Setting rules outside the WTO can be an irreversible process [for the organization]," Azevêdo told EL PAÍS in an interview published last Sunday. "If we don't find a way to negotiate multilaterally, what will happen is that the world is not going to stop turning, and it will find ways to negotiate if necessary in other forums, which will not be the multilateral forums."
Azevêdo faces an additional hurdle: rekindling the trade negotiations of the Doha Development Round, which collapsed in 2008, largely due to emerging powers' refusal to eliminate their industrial tariffs unless developed countries reduced the complexity of their non-tariff trade barriers.