"No to Nazis" two decades on
The family of murdered anti-fascist activist Guillem Agulló continues to receive threats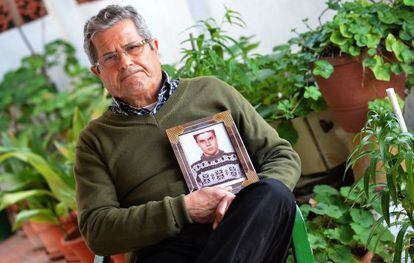 Thursday marked the 20th anniversary of the death of Guillem Agulló, a young anti-fascist activist. Around this date his family stares nervously at the telephone, as they have done almost every year since the crime.
Until a little over a year ago, far-right extremists used to call up on each and every anniversary of the crime to make death threats. Graffiti featuring Celtic crosses would show up on the walls near the family home in Burjassot, Valencia, a town of 38,000 residents. The intimidating messages even made it into the cellphone of one of Guillem's two sisters. Anonymous letters went unpunished by the courts for lack of evidence regarding their authorship. No arrests were ever made. The harassment goes on with complete impunity.
Agulló was 18 years old when a switchblade plunged into his heart ended a promising swimming career. He had already been pre-selected for the Barcelona Olympic Games. Guillem divided his time between demanding training programs and membership in two groups; the anti-Fascist Sharp and the nationalist Maulets. This charismatic young man had been shocked by the murder of the Dominican woman Lucrecia Pérez in 1992 — Spain's first xenophobic murder — and he had vowed to fight hate crimes.
It was the extreme-right winger Pedro Cuevas who stabbed him to death in April 1993, when Agulló was camping out with friends in Montanejos, Castellón. He was wearing an armband that read "Nazis no" — it had been embroidered by his mother, Carme. The message sparked the violence. The attackers who killed him then sang Cara al sol, the Spanish Falangist anthem under Franco, said a friend of the victim.
Agulló, 18, had been pre-selected for the Barcelona Olympic Games of 1992
"When his friends saw them [the attackers], they identified them as neo-Nazis," explains the witness, who spoke on condition of anonymity.
The Provincial Court of Castellón de-politicized the case and sentenced Cuevas to 14 years in prison for homicide. His term was reduced to four years because of good conduct. One of Agulló's lawyers, Mercè Teodoro, believes the ridiculously light sentence was due to a calculated strategy by the defense attorneys, who had a reputation for being progressive, and who framed the death as the result of a fight among youths, denying any political overtones.
Two decades later, his father holds that the encounter was not fortuitous. He says that after the crime, a friend of his son's told him that Agulló had received threats from extreme-rightists, that he had been thinking about leaving Valencia, and that a member of the local neo-Nazi group Acción Radical (AR) — which preached hatred of homosexuals, immigrants and drug addicts — had alerted the attackers to Guillem's presence in Montanejos.
This newspaper attempted in vain to contact Manuel Canduela, the current president of the extremist party Democracia Nacional (DN) and former member of the defunct AR.
The attackers who killed him then sang the Spanish Falangist anthem
The people who knew Agulló are still very upset about the sentence and about the subsequent career of the only individual who ever served time in jail over the crime. Now 41 years old, Cuevas went on to run in 2007 elections on the lists of Alianza Nacional (AN), an extremist right-wing party in line with Greece's Golden Dawn. Before that, Agulló's killer was arrested in 2005 in a raid against an alleged neo-Nazi group that justified the Third Reich, disseminated Nazism online and encouraged hatred of immigrants and homosexuals, according to the attorney's report. The Civil Guard raided Cuevas' home in Valencia, where they found 40 swastika-emblazoned armbands, a Nazi dagger and brass knuckles prohibited by law. There were also molds used to make belt buckles with the SS emblem. The trial is scheduled to be held in the coming weeks, and the prosecution is asking for a two-year prison term for Cuevas.
The president of the Movement Against Intolerance, Esteban Ibarra, believes that Agulló's murder raised public awareness of the true dimension of ideology-based crimes. The family's lawyer thinks it revealed the Valencian courts' tendency to "de-politicize" cases.
The Plataforma contra la Impunitat, an umbrella group for around 30 associations, feels that the case highlighted the true extent of extremist violence in the Valencia region, where over 20 explosive devices have been found outside left-wing parties and cultural associations since 2007.
Ibarra adds that ever since Agulló's death, over 80 hate-related homicides have been recorded in Spain. A network of 2,000 Nazi and racist websites is infecting cyberspace, and there are 4,000 non-fatal hate crimes a year.
Since Agulló's death, over 80 hate-related homicides have been recorded in Spain
Evening falls on Burjassot and Agulló's father shrugs powerlessly as he reviews the extremist career of Cuevas and his colleagues. He wants the attorney to reopen the case. His son has become a moral reference for the Valencian left: a square in his home town is named after him, and songs have been written about him by singer-songwriters and bands like Obrint Pas. "He would still be among us today if he hadn't been so much like me," says this man of rock-solid convictions.
Guillem's father has traveled across Spain to explain what his son was like. Next Saturday he will attend a tribute organized by his friends in Burjassot. Like them, he neither forgives nor forgets.