"This old lady is even worse than the one-eyed guy"
Uruguayan president caught referring to Argentinean counterpart in less than flattering manner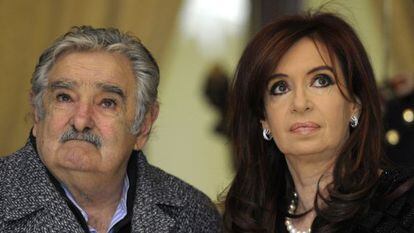 Unaware that the microphones in front of him were switched on, Uruguay's president José Mujica was caught referring to his Argentinean counterpart, Cristina Fernández, and her late husband, former President Néstor Kirchner, in a less than flattering way, the Montevideo daily El Observador reported on Wednesday.
While talking privately to the mayor of the Uruguayan town of Florida, Carlos Enciso, just ahead of a joint press conference, Mujica was heard to say: "This old lady is even worse than the one-eyed guy." Both men were unaware that the microphones were already on.
The Uruguayan leader is famous for his spontaneous and sometimes controversial statements, and on this occasion his outburst was captured live by the website of the President's Office, before being picked up by the media.
Mujica and Enciso had been discussing Uruguay's relations with Argentina and Brazil. The president had noted that "to achieve something" with Argentina, first it was necessary to enter into talks with Brazil. It was then that he made reference to the Kirchners.
The Argentinean president will not be commenting on the issue
On Thursday, Argentina's Foreign Ministry expressed its "deep malaise" to the Uruguayan embassy, calling the comments "denigrating," especially as they partially referred to "a deceased person who cannot reply or defend himself [...]" and because they were issued by "someone whom Dr Kirchner considered his friend."
The Argentinean president will not be commenting on the issue, an official note explained.
Mujica's predecessor, Tabaré Vázquez, who also belonged to the center-left Frente Amplio, had maintained a long-standing dispute with Kirchner over the building of a paper mill on the Uruguay-Argentina border. The location of that plant led residents of the Argentinean town of Gualeguaychú to cut off access to one of the three bridges joining both countries over the Uruguay river, for a total of three-and-a-half years. At the time, Vázquez complained that Kirchner was allowing this to go on. The conflict was only overcome when Mujica came to power and reached an agreement with Fernández in 2010.
Relations between Argentina and Uruguay improved after that, although problems cropped up now and then. Uruguay's businesspeople often complain about Argentinean barriers to imports, but Mujica has always tried to pacify them, prioritizing good relations for the sake of regional integration in Mercosur, and because Argentina plays a key role in the development of Uruguay's own tourism and financial sectors.
Before Vázquez, Jorge Battle of the conservative Partido Colorado made an even more controversial statement about Argentina during the economic crisis that affected both countries in 2002. "Argentineans are a bunch of thieves, from the first down to the last," he said during a television interview, which he thought had already ended. The next day, he was forced to travel to Buenos Aires to apologize to then-Argentinean President Eduardo Duhalde.