Rains fail to extinguish political blaze
Opposing parties lay the blame at each other's door over Argentina's deadly floods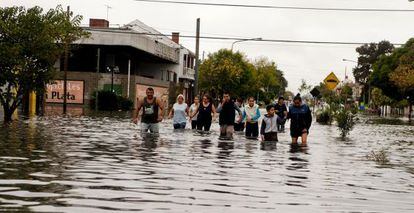 The flooding that left at least 56 people dead in Argentina on Tuesday, with 20 more missing and thousands evacuated from their homes, has revealed serious deficiencies in city planning and the government's emergency response measures. What's more, matters may have been worse due to a lack of smooth dialogue between the executive and leaders of affected areas.
In La Plata, which registered record-breaking rainfall of 400 millimeters in seven hours — levels considered "truly extreme" by meteorologists — several experts consulted by the Argentinean daily Clarín were critical of the city's excessive growth, which they described as "anarchic," "chaotic" and "wild."
Julio Santana, director of the Architects' Association of Buenos Aires Province, told Clarín that La Plata began as a well-planned city but soon started growing out of control, multiplying its population by a factor of 10 over 130 years. The building frenzy was not matched by sufficient storm drains, he noted.
On Wednesday, President Cristina Fernández de Kirchner surveyed the damage from a helicopter, then walked around Tolosa, where her mother lives (her house was not damaged by the high water levels). Residents quickly approached her to complain about the lack of early warning from the National Meteorology Service. They also said that public emergency units were slow to come to the rescue.
On Wednesday, President Fernández surveyed the damage from a helicopter
The flooding also seemed to provide new fodder for bickering between political opponents. By midday Tuesday, a record 155 millimeters of rainfall had already been recorded in the capital and six deaths had been confirmed, yet the president mentioned neither the rains nor the victims. Her government team, however, did not fail to note that the flooding at that point was focused on the city of Buenos Aires, whose mayor is Mauricio Macri, a conservative from the Propuesta Republicana party.
Planning Minister Julio de Vido — who was transportation minister last year when 51 people died in a train accident — criticized Macri, stating that "the storm was announced 20 hours earlier by the National Meteorology Service, despite which there was no kind of review of the storm drains, nor was personnel deployed preventively. The thing is, Macri was away on vacation."
In response, Macri's government accused Fernández of defaulting on her commitment to invest in necessary public works.
While the blame game between City Hall and Casa Rosada went on, the storm continued to rage oblivious to the bickering between the governing Peronists and the opposition.
That same Tuesday, a few hours after several neighborhoods in the capital were flooded, twice as much rain fell on the city of La Plata. Half the city found itself underwater, and hundreds of people spent the night on the rooftops of their own homes or inside their cars.
The governor of Buenos Aires Province, who works in this city of 740,000, is Daniel Scioli. Despite belonging to the same party as Fernández, he is something of a competitor: around a year ago he confirmed rumors that he would run for president if Fernández did not opt for a third term, something that is currently forbidden by the Constitution.
Since then, Scioli's team has been complaining, almost always anonymously, that Fernández is trying to stifle the province financially — or in other words, that she is trying to asphyxiate Scioli politically. They claim that the Casa Rosada is encouraging ongoing teacher union strikes. In short, communication channels between the executive and La Plata are not as smooth and open as they might be.
But a lack of openness to dialogue is something many have come to expect from the president. Journalists who request interviews and press conferences from Fernández are faced with constant refusals to enter into dialogue. The president, who took six days to appear before the press following the railway tragedy of February 22, 2012, and who on Tuesday had still not said a word about the initial eight deaths from flooding in the capital, remained conspicuously absent from La Plata, her birthplace. At midday on Wednesday, when it emerged that the death toll had risen to at least 25, the president was still absent from the zone, announcing instead an event at Casa Rosada to introduce several legal reform projects.
The mayor accused Fernández of failing to invest in necessary public works
But the fatality figure kept rising, and by 1.30pm it had reached 35. It was then that the executive discreetly began organizing the helicopter trip to La Plata, and more specifically to Tolosa, where the president's mother, Ofelia Wilhelm, resides. Fernández also visited three other neighborhoods, including Mitre, which was one of the worst hit by the storm.
This time there were no smiles and no applause for her, in contrast with her other public events, which always tend to be well attended by loyal followers. This time, there was just the indignation to be expected from residents, who felt abandoned by the state. But this time, at least, Fernández showed her face: in an election year, with legislative voting scheduled for October, failing to show up could have cost her dearly. Later in the day, she also unexpectedly met with Scioli.
By then, however, several radio and television stations were already reporting on the lack of emergency assistance from the state, and complaining that political infighting always leaves a trail of victims among the weakest members of society.